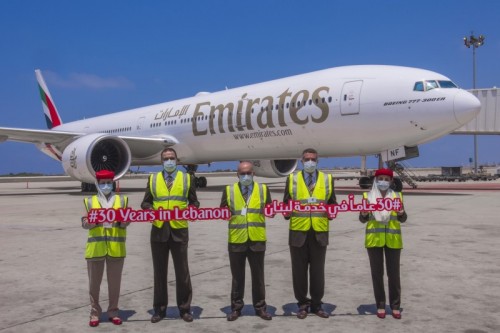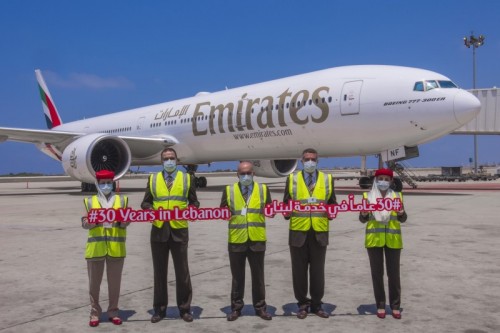 Emirates celebrates its 30th anniversaryday Anniversary of serving Beirut. The airline's maiden flight in 1991, since then, Emirates has carried more than 6 million passengers on more than 35,000 flights between Dubai and Beirut, supporting the country's tourism industry, developing trade routes, and improving Lebanon's Culture and traditions are brought to all parts of the world.
To commemorate this important occasion, Tamador Dallal Kouatly, Emirates Levant Regional Manager, has been working for the Lebanese airline since the start of operations. He reviewed the airline's journey in the country over the past 30 years: "During Emirates' 30 years of operations in Beirut, our commitment to our customers has been firmer. We remain focused on providing the best in-flight comfort and hospitality innovative technology to make the journey to Dubai and other regions easier and unparalleled Connecting, connecting Lebanon with the world, especially its diaspora communities. We are very pleased that our customers continue to reward us with their loyalty, allowing us to celebrate three years of service in a key market like Lebanon. We look forward to the next few years Continue to serve the country, the community and the people."
Celebrating a landmark milestone
Thirty years after the first flight, Emirates employees who were part of the launch team recalled the early days and how they grew up with the airline:
Said Marguerite Keyrouz, Deputy Manager of Emirates Beirut Airport Services"I clearly remember my pride in wearing an Emirates uniform and excitement for future adventures, as well as awe of the power of the plane landing at our airport, and all my feelings until today. I am very happy to see returning passengers choose the UAE Aviation is their preferred airline, which inspires us to always provide the best service and experience."
Raghida Zarkout, Emirates Airport Services Officer based in Beirut said: "I still remember the first day at the airport, I remember when the plane was parked and we greeted the first passengers, my heartbeat was louder than the engine. With the development of airlines over the past 30 years, my career has also grown. , I can't think of a better team and company that can be a part of it."
To celebrate this occasion, Emirates will serve traditional Lebanese dishes inspired by their hometown on the route between Dubai and Beirut in the coming days, such as Lamb Maklouba and Barramundi Sayadieh. The iconic sweets will use the strawberry Kunafa Fark to complement the salty staple food, which is the airline's interpretation of the traditional Kunafa and Baklava Ashta, both of which are decorated with the Lebanese flag. In addition, on Emirates' entire web menu, first class and business class provide Lebanese-influenced Middle Eastern appetizers, such as hot and cold appetizers hummus, tabules and mutable.
In March 2018, Emirates' flagship double-decker aircraft became the first A380 ever to arrive regularly at Rafic Hariri International Airport. This is a historic moment for both the airline and the airport.
Stand with Lebanon
In response to the devastating explosion in Beirut Port in August 2020, Emirates and the Emirates Airline Foundation have supported the people of Lebanon by providing cash or Skywards miles donations to provide cargo space and deliver essential items to those affected by the explosion. In just one month, the airline worked closely with local and international NGOs to make more than 12,000 donations in 140 countries/regions and helped the airline deliver more than 160,000 kilograms of urgently needed humanitarian cargo to Lebanon.
Open up trade channels for local Lebanese companies
As a way to promote trade and connect Lebanese business owners with Dubai and the world, Emirates uses the belly cargo capacity of its airliners to move cargo to and from Beirut. Since 2016, Emirates SkyCargo has transported 67,000 tons of cargo to and from Beirut. Emirates SkyCargo has shipped 20,000 tons of fresh vegetables, fruit and chocolate from Lebanon to major destinations in the Gulf Cooperation Council and Jordan. The main commodities imported into Lebanon include 47,000 tons of consumer goods such as fish, meat and cosmetics from the UAE, China, Norway, Hong Kong and Germany.
Emirates initially started operations with 3 flights per week and will increase to 21 flights by March 2020 to support passenger demand. Using Boeing 777, the airline currently has 16 flights to and from Beirut every week, providing tourists, business travelers and Lebanese expatriates with better connectivity and convenient travel to Africa, the Far East, the Americas and the Middle East through its hub. Place, Dubai.