[ad_1]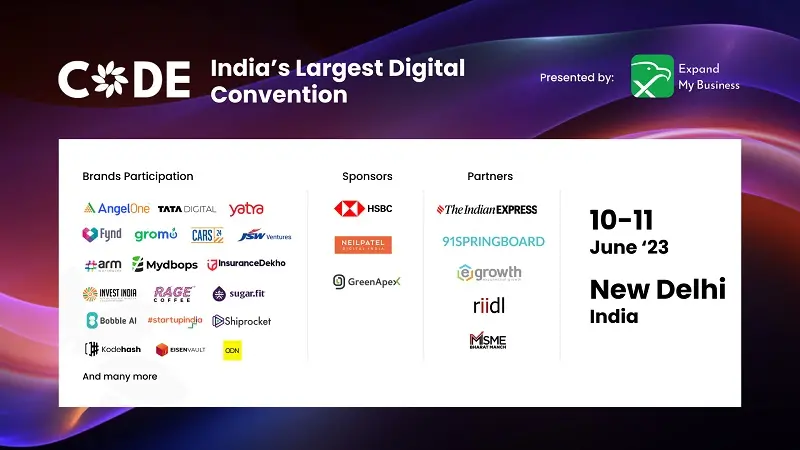 Abu Dhabi, United Arab Emirates: Expand My Business is pleased to invite all startups, small and medium enterprises (SMEs) and investors in the United Arab Emirates (UAE) to CODE, India's largest digital conference. The event will be held at Pragati Maidan, New Delhi on June 10-11, 2023.
CODE, the Digital Entrepreneur Conference, is a groundbreaking event that fosters innovation, collaboration and growth in the entrepreneurial ecosystem. The event provides an excellent platform for start-ups, SMEs and investors to come together to exchange ideas, explore investment prospects and make valuable connections in New Delhi's vibrant startup environment.
At CODE, participants can participate in a rich program of events including keynotes, panel discussions, interactive workshops, pitches and networking opportunities. Industry leaders, entrepreneurs, investors and government officials will share their experiences and knowledge to inspire and empower attendees. In addition, startups will have an exclusive opportunity to showcase their innovative products, services and solutions to top global venture capital firms and investors.
Expand My Business expanded into the MENA market last quarter and established a base in Abu Dhabi. The event is a step in the same direction, opening avenues for ambassadors and clients in the region. The aim is to create an environment that will help UAE start-ups and businesses to enter India.
Whether you are a budding entrepreneur looking for guidance, an established SME looking for growth opportunities, or an investor looking for a promising business, CODE is tailored to your specific needs and desires. Through CODE, Expand My Business aims to promote entrepreneurship, accelerate the growth of start-ups and SMEs, and contribute to the economic progress of the UAE and India.
"We are delighted to invite start-ups, SMEs and investors from the UAE to join us at CODE in New Delhi," explain Nishant Behl, Founder and CEO, Expand My Business. "The conference will be the ultimate destination for collaboration, knowledge sharing and investment, creating a dynamic environment that drives the growth of the startup ecosystem. We are excited to witness the transformative impact that CODE will have on the startup landscape in the UAE and India."
To register for CODE and ensure your participation in this groundbreaking event, visit registration code.exmyb.com. Due to limited space, early registration is strongly recommended.
-over-
For more information on CODE, sponsorship opportunities or media inquiries, please contact:
una bansal
Founder's Office
unnat@exmyb.com
On the other hand, Sinhal
Senior Account Manager
naman@exmyb.com
About the organizer
Expand My Business is Asia's largest digital solutions platform for entrepreneurship and innovation. EMB is committed to empowering entrepreneurs through its services and initiatives to help them succeed in the global marketplace.Through CODE, the goal is to foster a culture of innovation and creativity and support the growth and development of businesses of all sizes and industries
[ad_2]

Source link