Medytox said it will become the first Korean company to build a botulinum toxin finished product factory overseas.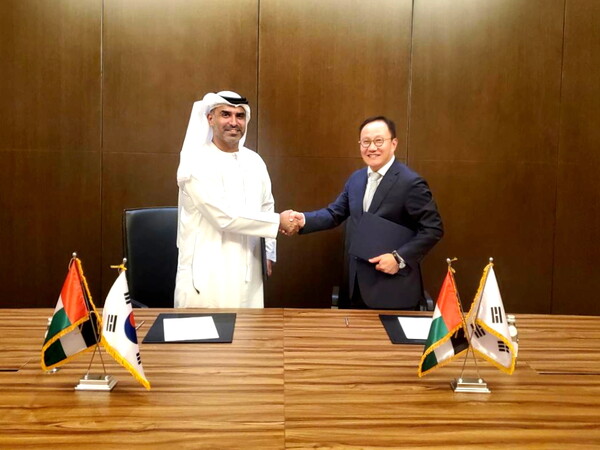 According to Medytox, it has signed a memorandum of understanding (MOU) with Dubai Science Park, part of Dubai state-run company Tecom Group, to build a BTX finished product factory during its Korea-United Arab Emirates (UAE) operations. The forum was held on Monday at Rixos Marina in Abu Dhabi, UAE.
Under the MOU, Medytox, the No. 2 BTX manufacturer by sales in Korea, will establish a production facility in Dubai for MT10109L, the world's first and only non-animal liquid toxin developed by Medytox.
The company plans to obtain halal certification for the factory and target the Middle Eastern and European markets.
Medytox has been looking overseas for candidate locations to actively and effectively respond to the rapidly growing global toxins market and finally chose Dubai.
"As a global bio company, it is crucial to ensure the safety of local production facilities," said Medytox CEO Jung Hyun-ho. "The halal-certified finished toxin factory in Dubai will serve as a bridgehead for Medytox to enter the global market with toxin formulations developed with the world's best R&D capabilities."
Marwan Abdulaziz Janahi, CEO of Dubai Science Park, also said, "Dubai Science Park is committed to creating a great ecosystem, which is essential for companies to do business successfully."
He added that the company welcomes Medytox to its science-driven business community and is excited about new growth opportunities in the region.
Medytox has been participating in the economic delegation of UAE President Yoon Suk-yeol since last Saturday.
Accompanying Yoon on his visit to the UAE were Korean pharmaceutical and biotech industry figures including Medytox CEO Jung, Ammedics CEO Park Soon-hyung, ExBody Director Kim Mi-sook and 3billion CEO Keum Chang-won.
Ammedics specializes in hyaluronic acid, while ExBody is a musculoskeletal analysis company. 3billion is a rare disease genetic testing startup.