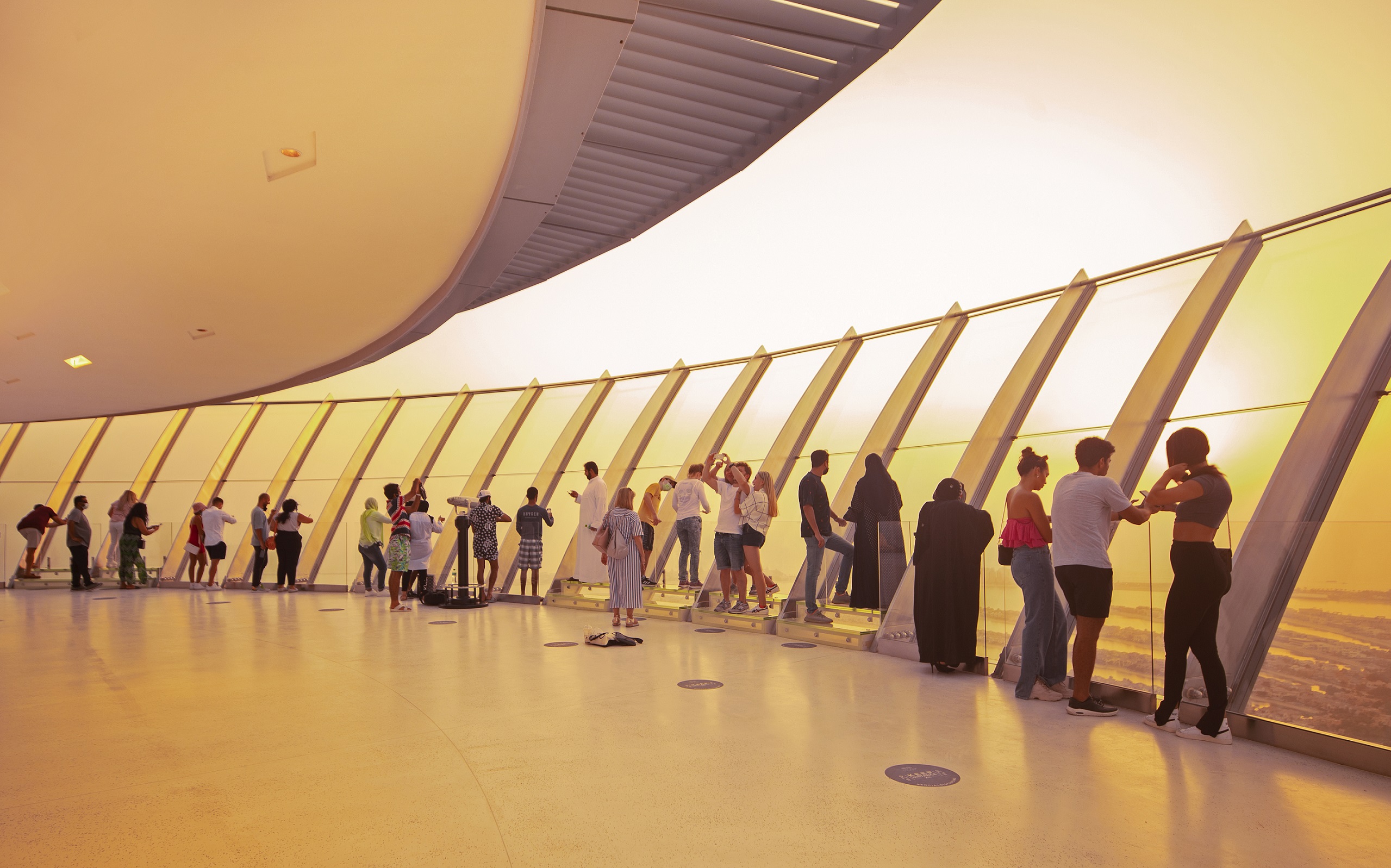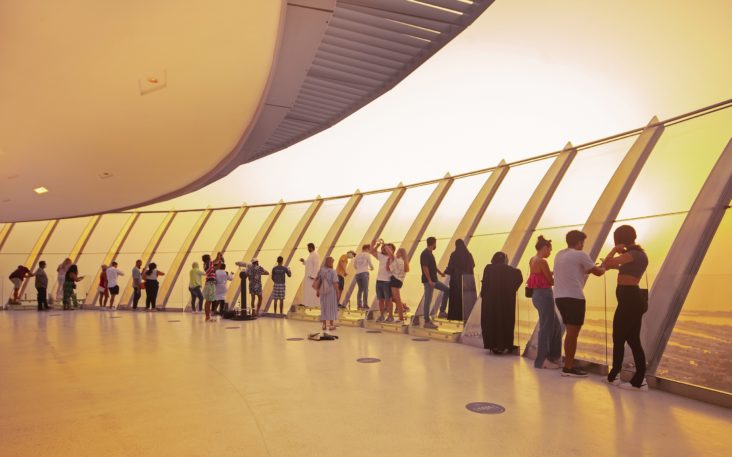 With the advent of Eid Al-Adha, the leisure destination on Palm Jumeirah is full of dining offers and promotions, as well as exciting experiences for tourists of all ages at Pointe, Club Vista Mare, Palm West Beach and The View.
landscape
Until August 8, 2021, school students and teachers can now visit the stunning 52-story observation deck to admire the Palm Jumeirah, the Arabian Gulf and Dubai's most iconic landmarks for a fee of Dh50
Visitors must present their student ID at the venue to participate in the promotion
UAE residents can also enjoy a 15% discount on The View tickets to explore the magic of Palm Jumeirah and Dubai in an unprecedented way
Enjoy the incredible Eid al-Fitr family promotion from July 15th to 24th. Families can purchase packages starting from AED 215, 2 adults and 1 child, AED 270, 2 adults and 2 children , 325 dirhams, 2 adults and 3 children
Fabyland x The View:
If you are looking for an exquisite way to spend Eid al-Fitr, then The View is your best choice!You can now buy Fabyland tickets for The View at The Palm and Nakheel Mall for only AED 199
This offer includes tickets for one adult and one child at The View and a Fabyland game card at Nakheel Mall worth Dh135
Promotion will continue until August 31, 2021
Pointe
Cheeky Monkey Summer Camp:
do not miss it Naughty monkey The Pointe Summer Camp is held every day from 9 am to 1 pm and from 2 pm to 6 pm. Children can participate in a series of interesting educational activities, including monkey science, arts and crafts, etc.
Summer camps start at AED 125 per session, 5% discount for brothers and sisters, limited places
Typos:
This Dubai Summer Surprise (DSS), please visit Typo At The Pointe, you can enjoy 30% to 70% discounts on selected items from simple water bottles, school supplies to plush toys.
Akka:
Satisfy your desire for sushi Akka, A cyberpunk-style Japanese restaurant, enjoy a night of mouth-watering cuisine and live entertainment
Try the Aka's Sushi set menu from 6pm to 8pm every day, including two sparkling refreshments, chef's selection of maki and Nigiri platter for only Dh400
For reservations, please call: 04 578 0555
Donna Carmela:
Italy is always fashionable, especially in Donna Carmela Provide authentic Italian recipes, home-grown spices and real traditional experiences
Every Tuesday, enjoy the night of cheese and grapes. Unlimited grapes are served from 7pm to 11pm, 229 dirhams per person
For reservations, please call: 04 576 2775
Beijing:
Want to start a real Japanese experience?access Beijing Enjoy various discounts and promotions on the weekend at The Pointe
From Monday to Wednesday from 6pm to 8pm, KYO Happy Hour to enjoy spirits and selected grapes for 25 dirhams
Do you like great music and refreshing drinks? KYO'S Latin Night is held every Monday night from 9pm to the closing period. It offers three drinks and selected snacks for ladies, and the price is only 95 AED.
To-KYO beats from 8pm to closed on Thursday, and late-night brunch discounts from 7pm to 11pm, soft drink package starting from AED 395, homemade drink package AED 495, and sparkling drink package AED 595 Hm
Go out on Friday night. From 7 pm to closing time, please visit KYO's discotheque theme, offering three drinks and selected snacks for ladies, the price is only 95 dirhams
For reservations, please call: 04 557 5182
hard:
Indulge yourself in new delicacies hard, An authentic Uzbek restaurant, try a new home-cooked brunch every Friday afternoon, including a menu full of Uzbekistan's most popular dishes and a refreshing drink menu
Don't miss the live entertainment show with singers and DJs every Friday
For reservations, please call: 04 566 9612
Misico:
At Meshico, Tuesday's tacos always taste better!Enjoy authentic Mexican tacos at Meshico from 8pm to 11pm this Tuesday, 220 dirhams per person
Brunch lovers are welcome to enjoy delicious Mexican food every Friday and Saturday from 2pm to 5pm, starting at AED250 per person
For reservations, please call: 04 514 4512
Chicago Meat Packers Bar and Grill:
Want to taste authentic barbecue and barbecue, Chicago Meat Packers Is the place to go.Enjoy Over Easy brunch every Friday and Saturday from 11 am to 3 pm, enjoy an all-American brunch, and offer unlimited drinks starting from AED 95
For a fun midweek holiday, try Craft Brew & Grills on Tuesday and experience three selected craft beers from all over the world, paired with 24-hour marinated chicken wings and world-famous barbecue sauce air-freighted from Chicago, starting at 125 Dirham/person
For those who like jazz music, every Wednesday evening from 7:30 to the closing time, you can try the jazz night, taste delicious meat, strong cocktails and fine grapes
From Sunday to Thursday from 5 pm to 7 pm and from Friday to Saturday from 4 pm to 6 pm, enjoy happy hour offers with your friends on all cocktails, homemade grapes and selected beers, each with 35 Di Ram
For reservations, please call: 04 580 7983
Royal Street:
Inspired by the famous streets of Lyon, Royal Street The courtyard promises to provide delicious food, drinks and a dazzling atmosphere
Enjoy a delicious brunch every Friday and Saturday from 12 noon to 4 pm, or book the next meeting during the business lunch provided from 12 noon to 4 pm every day
Visitors can also participate in the international master class held from 10 a.m. to 12 p.m. on weekdays
For reservations, please call: 04 241 2828
Palm West Beach
Full Bay:
Inspired by Kuaidong Beach, Cocoa Bay An irresistible breakfast menu every Friday and Saturday from 8 am to 11 am
Every Sunday from 12 noon to 12 a.m., guests can enjoy a free glass of home-brewed grapes in each main course
Don't miss the Oyster and Bubble Ladies Festival. Ladies can get a bottle of sparkling wine and a dozen Fine de Claire oysters for AED 399 from 12 noon to 4 pm every Monday.
For reservations, please call: 04 572 3444/800 Koko Bay
Apron and hammer:
Satisfy your craving for seafood Apron and hammer Incredible offer-each keg can get two free refreshing drinks, each big bucket can get a free pot of refreshments, every Sunday evening from 7pm to close
If you need to be picked up in the middle of the week, you can enjoy unlimited tacos and a pot of drinks from 7pm to 9pm every Tuesday for Dh198 per person
For reservations, please call: 0504555235
Mr. Picco:
ExploreSeñorPico, Sunday to Wednesday, 5pm to 7pm, 50% discount on some food and beverages
Thirsty TacoTuesday's Tuesday is always more interesting, visitors can enjoy six tacos and classic drinks from 7pm to 10pm for only AED 99
For those looking for a new place to start their business, Señor Pico's business lunch includes a three-course menu from Sunday to Thursday, from 12 noon to 3 pm
For reservations, please call: 04 471 5748
Ocean View Club
Logs and embers:
Every Saturday from 12 noon, indulge in delicious barbecue at the brand new smoked barbecue restaurant Logs & Embers, the price is 119 dirhams
Every Friday and Saturday, from 12 noon to 6 pm, head to Logs & Embers to enjoy a full menu, including AED 148 soft drinks, AED 268 house drinks or AED 348 sparkling water. Children's brunch menu is also available for AED50
Every Tuesday, men can enjoy unlimited selected drinks from 7pm to 10pm for only Dh222
For reservations, please call: 04 584 1994
Water house:
Beachfront restaurant and bar Water house Barbecue nights are held every Thursday from 7pm to 11pm, starting from AED 89
Every Tuesday evening, Ladies' Night from 7pm to 12am, there are many interesting nights waiting for you. Packages start from AED 99
Don't miss the happy hour offer from 12 noon to 7 pm from Sunday to Thursday and from 4 pm to 7 pm from Friday to Saturday
For reservations, please call: 04 514 3778
Breeze Beach Barbecue:
Indulge yourself and enjoy beach barbecue cuisine with a Caribbean flavor Breeze beach barbecue, Every Friday from 1 pm to 4 pm, free access to the beach, open barbecue and unlimited home drinks for only AED 245
For girls' night, ladies can enjoy three hours of unlimited homemade beverages and three snacks from 7pm every Tuesday night for a price of AED 150
For reservations, please call: 04 568 3000
Palm Bay:
With Caribbean cuisine and a wonderful atmosphere, Palm Bay is a great place for barbecue on Saturdays. From 12 noon to 10 pm, guests can choose grilled meat, unlimited side dishes and a homemade drink for only AED 150
Start the weekend during the cocktail club from 7pm to 10pm every Thursday, or try the happy hour every day from 12pm to 7pm (except Friday)
Enjoy appetizers, main course choices, shared desserts and unlimited drinks every Friday from 1 to 4 pm for only AED 295
Create a girl's night, every Tuesday from 7pm to 12am, enjoy 5 hours unlimited home drinks for 100 dirhams
For reservations, please call: 058 594 1834
Ibn Al Barr:
For mouth-watering seafood delicacies, indulge in a variety of fresh dishes from Ibn Al Bahr, and enjoy happy hour every Sunday to Thursday from 4pm to 7pm, hops, grapes and spirits 2 to 1
For reservations, please call: 04 553 9575
For more updates on The Pointe's new offers, events and events, please visithttps://www.thepointe.ae/en And follow social media: The Pointe: Instagram, Facebook, Twitter. Palm West Beach: Instagram, Facebook, Twitter. Ocean View Club: Instagram, Facebook, Twitter.
For more information, please call 800THEVIEW or follow us on social media and use #inspirewonder:Instagram: @TheViewPalm, Facebook: facebook.com/TheViewPalm/