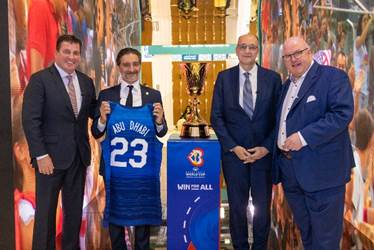 USA Basketball announced an agreement with the Abu Dhabi Department of Culture and Tourism (DCT Abu Dhabi) under which the United States will host three games in Abu Dhabi featuring the men's national teams of the United States, Germany and Greece. USA Basketball Showcase Abu Dhabi represented USA Basketball in the first men's national team event in the United Arab Emirates.
In preparation for the 2023 FIBA ​​Men's World Cup, the U.S. men's national team will face Greece and Germany on August 18 and 20, respectively. Germany and Greece are scheduled to play on August 19.
"USA Basketball is delighted to be partnering with DCT Abu Dhabi to bring USA Basketball to Abu Dhabi. This is the first time our men's national team will play in the UAE and we are excited to engage with fans from around the world while Also providing our players and coaches with memorable experiences on and off the court," said Jim Tooley, CEO, USA Basketball. "We thank the national federations of Greece and Germany for their participation as they prepare for the 2023 FIBA ​​World Cup, arguably the toughest international basketball tournament."
Saleh Al Geziry, Director, DCT Abu Dhabi Tourism: "Abu Dhabi will have an unforgettable summer and it is a great honor to host the inaugural USA Basketball Showcase in the UAE. We look forward to welcoming players and fans from Cheer on with their national teams and find everything in Abu Dhabi to inspire, excite and rejuvenate."
Additional details on the USA Basketball showcase, including rosters, broadcast information and training camp dates, will be announced at a later date. The United States officially qualified for the 2023 FIBA ​​World Cup last month. One of seven teams representing FIBA ​​Americas in a 32-team field, Team USA will play all matches in Manila as the tournament is scheduled to run from August 25 to September. 10. Indonesia, Japan and the Philippines. The World Cup draw is scheduled for April 29, 2023 in Manila.
Ingo Weiss, President of the German Basketball Federation: "It's really great for us to be able to play against the USA and Greece in Abu Dhabi ahead of the FIBA ​​World Cup. Abu Dhabi is a fantastic location for such a top-level basketball event , and is gradually developing into a real sports powerhouse. DBB is very much looking forward to our time in the United Arab Emirates and the exciting competitions there."
Vangelis Liolios, President of the Greek Basketball Federation: "We are delighted to be part of such a great celebration of basketball. Thanks to DCT Abu Dhabi, three continents will meet on the eve of the 2023 World Cup. Delighted and excited to be invited to the double encounter in Germany. We look forward to a great experience both on and off the field. Our men's national team will be ready to enjoy the game and hopefully bring smiles to the fans."