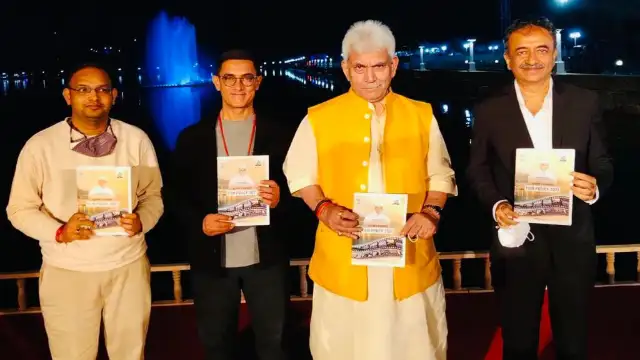 Kashmir has opened its doors for filming in the state
Kashmir It is one of the most beautiful places in the world. Known for its beautiful scenery, snow-capped mountains, pleasant weather, and hospitable people, this beautiful place was closed for filming for several years. The state's geopolitical climate hasn't made it the location of choice for filmmakers across the country shooting here. On August 5, 2021, Deputy Governor Shri Manoj Sinha ji in Srinagar launched Jammu and Kashmir's Film Policy, inviting filmmakers to film in the state. On behalf of the Film Fraternity of India, Aamir Khan, Rajkumar Hirani and Mahaveer Jain thanked the Governor for allowing the film to be filmed in what is known as "Heaven on Earth".
Aamir Khan recalls how he felt while filming in Kashmir
Aamir Khan Expressed his joy at the reopening of Kashmir for filming. He said, "The state used to be so bright. 8-10 films were filmed at the same time. Our Hindi film industry from Mumbai really used to be in March, April, May, June, July and August Transfer to Srinagar". Acknowledging the love he has received from the country, he said, "We have received a lot of love from here. Heart says to come back here and hug you all". Aamir Khan, a passionate filmmaker, also expressed his desire to watch Kashmiri movies, saying, "We want to watch Kashmiri movies. We want the entire film industry to rise from Jammu and Kashmir and make us all proud of the film."
Rajkumar Hirani thanks Kashmir Governor for making process for filming seamlessly in Kashmir
film producer Rajkumar Hirani When he was asked to talk about Kashmir, he gave it his all. He said: "I don't think we have any shortage of locations here. This place is by no means less than anywhere else in the world. I think this state has as much beauty as anywhere else, maybe even more. work easier". Rajkumar Hirani also gave the people of Kashmir a big hug while signing.
Mahaveer Jain says he gets a lot of comfort and confidence from Kashmiri people
Producer Mahaveer Jain Ecstatic about the developments that are enabling filmmakers to shoot in the state. He said: "On behalf of our entire film industry, I assure you that we are all with you. Kashmir is truly the most beautiful. The kind of support we have received will really encourage us to come and shoot here". He continued, "The comfort and confidence you guys bring to the film industry makes us feel comfortable and confident when shooting in Kashmir." He then credits the trust and assurance he has received from the Kashmiris.
Shri Manoj Sinha hopes to bring lost glory and heritage to Kashmir
On behalf of the Kashmiri people, Kashmir Governor Shri Manoj Sinha said: "Kashmiris are eager to help restore the lost glory and heritage of Jammu and Kashmir"
This exciting development has no doubt made the Indian Film Fraternity very happy.director Loksh KanagarajThe film Leo starring Thalapathy Vijay and Trisha is currently filming in the state. Aamir Khan has started reading for his next film. Rajkumar Hirani is working on releasing his next film Shah Rukh Khan named Dunji. The movie is set to be released on December 22, 2023.