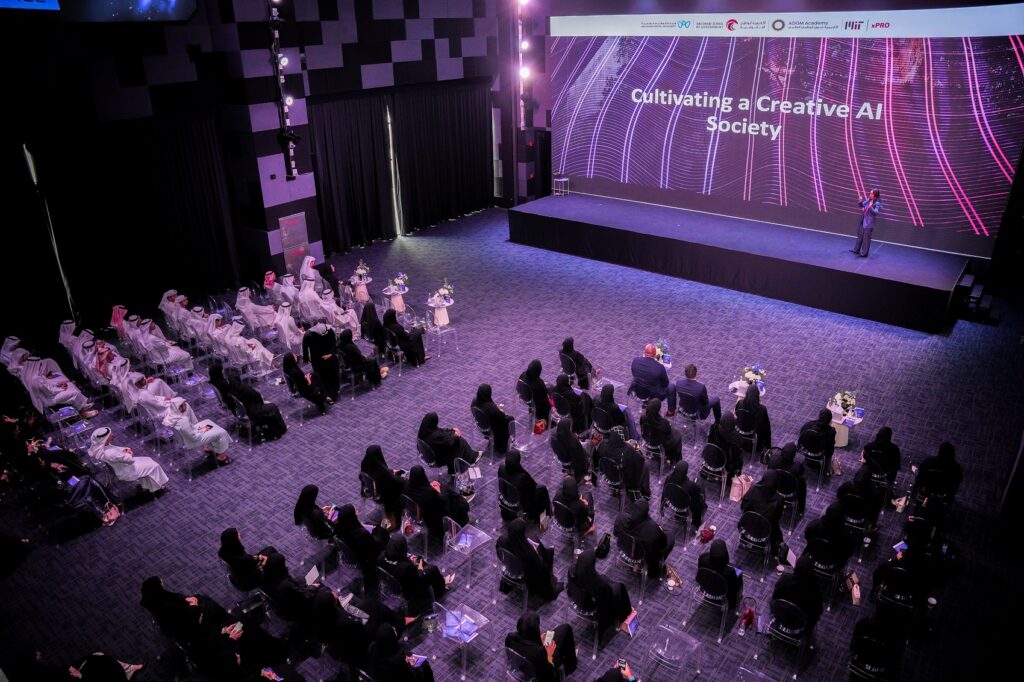 Abu Dhabi School of Government (ADSG), part of the Department of Government Support (DGS), has launched the Future Digital Leaders and Young Digital Leaders programmes, As part of the strategic track of the Abu Dhabi Digital Initiative. The programs are organized in partnership with the Abu Dhabi Digital Authority (ADDA), Abu Dhabi Academy of Global Markets (ADGMA) and the prestigious Massachusetts Institute of Technology (MIT). The launch is in line with Abu Dhabi School of Government's efforts to nurture and shape globally competitive individuals qualified to lead future governments.
These programs aim to equip Abu Dhabi government employees with the necessary skills and expertise to ensure they are ready to take leadership roles in the digital space and to enable them to play a leading role in contributing to Abu Dhabi's digital transformation.
Government employees who participate in the Future Digital Leaders program will gain the essential skills necessary to thrive in a volatile, uncertain, complex and ambiguous world. Beyond empowering them to be effective digital leaders in their entities. On the other hand, the Young Digital Leaders program offers participants a unique opportunity to develop their capabilities in six domains of technology management, including critical thinking, systems thinking, emerging technologies, radical innovation, organizational strategy and leadership .
Dr Yasir Al Naqbi, Dean of the Abu Dhabi Academy of Government, said: "We are proud to partner with ADDA, ADGMA and MIT to deliver these exceptional programs that offer Abu Dhabi government employees the unique opportunity to gain access to a comprehensive set of Technical and practical skills to enable them to contribute meaningfully within their entities and to excel in a technology-driven world while fulfilling their professional potential as digital leaders."
"At Abu Dhabi Government Academy, we aspire to develop a world-class educational experience for Abu Dhabi government employees, in line with our ambition to foster a culture of development and excellence, while we continue to anticipate and meet the human capital needs of Abu Dhabi Government Abu Dhabi than the government," His Excellency added.
Dr Mohamed AbdelHameed Al Askar, Director General of the Abu Dhabi Digital Authority (ADDA), said: "We are delighted to be partnering with the Abu Dhabi Academy of Government, Abu Dhabi Global Markets Academy and MIT to make Abu Dhabi possible for the government. Young employees become digital leaders. These transformation programs will unlock their potential and chart their journey towards digital excellence. The Future Digital Leaders and Young Digital Leaders programs offer excellent opportunities to develop their capabilities and ensure They prepare for a technology-driven tomorrow."
Hamad Sayah Al Mazrouei, Chairman of Abu Dhabi Global Market Academy, said: "We are delighted to join forces with Abu Dhabi Government Academy, Abu Dhabi Digital Authority and the prestigious MIT to enable government employees to acquire valuable skills and contribute Realizing Abu Dhabi's vision for digital transformation.These 6-month programs will enable nationals to develop into future and young digital leaders.At ADGMA, we are committed to supporting the development of our nation's knowledge economy in line with the UAE's wise leadership vision and will continue to play our part in contributing to the growth, upskilling and reskilling of local talent."
Based on international best practice and adapted to the needs of the Emirate of Abu Dhabi, Abu Dhabi Government Academy supports the learning ecosystem of the Emirate Government by providing world-class educational opportunities for government employees.