Y
ou're either a gamer or you're not. Regardless of where you fall on the entertainment consumption spectrum, the esports and entertainment industries are evolving at a rapid pace to keep attention locked into our black mirrors.
Today, the gaming industry has its audiences looking through a different scope, one littered with dollar signs. Hours upon hours dedicated to leveling up to the highest rank don't just award players the coveted No.1 slot accompanied by their initials, but, for some, global recognition and a million-dollar payday.
In 2023, the U.S. esports industry is expected to pull in $1.6 billion in revenue, a 14% increase from $1.4 billion market value in 2022.
Kyle Giersdorf was the highest earning U.S. male player, making $3.4 million playing Fortnite. The highest earning U.S. female at more than $122,500 thousand was Katherine Gunn, according to Fair Betting Sites. Not only do the nation's top players earn prize money from leagues and competitions, they're also cultivating a loyal fan base that advertisers and sponsors pay big to be in front of.
In January 2023, Twitch set a record reaching over 5 million active channels on the platform, a 7% increase from August 2022. Gamers streamed 42,264 games the same month, the most of any online streaming platform, ever. Data show that nine of Twitch's top 10 players on the site made over six figures in January 2023 alone.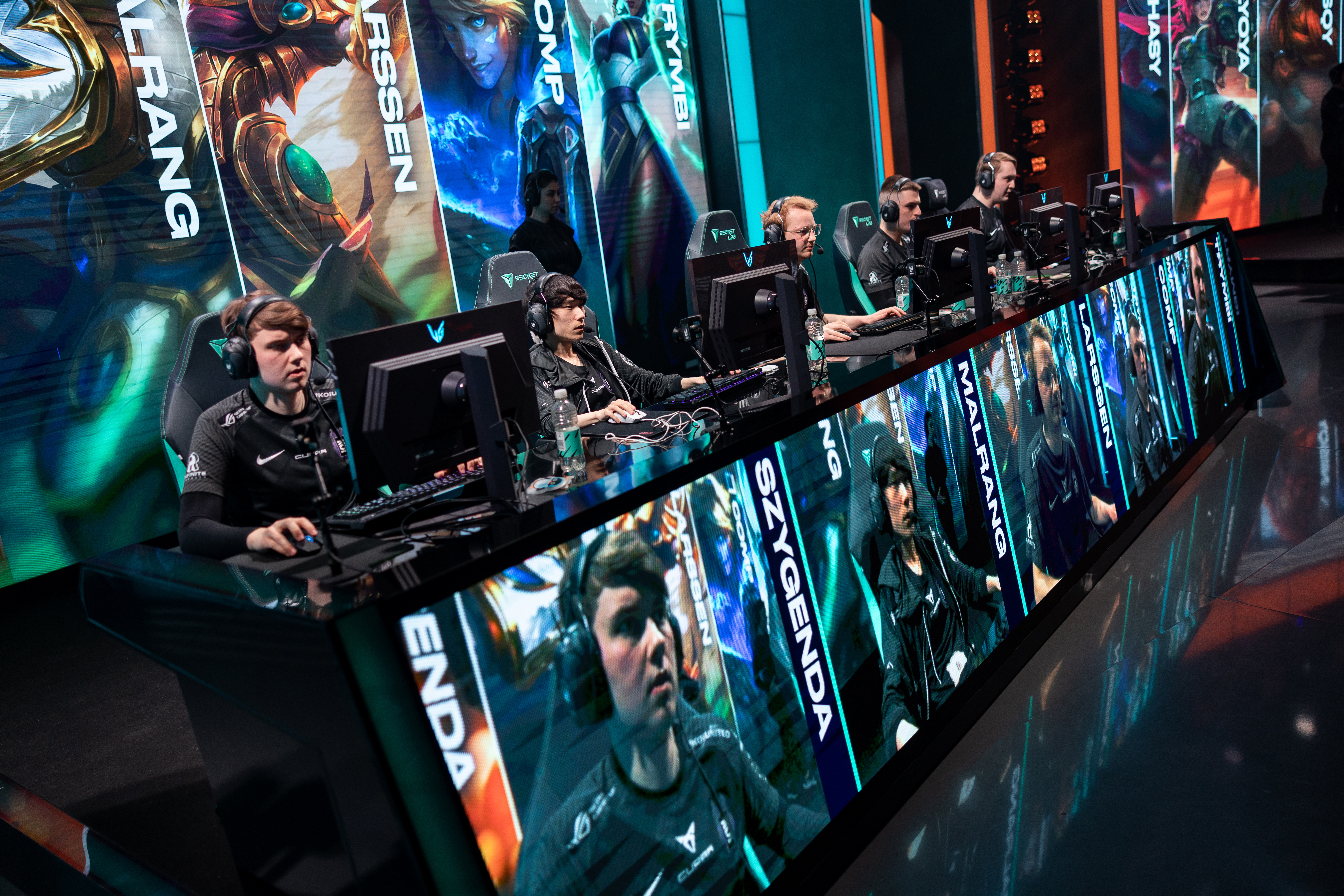 The League of Legends EMEA Championship Series Playoffs were held in Berlin, Germany, in February 2023. According to CasinosEnLigne, in the last three years, more than 125 million people worldwide started watching esports, driving the total number of viewers to 526 million in 2022.
Photo by Michal Konkol courtesy of Riot Games
With the potential to make millions from the comfort of home, esports are gaining traction around the world, proving it's anyone's game. But by and large, the video game development studios still like the anchor of a physical space in which to create new games, new versions and new jobs.
One such project has landed in Kansas City, Missouri, where last summer Mythical Games, a prominent player in the play-and-earn games vertical, chose the Kansas City Power & Light District for a new office expected to accommodate more than 100 employees. The company joins other employers in the District such as Spark Kansas City and H&R Block.
"We're thrilled to take the next step in our rapid growth as we expand our team and scale our operations in the heart of Kansas City," said John Linden, co-founder and CEO of Mythical Games, in a release. In the year leading up to the announcement, Mythical had also expanded the globe with office locations in the United Kingdom and South Korea.
"Gaming is a fast-growing and exciting sector in tech, enveloping several of the emerging trends in our industry like AR, VR, and in Mythical Games' case, NFTs," said Kara Lowe, CEO at the KC Tech Council. "It's great news for Kansas City's tech industry to have an innovative leader in this sector plant roots here. It's also great news for Mythical Games, who will have a thriving, talented tech community waiting to welcome them."
The Power & Light District is synonymous with Kansas City's sports fan viewing parties and celebrations for such teams as Major League Soccer's Sporting KC, U.S. men's and women's soccer and the newly crowned Super Bowl champion Kansas City Chiefs of the NFL. As it happens, Mythical recently partnered with the NFL to introduce a new NFT-based video game titled "NFL Rivals."
The Power & Light District is more than a great place to be entertained," said John Moncke, president of the Power & Light District. "We have been investing in the Kansas City community for a long time, building amazing places to live and having the unique resources to be an exceptional place to work. With entrepreneurship and innovation as two of our key values, we couldn't be more thrilled to welcome a high-tech company like Mythical Games to the District."
At nearly the same time last summer, on the other side of the state, video game animation company EnchantedMob expanded into a space 10 times larger than the one it previously occupied in St. Louis, driven in part by growth since launching the latest iteration of its popular horror video game Poppy Playtime. The company doubled the number of employees to 20 in recent months with plans to bring on an additional 20 in the coming year.
"There's a ton of creative people in St. Louis," said Drake Vogl, director of operations at EnchantedMob, in a release from the Missouri Partnership. "You don't have to be in L.A. or New York to make content that you care about."
According to the Partnership, between 2018 and 2023, the state's tech workforce was expected to grow by 9.5%, ranking it No. 9 in the nation.
Among other video game locations:
Iron Galaxy Studios last spring announced a new studio in Nashville where it will create 108 new tech jobs over the next five years. The site joins a portfolio that includes offices in Orlando and the company's home base in Chicago that collectively employ 250 people. CBRE ranked Nashville No. 1 for tech job growth over the previous five years in its 2021 Scoring Tech Talent report.
Mobile phone game developer Tripledot Studios has opened a new office and development studio in Barcelona, Spain, where the company anticipates creating 30 new positions.
Known for its VR and AR technology and for its platform for Pokemon Go, Montreal-based Unity Technologies has opened a new "Innovation Centre for Digital Transformation" across the country in Calgary, Alberta, where the company hoped to grow from 60 to as many as 150 employees.
Stream or Swim?
The film and entertainment industry will never disappear. We will only continue to transform the way we interact with its products. The most immediately relevant example was the COVID-19 pandemic sequestering millions of people in their homes.
In March 2022 the Motion Picture Association released the 2021 THEME Report, which analyzes and surveys the national and global impact of the theatrical, home and mobile entertainment market. The report showed that in 2021, the global market, excluding pay TV, made a combined $99.7 billion. That represented a 24% increase from 2020 in revenue. Subscription to online video services increased to 1.3 billion globally, a 14% rise from 2020 data. Online video subscriptions were the second largest subscription revenue market behind cable, increasing by $17.9 billion in 2021 to beat out satellite TV.
While the neighborhood cineplex may be suffering, we still need places to film projects to feed the hungry maw of streaming content. In North America, 36 projects were announced in 2022 according to the Conway Projects Database. The U.S. East Coast saw the most substantial investments, an industry trend on the rise as productions continue to branch away from Hollywood tradition.
New York's film and entertainment industry pulled in over $1 billion in investments, the largest disclosed amounts the U.S. saw in 2022. Lions Gate Entertainment kicked 2022 off with a $500 million expansion to its Yonkers production studio. The expansion adds 500,000 sq. ft. of production space to meet new content demand. Wildflower Studios, backed by actor Robert De Niro, will make its 5-acre, $600 million debut in Queens and bring in 1,000 new jobs. Both projects will be complete in 2023.
Down south in New Orleans, Second Line Stages announced a $100 million expansion. Including 90,800 sq. ft. for five new sound stages, 12,000 sq. ft. of production offices, 70,000 sq, ft. of production-support space, and a 50,000-sq.-ft. basecamp, a total of 222,000 sq. ft. in all.
NASCAR Holdings LLC. plans to open a $28.5 million production studio in Concord, North Carolina. The 58,000-sq.-ft. studio will open in 2024 for NASCAR Productions and NASCAR Studios employees for live productions and content strategy. In Georgia, Shadowbox Studios (formerly Blackhall Studios) is investing $500 million in a 1.2-million-sq.-ft. expansion in Covington, 30 minutes outside of Atlanta. Prior to that announcement, investors led by Blackhall Studios' former CEO Ryan Millsap bought 1,500 acres in Covington for $14 million to shoot for an upcoming action-based streaming service.
World Business Chicago President and CEO Michael Fassnacht, in a February conversation with Site Selection Managing Editor Adam Bruns, said Cinespace is a dominant player in Chicago film production, but "we need more film capacity in the city." One project helping build that capacity is the recently announced Regal Mile Studios, a $100 million project on the city's South Side backed by ID8 Ventures LLC and investment bank Loop Capital.
"The Regal Studios Project represents a vital source of infrastructure for the film industry in the City of Chicago," said Kwame Amoaku, director of the Chicago Film Office. "It also represents a major cultural revolution for the South Side of Chicago by providing a catalyst for the development of an arts and entertainment district for this underserved area of the city.""
The American film and television industry supports 2.4 million jobs, pays out $186 billion in total wages, and comprises more than 122,000 businesses.
— Motion Picture Association
The Illinois Film Production Tax Incentive Program, recently extended to 2033, will help make that project happen. Meanwhile, Fassnacht says he'd like to see more esports and video game development too. "We are behind in Chicago and need to learn from L.A. and Dallas to be a global player," he says, noting a strong esports program at DePaul University, among others. "Look at viewership and spectator numbers. We are a great sports city. We will focus more on that this year."
When California Governor Gavin Newsom's 2023 budget proposal in January included an extension of the California Film & TV Tax Credit program, Motion Picture Association Chairman and CEO Charles Rivkin had this to say about what is still the leading filmmaking marketplace:
"Governor Newsom's budget underscores the importance of funding programs that stimulate our economy and support job creation. That is exactly what the California Film & TV Tax Credit program has accomplished since its inception, even in challenging times. In fact, the 2.0 version of the program was directly responsible for $21.9 billion in economic activity and created more than 110,000 high paying jobs throughout the state. The extension of this program is essential for future economic growth that benefits all Californians."
Out With the Old, Here Comes Netflix
Netflix activity has benefited a fair share of Californians. Now it's looking at the opposite end of the country.
The company streaming more than 3,700 movies and 1,800 TV shows to more than 190 countries needs endless content to be made. As a U.S. production company, its choice of the U.S. comes as no surprise. Witness the company's past investments in Albuquerque as well as its home base in Los Angeles.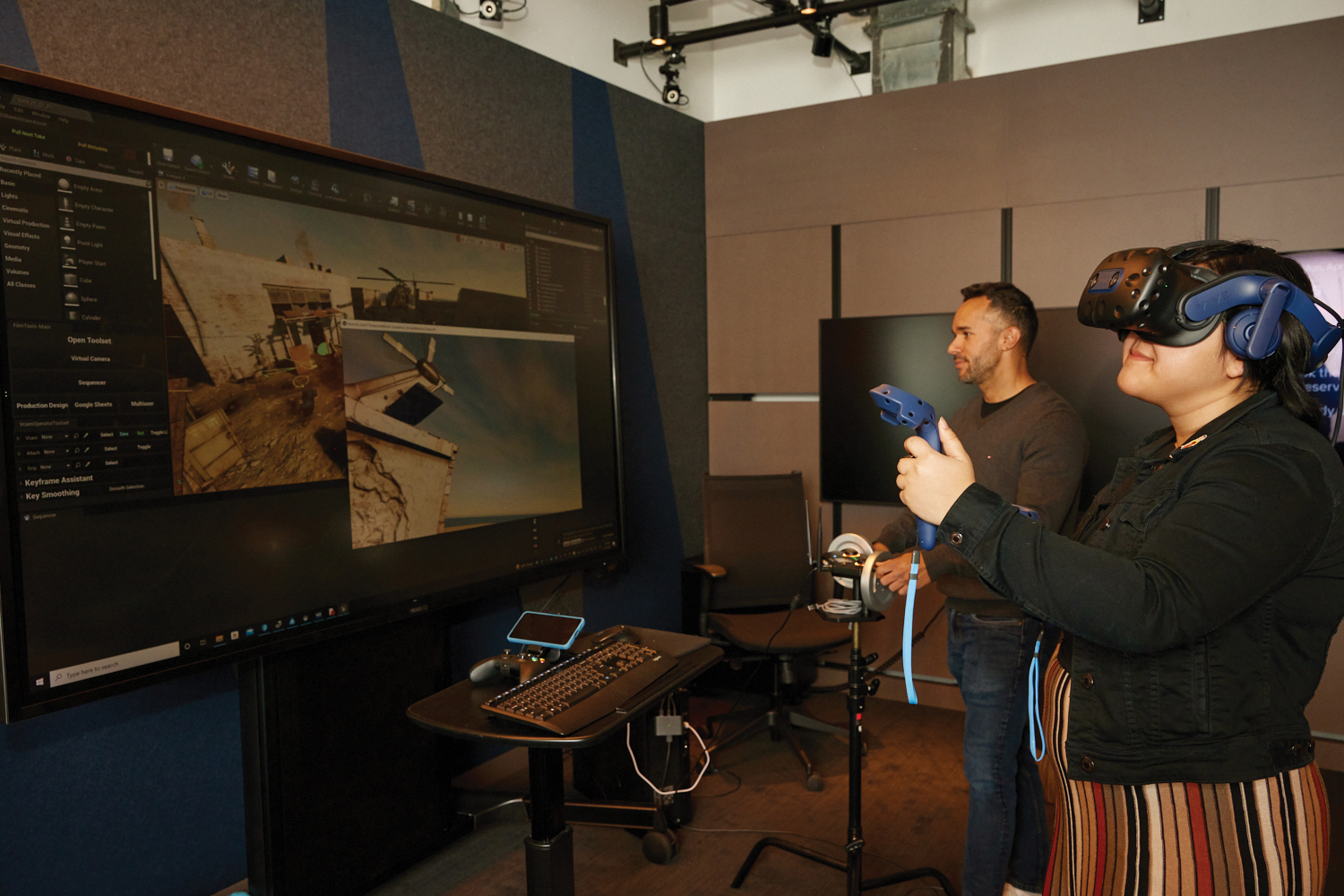 Netflix is expanding with a new studio in New Jersey's Fort Monmouth.
Archive sign photo courtesy of Netflix
Slightly more unexpected is the choice of a community with no major filmmaking heritage.
In late December 2022, Netflix announced an $848-million production facility in Monmouth County, New Jersey. The company is securing 292 of 1,127 acres at Fort Monmouth, which once served the U.S. Army's Signal Corps for various operations, then as Communications-Electronics Command (CECOM) until its closure over a decade ago. A longtime anchor to its surrounding community. The effects of Fort Monmouth's closure were felt as local small businesses soon dwindled and talent searched elsewhere for new opportunities.
The arrival of Netflix brings a new sense of opportunity. Netflix will preserve the history of the site as it builds its newest studio, creating space for the community to gather and watch movies at the site. The deal was finalized after the Fort Monmouth Economic Revitalization Authority (FMERA) voted to support a sales contract for Netflix to purchase a "mega parcel" on the property.
"I grew up in one of the towns being redeveloped, and to see that capital investment come back is incredible," says FMERA Executive Director Kara Kopach. "It's going to be a trickle-down economic impact on the surrounding communities."
The company's productions will have thousands coming to and from the Fort to work, creating 1,400 to 2,200 jobs annually. The project has the ability to attract business and talent back to the region, this time to stay.
"Now restaurants could cater full productions, fleet vehicles might need to use the local carwash. We expect this to kind of have a real cascade effect on the local community and the state at large," says Kopach.
In a statement after the Netflix news broke, New Jersey Business & Industry Association President and CEO Michele Siekerka, who had advocated for the production hub, said in a statement, "Jobs and innovation are at the heart of this Netflix-New Jersey partnership, just as they were throughout Fort Monmouth's rich history. Having previously served with FMERA, it is heartening to reimagine these buildings and the property as once again a hub of creativity, innovation, and cutting-edge technology — not to mention home to some of our favorite TV shows. It's a great way to continue Fort Monmouth's legacy.
"Netflix's capital investments will result in future-proof production industry jobs that will help bolster our state's economy and enhance our identity as a national go-to for both small and large productions," Siekerka said. "Netflix's presence will also bring positive results for neighboring small businesses. We very much look forward to the first 'Action!' to take place at Fort Monmouth."