U.S. President Joe Biden spoke with Israeli Prime Minister Benjamin Netanyahu on Sunday, expressing "concerns" over his government's planned reforms to the country's judicial system that have sparked widespread protests across Israel and Compromise is encouraged.
The White House said Biden reiterated U.S. concerns over measures to desegregate the judiciary from the country's political system, and a senior administration official described Biden's call as candid and constructive. There was no immediate sign that Mr. Netanyahu was shying away from taking action after rejecting a compromise proposed by the country's figurehead president last week.
Mr. Biden "spoke to Mr. Netanyahu as a friend of Israel, hoping to find a compromise," said the official, who requested anonymity to discuss the leaders' private calls.
The White House added in its statement that Mr. Biden "underscored his belief that democratic values ​​have been, and must continue to be, the hallmark of U.S.-Israel relations, that democratic societies are strengthened by genuine checks and balances, and that fundamental changes should be fought for. the widest possible popular support."
"The President expresses support for ongoing efforts to reach a compromise on proposed judicial reforms consistent with these core principles," the statement said.
Mr. Netanyahu said on Sunday that the legal changes would be made responsibly while protecting the fundamental rights of all Israelis. His government – the most right-wing administration the country has ever seen – said the reforms were aimed at correcting an imbalance that gave too much power to the courts and prevented lawmakers from enforcing the wishes of the voting public.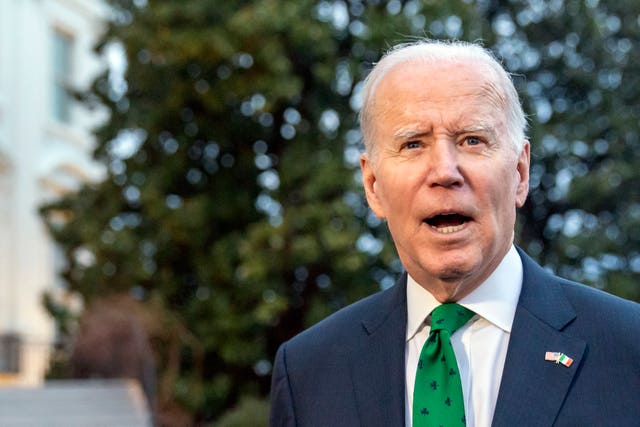 The conversation followed Sunday's meeting of Israeli and Palestinian officials in Egypt, where they pledged to take steps to ease tensions ahead of the sensitive holiday.
Government officials praised the outcome of the summit held in the Egyptian Red Sea resort of Sharm el-Sheikh. A joint communique said the two sides reaffirmed their commitment to de-escalate the situation and prevent further violence.
During the call, Biden "emphasized the need for all parties to take urgent, cooperative steps to strengthen security coordination, condemn all acts of terrorism, and keep the two-state solution viable," according to the White House.
Israeli and Palestinian delegations met for the second time in less than a month, chaired by regional allies Egypt and Jordan and the United States, ending a year of violence.
More than 200 Palestinians were killed by Israeli fire in the West Bank and East Jerusalem, while more than 40 Israelis or foreigners were killed in Palestinian attacks.
"Both parties agreed to establish a mechanism to contain and combat violent, inciting and inflammatory states and actions," the communiqué said.
It added that the two sides will report on progress at a follow-up meeting in Egypt next month.