Products from Vietnam's processing and manufacturing industries now have a great opportunity to export stronger products to the UAE, where import demand is high.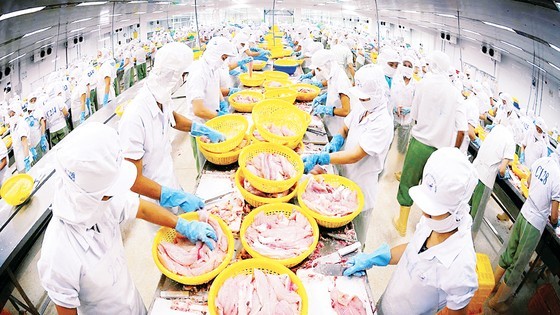 Fish processing factory. Vietnam is currently the largest exporter of frozen char fish fillets to the UAE. (Photo: SGGP)
Dubai is undergoing rapid urbanization and infrastructure development, resulting in increased demand for electricity and energy from the industrial and trade sectors. The development of smart grids and the upgrading of transmission lines will also boost the cable market in the UAE.
The UAE cable market is worth USD 192.48 billion in 2021 and is expected to grow by an average of around 4.2% between 2022 and 2030. Therefore, cables are a product with great potential for Vietnamese companies to invest and export to the Middle East, Cong Thuong (Industry and Trade) newspaper quoted Truong Xuan Trung, an official of Vietnam's trade office in the UAE, as saying.
Among other processed and manufactured goods, Vietnam could also increase shipments of handbags, suitcases and wallets, he suggested.
In 2022, footwear exports to the UAE will generate US$185 million, an increase of nearly 50% year-on-year; textiles and clothing US$132 million; and statistics show that wood and wood products will generate US$27 million.
The Ho Chi Minh City Handicraft and Wood Industry Association has registered to participate in the Woodworking Fair in the UAE in 2023. The event will gather many international importers and exporters, and it will be a good opportunity for Vietnamese companies to find partners, Trang said.
In addition, some agricultural and aquatic products of Vietnam occupy a large market share in the UAE, and more products can be exported to this market.
Figures for 2022 show that fishery exports to the UAE have increased by more than 18% year-on-year. Vietnam is currently the largest exporter of frozen pangasius fillets there, with a market share of more than 50%. Fruits such as dragon fruit, watermelon and seedless limes from Southeast Asian countries also occupy this market.
However, the official noted that the UAE is a highly competitive market in terms of price and quality, adding that the Islamic State requires imported food and beverages to have a halal certificate and imposes steep import duties of up to 50 percent on sugar-sweetened beverages .
Despite the enormous challenges, Trung believes the UAE is attractive enough for Vietnamese companies as it is a highly open market with few tariff barriers and serves as a transit point for goods reaching the Middle East, Africa and southern Europe.
In addition, the UAE is a member of the Gulf Cooperation Council (GCC), whose members enjoy a common customs law system, so when Vietnamese goods are exported to this market, they can enter other GCC member countries without paying more taxes.
The UAE has asked Vietnam to consider signing the bilateral comprehensive economic partnership agreement as soon as possible to further facilitate the entry of Vietnamese products into the Middle East country.