[ad_1]

While GDP growth in the United Arab Emirates (UAE) slowed due to lower oil production, the performance of non-oil sectors, including FMCG, remained strong. The economy is expected to grow by 2.4% in 2023, slower than previously expected but still a positive sign.
Inflation in Dubai fell from 6.2% in the third quarter of 2022 to an average of 4.6% in the first quarter of 2023. However, policy easing in Dubai and the UAE has been slower than in other parts of the world, including the US and the euro zone.
Price increases have become more restrained in most FMCG segments, except beverages. This makes monitoring pricing trends across product categories critical for creating brand-specific strategies.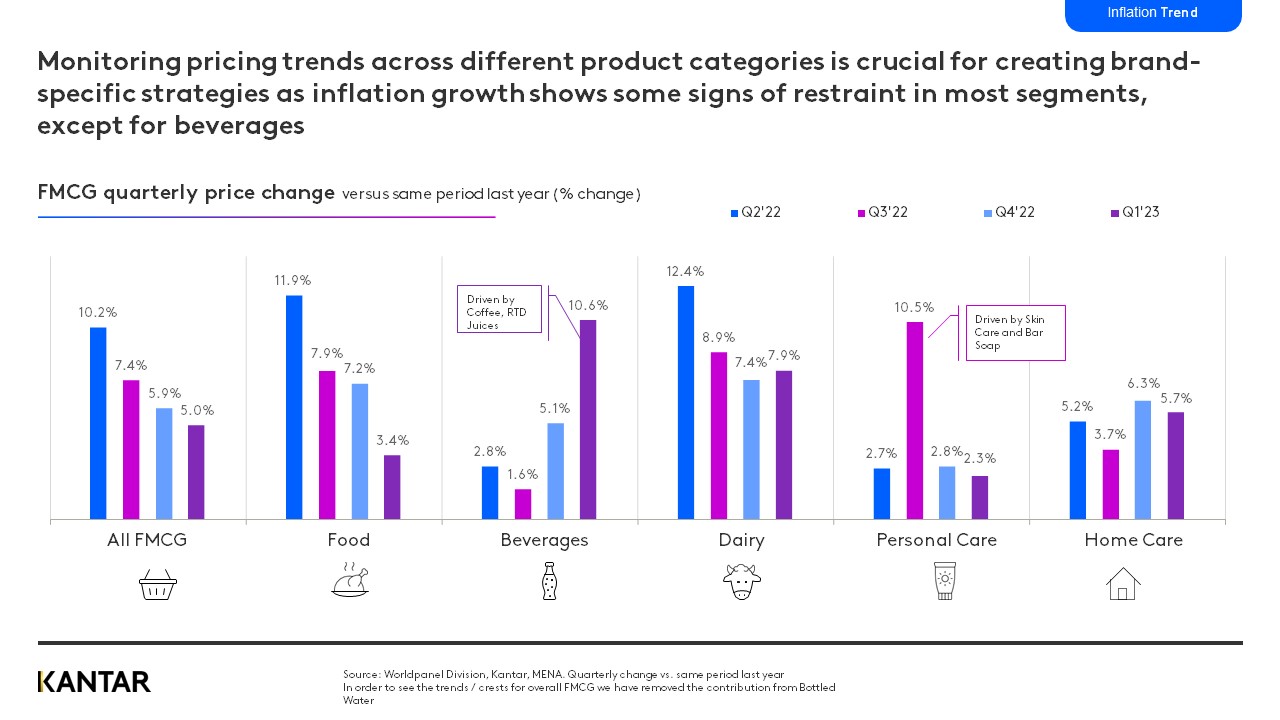 The relatively modest price increases were linked to a modest 1.3 percent increase in volumes in the first quarter, as buyers rationalized their purchases to a lesser extent. While pricing pressures have been widening the gap between FMCG volume and value, a strong increase in purchases during Ramadan in 2023 is a positive development for brands and retailers.
The growth rate of FMCG spending is slowing as inflation begins to level off.
Shoppers Take Action to Control Spending

In the short term, the main response to financial stress for UAE consumers is to shop less frequently. They are also continuing to reduce quantities and buy fewer packages per trip in certain categories. Recent trends also show that shoppers are purchasing larger packages of food, beverage and personal care items.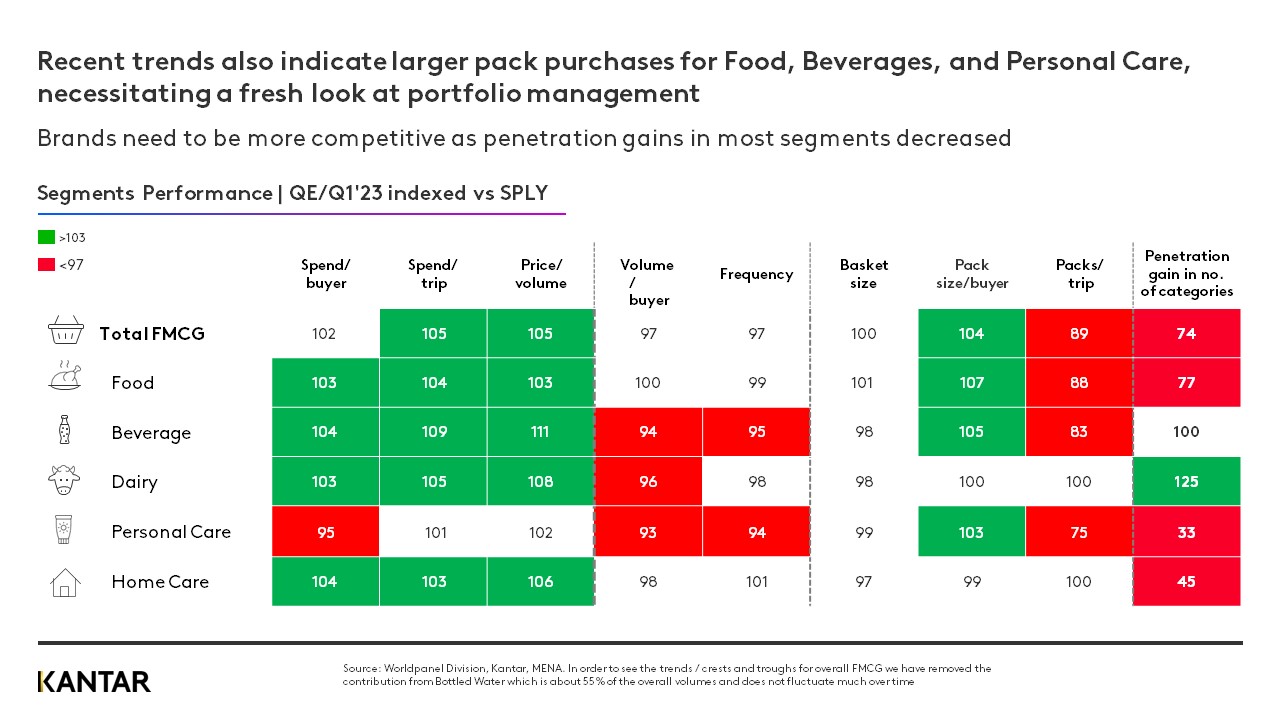 With decreasing penetration in most market segments, brands need to become more competitive in order to increase sales and market share. They should capitalize on opportunities in market segments that are experiencing penetration growth and revisit portfolio management to align with related trends in bulk sourcing.
Hypermarket and online opportunities

A shift in consumer behavior to explore alternative shopping options, such as hypermarkets, presents both challenges and opportunities for brands. While this increases their access to a wider range of customers and enables them to negotiate better partner deals due to larger purchase volumes, competition within hypermarkets is heating up. This makes differentiation challenging. Brands need to adapt their marketing and product ranges to the preferences and behavior of hypermarket shoppers.
Only about 11% of the top 600 FMCG brands in the UAE do not sell online. Online shopping is still growing mainly due to its convenience and increased use of e-commerce by households in the region.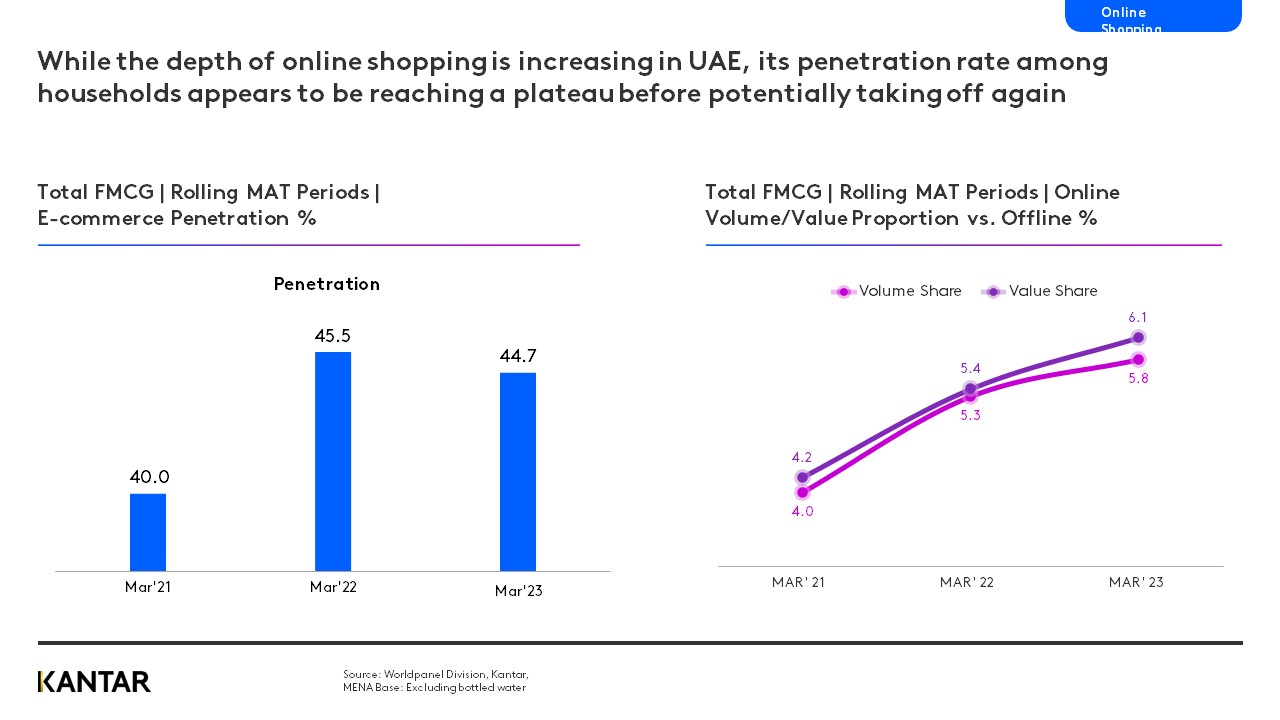 The size of online package purchases is dwindling—but shoppers pay higher average prices for about 67% of categories. Half of the FMCG brands are sold at premium prices online, and the other half are sold at cheaper prices than offline. This suggests opportunities for both premium and discount strategies in the e-commerce space.
Expat Arabs are still at the forefront of online shopping. The growing participation of other nationalities, especially higher socioeconomic groups and Emiratis, will drive further adoption of the channel.
Brands and retailers should adapt their strategies to the rise of online shopping, including updating channel mixes and product packaging sizes to better accommodate in-store shopping.
The pandemic has brought permanent changes to consumer behavior in the UAE. Overall, the FMCG market remains positive as the region enters the post-pandemic world. However, it is clear that seasonal factors as well as increases in basket prices drive volatility in consumer buying behavior. Brands and retailers must remain flexible and keep an eye on trends in order to develop and execute adaptive marketing strategies.
For more insights, contact our experts.
[ad_2]

Source link