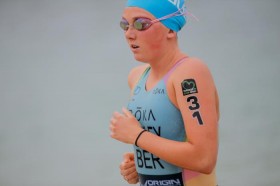 [Written by Stephen Wright]
Erica Hawley says she has learned a lot from her first race of the season after finishing 45th in the Abu Dhabi World Triathlon Championships series yesterday [March 3].
Competing in only her third WTCS race, the Bermudian finished the Elite Ladies in 1:19, 31:09 and 17:52 in 1:1:8.
The 24-year-old member of the Asics World Triathlon development team wrote on Instagram: "While p45 may not sound like a great result, the positives were seen in the race and I achieved many of my process goals. With such small amplitudes, this is difficult.
"The first race of the year is always a little nervous, but starting my third WTCS race for the first race of the season is a new level of nerves!
"It was a game of waiting to get into the starting roster, but I am very grateful for the opportunity and have gained a lot of valuable lessons and experience playing at this level. Plus, I beat my starting number, which is always Very good. I definitely won't forget this game/course anytime soon."

read more about