[ad_1]

The Madison Derby Tour team announced a doubles match against the Ohio Skate last week, the league's first of the summer and the first tour in Madison since the start of the COVID-19 pandemic.
The traveling team Dairyland Dolls and Ohio Roller Race will be held at the Alliant Energy Center Arena on Saturday, June 10th at 6 p.m. in Madison. Derby will also take part in the "Udder Chaos" Invitational on September 23-24 and the Halloween Mix on October 10 before MRD's first home game of Season 19 on December 9.
Madison Roller Derby executive director Wendy Wilbur, who skates under the name "Allie Gator," told Cap Times the traveling team has been hit hard by the pandemic and has been working hard to rebuild the league.
"There's definitely a lot of grief for those who lost time, lost training, lost games," she said. "Our internal teams are very motivated to get back out there and have really done a fantastic job helping guide our training and development recovery from COVID."
According to Wilbur, more than 40 skaters play for the Dairyland Dolls, many of whom also volunteer as coaches, managers or captains of Madison's roller skating competitions. The league has 6 teams with over 100 players and a junior training league for skaters ages 8 to 17.
The Madison Roller Derby relies entirely on the work of its 160 volunteers, many of whom also participate in competitive and non-competitive skating. Volunteering allows people who can no longer compete in ice skating due to injury or physical limitations to participate in the sport.
"If you've always thought of yourself as a skater, but you can't skate anymore, how do you get involved and how do you find value in that?" Wilbur said. "So there are many different volunteer roles that people can fill, and there are a variety of skating techniques and intensity levels in the practice we're doing."
The Dairyland Dolls have played Minnesota and Michigan State recently, but Wilbur said the team is excited to bring the interleague game back to Madison.
"We're really excited to bring the Dairyland Dolls back to Madison and allow our fans to see this level of derby competition," she said. "Derby fans and Derby fans are fantastic, it's a very broad community."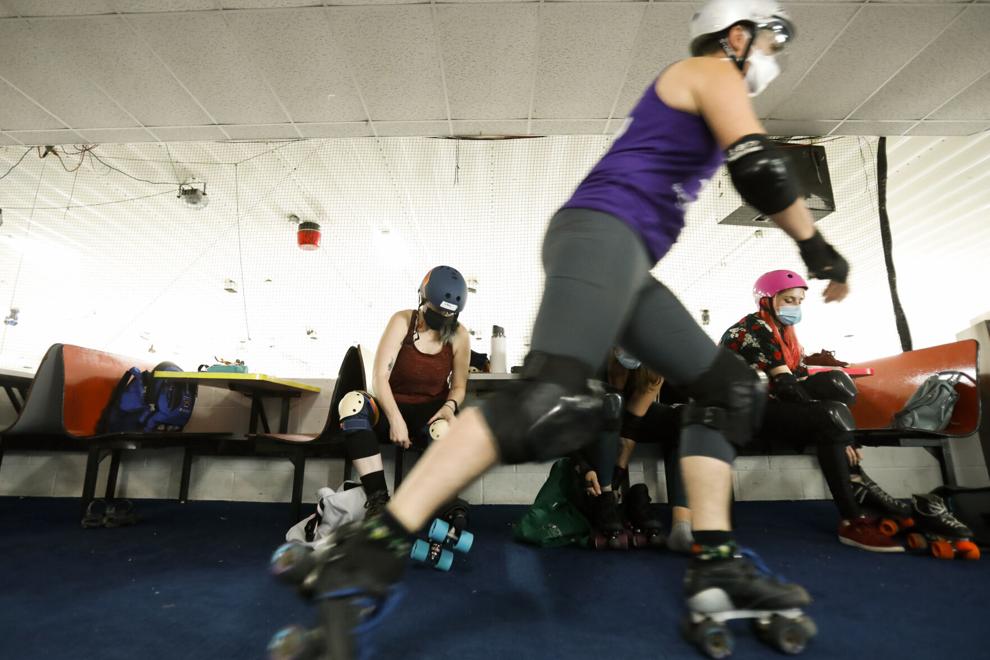 looking for a new home
Last August, the Madison area's only ice rink, the Fast Forward Skate Center, announced it would close after a common board voted to replace it with affordable housing. The Derby has called the rink home since its formation in 2004, and its closure has left the team with no permanent space to practice.
"Losing Fast Forward is something we definitely feel, and we're trying to make sure people have places to skate," Wilbur said.
But the team can't run its own rink, Wilbur said. "It's not within our capabilities, our bandwidth and our resources."
Without Fast Forward, the closest rink is in Watertown, Wisconsin, about 40 miles east of Madison. Wilbur said the Watertown rink imposed "outdated rules" on skater attire, which she believed was antithetical to a sport that values ​​athletes' self-expression.
Madison Roller Derby is currently in partnership with the Alliant Energy Center to lease space at the facility. However, the field was unavailable during the hours set aside for the big event, forcing the league to look elsewhere during practice.
Wilbur said that while the partnership with Alliant is a temporary measure, "it's not a long-term solution either."
With Fast Forward closed, Madison Roller Derby continues search for new permanent practice spaceDerby is currently in talks with an organization that wants to build an ice rink in Sun Prairie, Wisconsin, though Wilbur emphasized that any project to build or renovate a space large enough to accommodate Derby will take several years to complete.
"What's challenging is that everything is constantly changing and we have to keep skating and plan for the future while trying to make sure we keep skating today," she said.
Wilbur said the league needs a space of about 15,000 to 20,000 square feet, including space for the roller skating track and spectators. Additionally, the team is currently accepting donations from the public so the league can acquire a venue in the near future.
"It was just a matter of finding community partners who were willing to work with us and help keep the Derby rolling in Madison and help be able to expand our program," Wilbur said.
With the right permanent practice space in place, Wilbur said Derby can continue to strengthen the local community around the sport.
"It's not just the skaters on the track who are affected by roller skating, it's the volunteers, the fans who become family members and future generations who are able to see and be a part of it," she said.
Madison Roller Derby holds tryouts for female and non-binary applicants approximately every eight weeks.Those who are interested in trying for the team You can subscribe to Derby's mailing list Receive the latest information on available training opportunities.
[ad_2]

Source link