Mission Ferrari at Ferrari World Abu Dhabi opened to the public in January with much fanfare. Holovis' James Lodder shares the decade-long journey to achieve this incredibly immersive coaster experience





Tom Anstey | Planet Attractions | March 20, 2023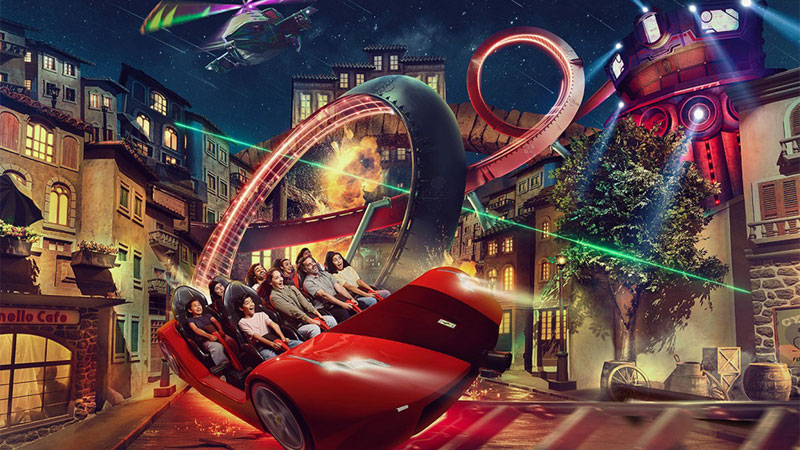 Mission Ferrari is a state-of-the-art SFX story coaster Image credit: Ferrari World
It's going to be a good year for Holovis.

The experiential design firm has already launched major projects in 2023, and one of them has been making waves – Mission Ferrari.
The 5D 'Immersive Giant Roller Coaster', a new attraction at Ferrari World Abu Dhabi that opened to the public in January, is being developed by Holovis in partnership with Dynamic Attractions and Qiguang Group.
Story Coaster – indoor/outdoor ride – features a world's first side coaster drop, reverse loop and state-of-the-art special effects, covers 1,778 feet (542 meters) of track, and reaches speeds of 44.7 mph (72 km/h) . Mission Ferrari also launched five LSMs.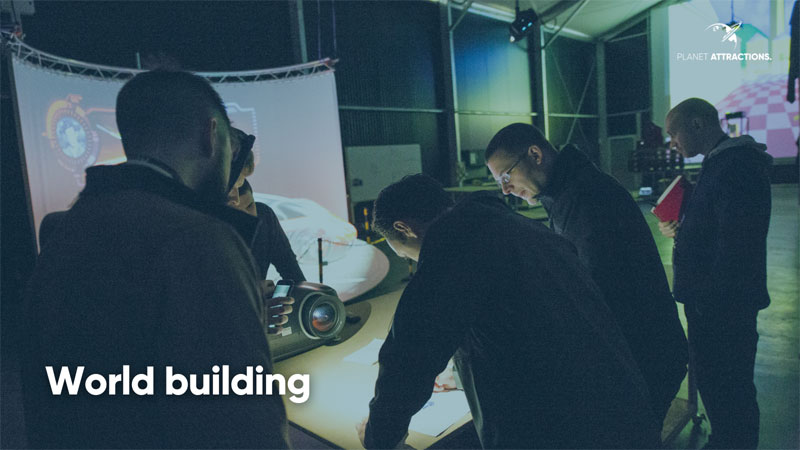 Holovis played a major role in the project, handling the guest experience and creating the AV programming around the rides themselves.
Mission Ferrari is unlike any roller coaster or dark ride experience before it, and it stands out in a category of its own making. For ten years, James Lodder, Director of Engineering at Holovis, has been working on the project from the beginning.
"It's not a traditional dark ride—it's a dark roller coaster," he told Planet Attractions.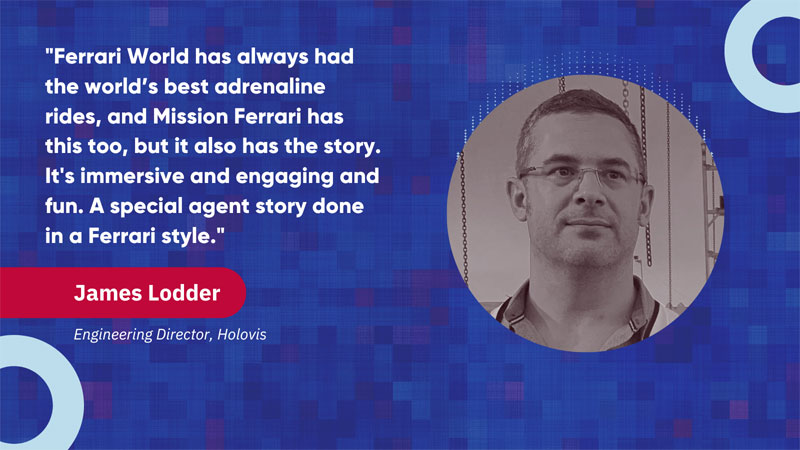 "It's an adrenaline-pumping experience—it's turned upside down. There's the trick switch, which does some really cool things for the coaster. Ferrari World has always had some of the most thrilling rides in the world, and so has Ferrari Mission, but it There's a story, too. It's immersive, engaging and entertaining. A secret agent story done in a Ferrari style."
As soon as guests enter the building, the attraction is full of themes from the preview.
"It's a huge effort to get you into that field," Lord explained. "You're in a Ferrari world, but you're in a spy world and you're getting ready for your mission.
"During the ride, our presentation system unfolds the story scene by scene, with dozens of projectors mixed on curved and wraparound screens to immerse guests in the center of the action."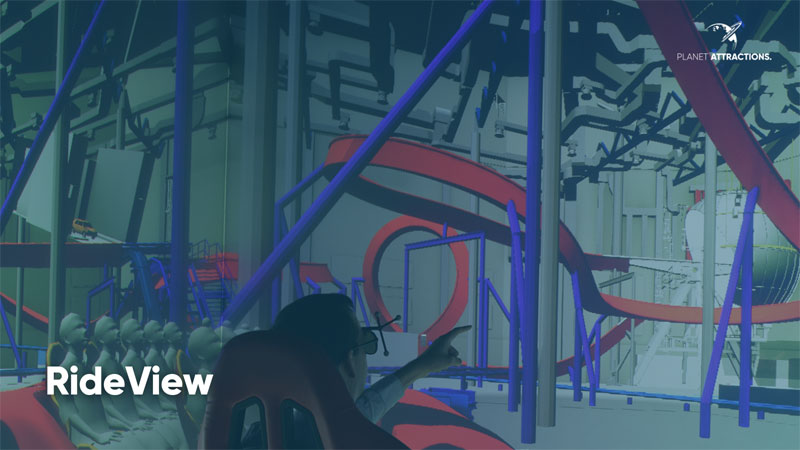 Holovis achieved this astonishing feat with its RideView technology—a real-time experience simulation software that runs in a virtual reality cave environment—delivering an exact replica of the final guest experience long before the coaster is complete. Lodder wears 3D glasses in the environment, describing the space as a "hologram room".
"When it first started, the ridebox was a construction site, and all you could see on site were concrete foundations and steel piles. You couldn't see the shape of the track yet, and you couldn't get any feel for the outcome of the guest experience." He explain.
"But we can import the 3D CAD of the track into our VR cave and animate the ride vehicle as it drives around the track. We set up the linear motors and braking zones, then the RideView physics model calculates the correct speed and lap times. We have a couple of race seats to sit in so your eyes are in the right place. Then you turn on 3D and head tracking and you can ride in this virtual environment with realistic motion and in virtual Digital media that plays on the screen. RideView is an amazing idea development tool. It allows us to test story ideas and find out what works and what doesn't, even before the coaster is built."
During development, the Holovis team discussed with the ride's manufacturers the different elements of the coaster ride itself, and worked with them to research where story elements might take place. Miral, owner of Yas Island, home of Ferrari World, also sent a creative team to work with Holovis on the process.
According to Lodder, one of the big things in development was Miral's willingness to put story first from a creative standpoint. "It's unusual. So it's cool," he said.
"We would sit in the cave with George Walker, the creative director at Ferrari World, and ride the car over and over again. We started iterating on George's ideas, and that resulted in scripts and storyboards."
In the virtual cave, the output is very simple in some places. When discussing ride launch scenarios for the first time, elements such as helicopter or rocket launches are represented by the text itself rather than full animation. At this stage, these elements are placed to get the timing of the ride just right to sync up the pace of the immersive story. This also helps to speed up and simplify things when changes need to be made to the story or the mechanics of the ride itself.
"Sometimes everything goes well and sometimes we have problems," Lord said. "For example, there was one scene that went by too fast for what we wanted. So we called Dynamic and said, 'Can you move these linear motors and change the drive curve to help the story? So when the vehicle reverses, Now there's a place in the early ride. First we roll through the scene, and then the character on the screen says "oh hey, come back" and the vehicle comes back. It works great.
Through this storyboarding and trial-and-error approach, Holovis was able to focus on the story and the guest experience first, rather than building a story around pre-made rides.
"Creating world-class content takes a lot of time, and you don't always have the opportunity to fully test a story before you're allowed a test drive, which sometimes is just a few days before the soft launch," Lodder said. "If we want to make If you change, there is no time to redo, so we have to cut what we can in the time we have. But in Mission Ferrari, we have to do things in a better way, go through these and see how creative people It was awesome not being able to get enough of the cave and the process. I really enjoyed this and I'm very, very happy with the quality of experience we provided."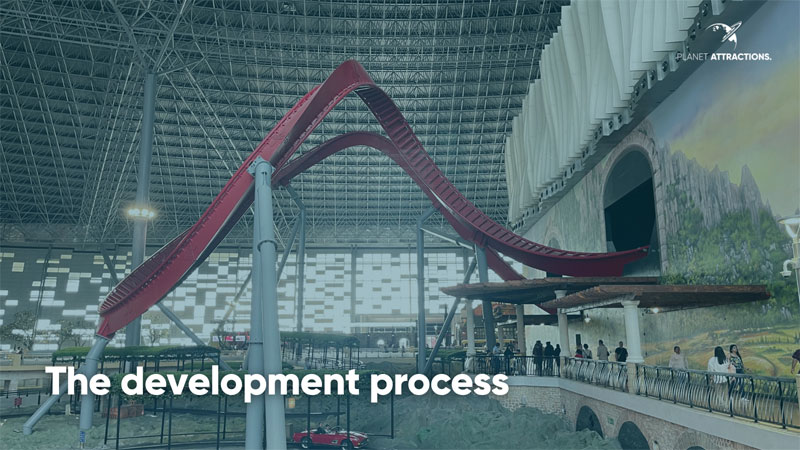 Before caves can be a factor, the foundation must first be established. Starting with a base model, Holovis was able to tweak the design to suit its overall needs, making room for the AV equipment that makes this ride so special.
"What roller coaster makers tend to do is they run tracks around the perimeter of the space, because then you get more tracks. We asked them to bring it in away from the walls so we had room to wrap the tracks around the AV and theme," Lodder explained.
"It gave us the space to set up a key scene in a huge dome, which was really immersive. Most dome screens are as shallow as a contact lens. Some circle 180 degrees, a hemisphere. But this circle The roof reaches exactly 230 degrees. So when the giant ride vehicle drives into the dome, the show is all around you, behind you and above you.
"The coaster team provided us with their CAD and we fed them back with the suggested adjustments. "Can you do this, is it something to do with the dynamics? "They were keen to lock down the track layout early on, but then we continued to work with them on car times, speed and pause times, media trigger points, etc."
While the ride system and track were developed by Dynamic Attractions, Holovis technology is integrated into the vehicle, including on-board audio with a pair of stereo speakers in each seat.
Holovis built full-scale physical models of key parts of the pre-show and ride scenes at the Holovis factory so that the digital media could be reviewed and perfected in-house using actual AV hardware with the correct sight distances and viewpoints.
"It's basically dialing everything up long before it needs to get to the scene so we can figure out what works, double down and figure out what's not working, and then make changes or fixes," Lodder said.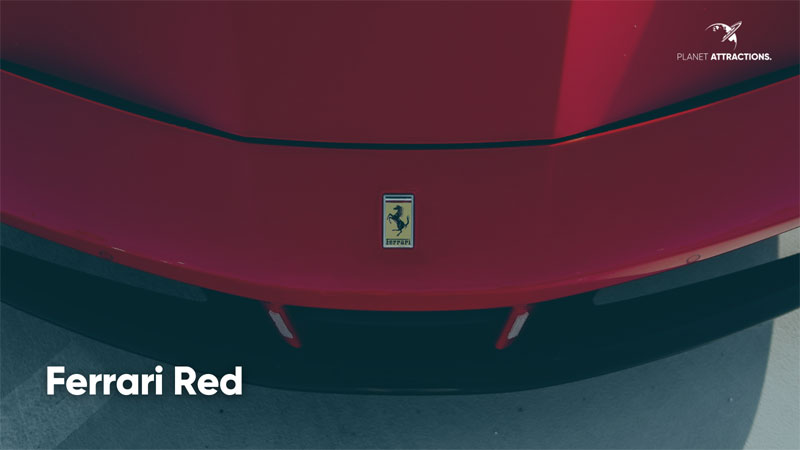 Of course, one of the key things that has to be perfect in an attraction is the presentation of the Ferrari brand. Everything from the exact shade of red to the placement of the logo to the tone of the story was vetted and considered.
"We've had some good feedback from Ferrari," Lord said. "For example, the iconic 'Cavallino Rampante' is always facing left. Never right. We have to fix that. But in general, Ferrari is willing to let us enjoy this, which is great.
"It's a lighthearted story, not serious. You'd think there'd be a whole bunch of jokes and references that might have been inspired by James Bond or Jason Bourne et cetera. Ferrari's fine with that, we don't have to change what we want wanted story."
Now that it's open to the public, what does Lodder think of the final product and how has the public responded?
"I would love to stand outside Mission Ferrari all afternoon and listen to what people were saying as they walked out the exit," he said.
"Recently I went there with Stuart Hetherington, the CEO of Holovis, and George Walker. A kid came over with his mum and he was so excited, we chatted with him for a while. Knowing that something we work so hard on can make people so happy , it's a really great feeling.
"I would like to thank Dave Reynolds, Richard Wingfield, Alex Kiss, Amy Steele and our entire Holovis Abu Dhabi team for their fantastic work in making Mission Ferrari such a fantastic and immersive experience."