Countries around the world usher in an uncertain new year amid a sluggish economy, fears of a possible new Covid variant in China and a political backdrop of US-China conflict UkraineFor the first time since the pandemic, many cities are hosting fireworks displays and large public gatherings without restrictions.
Crowds in Britain brave freezing temperatures, with an estimated 100,000 people gathering on the Thames Embankment London The display will take place at midnight despite the squalls.
The fireworks and light show refer to the passing of the late Queen Elizabeth II, ER, the initials of Queen Elizabeth II's Royal Code, illuminated by drones, and Her Majesty's portrait on the coin becomes the silhouette of King Charles III. Events such as the Ukrainian conflict, the England women's football team winning the European Championship, and Pride's 50th anniversary are also mentioned in the play.
The situation was quite different in Kyiv and other major Ukrainian cities, where an 11pm curfew had already ruled out large gatherings, before a series of air raid sirens and reports of bombings from Russian attacks disrupted the first hours of 2023. President Volodymyr Zelenskiy delivered a televised address in which he declared: "They say our only option is to surrender. We answer that our only option is to keep fighting!"
In his New Year's address, Russian President Vladimir Putin specifically called on the Russian people to support his troops fighting in Ukraine. Celebrations in Moscow were quiet, without the usual fireworks over Red Square.
New York City then joined in the New Year's lights with a dazzling spectacle in Times Square, celebrating across the United States. The night ended with a countdown when a glowing 3.6-meter (12-foot) diameter globe weighing nearly six tons fell from its perch atop Times Square. The ball's surface is made up of nearly 2,700 Waterford crystals, which officials say are illuminated by a palette of more than 16 million colours.
At midnight, tons of confetti rained down on revelers, sparkling on giant screens, neon signs and twinkling lights.
Covid restrictions last year meant only 15,000 of the usual 60,000 spectators made it to Times Square for the traditional moment.
Elsewhere, Australia celebrated its first unrestricted New Year's Eve after two years of Covid disruption, with more than a million revelers watching the traditional fireworks display on Sydney Harbour.
The lockdown in late 2020 and the surge in Omicron cases in late 2021 led to crowd restrictions and fewer celebrations.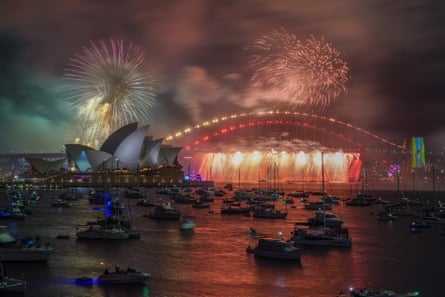 With 2,000 fireworks fired from the four sails of the Sydney Opera House and 7,000 fireworks fired from more locations than ever before on the Sydney Harbor Bridge, Sydney Harbor was lit up in a rainbow of colours.
exist edinburghThousands of people attended the traditional New Year's Eve celebrations, which included a concert at Princes Street Gardens led by the Pet Shop Boys and a DJ set at the annual street party.
Fireworks are set off hourly between 9pm and 11pm, counting down to the traditional midnight show.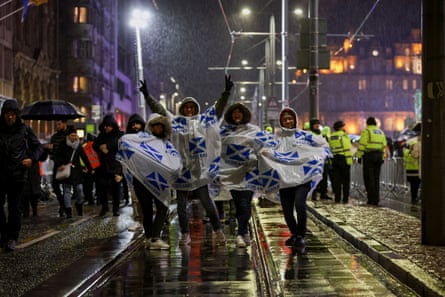 exist manchesterDue to budgetary pressures, the celebration was held at Manchester's Piccadilly Gardens without fireworks.
Scarborough also had to forego fireworks after an arctic walrus nicknamed "Thor" became a New Year's Eve celebrity after it was spotted in harbour. The local council decided to postpone the fireworks display so as not to disturb the creature, which is believed to be the first sighting of a walrus in Yorkshire, as the giant mammal draws crowds to the seaside resort. The animal is believed to be the same walrus found off the Hampshire coastline earlier this month.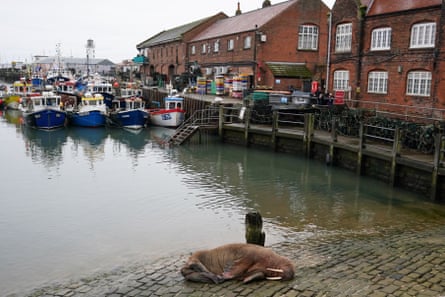 In China, thousands gathered in central Wuhan to start the countdown, many hoping it would be better after a "difficult" 2022 filled with lockdowns and a new coronavirus outbreak in December year. In a tradition in the central Chinese city where the pandemic began three years ago, many people released balloons into the sky as the clock struck midnight and took selfies with friends.
"In the past year, I felt Covid-19 was very serious and some of my family members were hospitalized," said a 17-year-old Wuhan high school student surnamed Wang from the riverside shortly after midnight. "I wish them good health in the new year. That's the most important thing."
Some wore outlandish clothes and nearly everyone present wore masks as the country saw a Covid wave that accelerated after containment measures were lifted and has since infected large numbers of the population, An estimated 9,000 people are now dying every dayaccording to UK health data company Airfinity.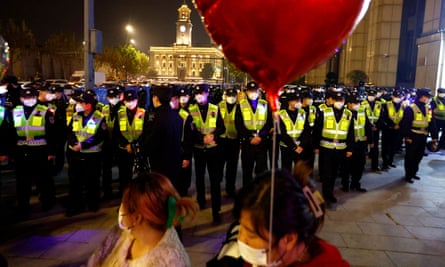 "I'm scared," said a woman surnamed Kim, referring to the possibility of reinfection with the new coronavirus. "I was still scared when I came out tonight, but I just wanted to come out because everyone came out."
"It hasn't been this lively for a long time," said a 24-year-old Wuhan resident surnamed Chen who works in e-commerce.
Police used loudspeakers at multiple locations to loop a short message telling people not to gather, but people seemed to pay little or no attention to the messages.
In Shanghai, which, like many Chinese cities, is under prolonged lockdown in 2022, crowds flocked to the Bund, the historic river walk.
"We all came to Shanghai from Chengdu to celebrate," said Dai Dai, a 28-year-old digital media executive who was traveling with two friends. "We've had the virus, so it feels safe to enjoy life now."
exist FranceParis held its first New Year's fireworks display since 2019, with an estimated 500,000 people gathered on the Champs-Elysées to watch the 10-minute show.
But the Czech capital, Prague, felt financially strapped and did not host the exhibition.
"It seems inappropriate to have a celebration," said city hall spokesman Witt Hoffmann, citing "the unfavorable financial situation of many Prague families" and the city's need to save money. Heavy rain and high winds meant that fireworks displays in major Dutch cities were canceled.
Berlin ushered in the New Year with fireworks over the Brandenburg Gate, while Athens set off fireworks over the ancient Parthenon atop the Acropolis hill.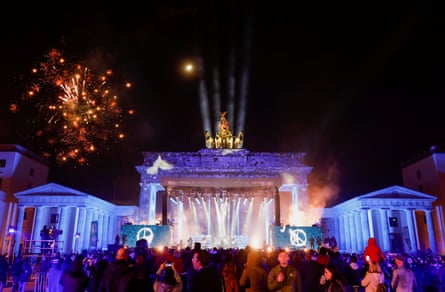 Reuters and The Associated Press contributed to this report