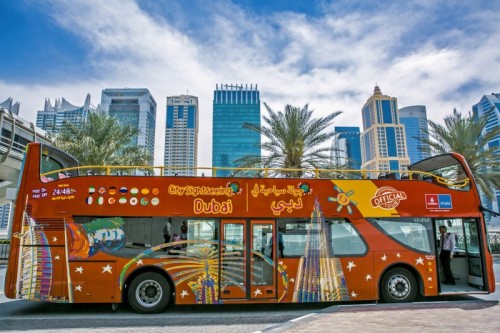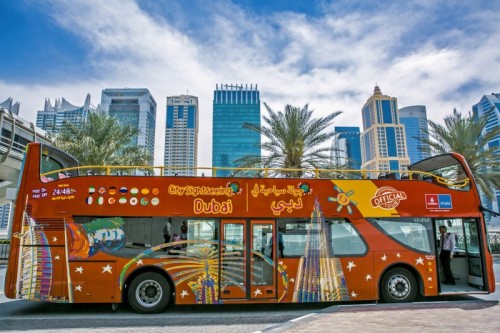 City Sightseeing, the world's leading open-top bus brand, will today restart its business in Dubai with its award-winning unique city tour, which uses new and enhanced health and safety measures, and provides An unmissable limited time offer.
City Sightseeing Dubai was first launched in the UAE in 2014 as a joint venture with dnata Travel Group and has now developed into one of the most popular and well-known travel options in the city. City Sightseeing is known in more than 100 top destinations in the world for its iconic red open-top bus and its fun-filled "Hop-on Hop-off" concept, giving you the opportunity to explore the city's top attractions and an informative audio guide.
The Dubai edition will take visitors to the most memorable locations in the city, from Dubai Mall, the world's largest shopping mall, the historic Dubai Creek district, the picturesque Jumeirah Beach and beyond. With the increasing passenger flow in the domestic tourism industry, the city tour team announced a new offer that allows UAE residents to rediscover Dubai or lead tourists to the city for an unforgettable trip to top attractions, up to 50% % Discounted time-limited standard fare.
Alaa AlKhatib, Vice President of Destination Management at dnata Travel Group commented: "We are pleased to announce that Dubai City Tour will be relaunched today with a series of enhanced health and safety features to provide UAE residents and tourists with the opportunity to return to us safely.
"Domestic tourists can find themselves exploring how well they know the city, and to commemorate this moment, we launched an introductory offer where UAE residents can purchase 2 to 1 tickets to have a chance to rediscover Dubai or Explore some of its most extraordinary areas and landmarks for the first time, or show them to visiting friends and family."
Starting today, the daily service of city tour Dubai will depart every hour from 10 am to 4 pm, departing from the Dubai Mall. The total duration of the tour is two hours. The route provides a "hop-on hop-off" service, including the following stations: Dubai Mall, Al Fadi Historic District, Dubai Museum, Old Souk, Heritage Village, Gold & Spice Souks, Dubai Creek, Jumei La Kasbah and Atlantis The Palm Dubai.
"City tours are a well-known and well-loved product for tourists from cities around the world. Our popular tours have recently been relaunched in top domestic and international tourist locations, including Seville, Athens, London, Reykjavik and now Dubai. " Add to Enrique Ybarra, founder and CEO of Global City Tour.
"Dubai City Tour provides an unparalleled opportunity to allow tourists to visit the main highlights and attractions of the city in one day at their own pace through our unique concept. Dubai is one of the most diverse cities in our global portfolio. 1. From Seville in Spain to more than 100 cities around the world-Dubai provides the opportunity to appreciate some of the most futuristic urban landscapes, beautiful beaches and Dubai Creek in the world, full of history and culture, all in one place."
City Sightseeing Dubai now has a new health and safety protocol on board to ensure the well-being of guests, including reduced seating capacity, social distancing guidelines, disposable earphones, and thorough cleaning and disinfection of the bus after each use.
Starting today, UAE residents can purchase a 2-to-1 city tour Dubai ticket discount during the limited time booking period before July 22, 2021. The tickets are valid until October 31, 2021.Residents across the UAE can use this offer to provide by visiting www.citysightseeing-dubai.com And register as a member to get 50% coupons.