[ad_1]

After a lovely flight in Etihad's Boeing 787 first class from Washington to kick off my round the world trip with dad, we had a roughly six hour layover, which we spent in the Etihad First Class Lounge. It had been several years since I visited this lounge, and I knew that there has been some cost cutting, so I was curious if I'd like it as much as in the past.
While I'm sad to see that the lounge's spa has been eliminated, this is still an excellent lounge. I love how big the lounge is, given that few people have access to it, and the lounge also has a very good selection of food and drinks, plus a gym. This is a great place to spend a long layover.
Let's get into the review.
Etihad First Class Lounge Abu Dhabi location & hours
The Etihad First Class Lounge Abu Dhabi is located in Terminal 3, right near the central security checkpoint, by the duty free shops. The signage throughout the terminal is quite good, which should make it easy to find the lounge. Obviously they lounge is incredibly conveniently located if you're originating in Abu Dhabi (since it's just past security), while otherwise it could be a bit of a walk.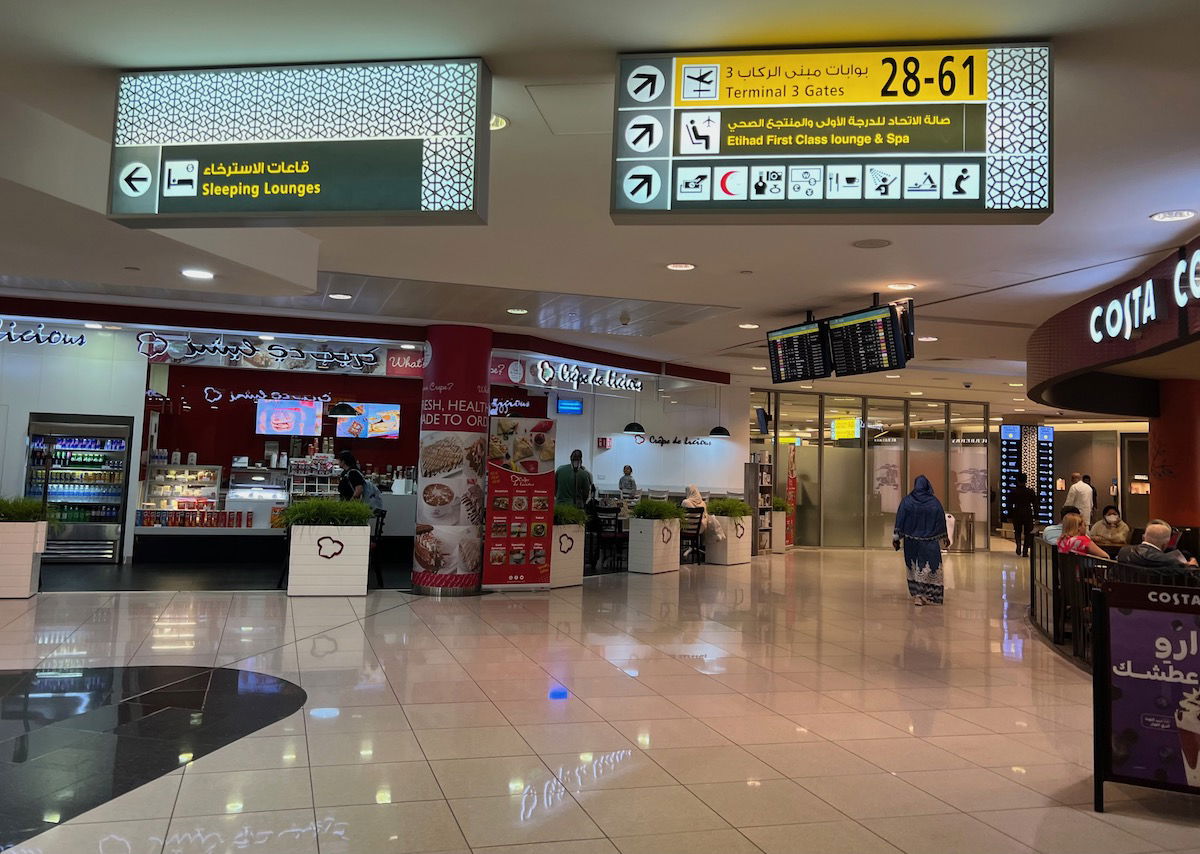 Etihad really should update the branding for this lounge, to eliminate the "& Spa" descriptor (or perhaps Etihad should just bring back the spa). 😉 On the terminal level there's an employee who checks your eligibility to enter the lounge, and then you can either take the stairs or elevator up a level, where the lounge is located.
Since the Etihad Business Class Lounge is in a different part of the terminal, it seems like a vast majority of people who approach the lounge are turned away. For example, there were several people ahead of us to get in, but they were all turned away.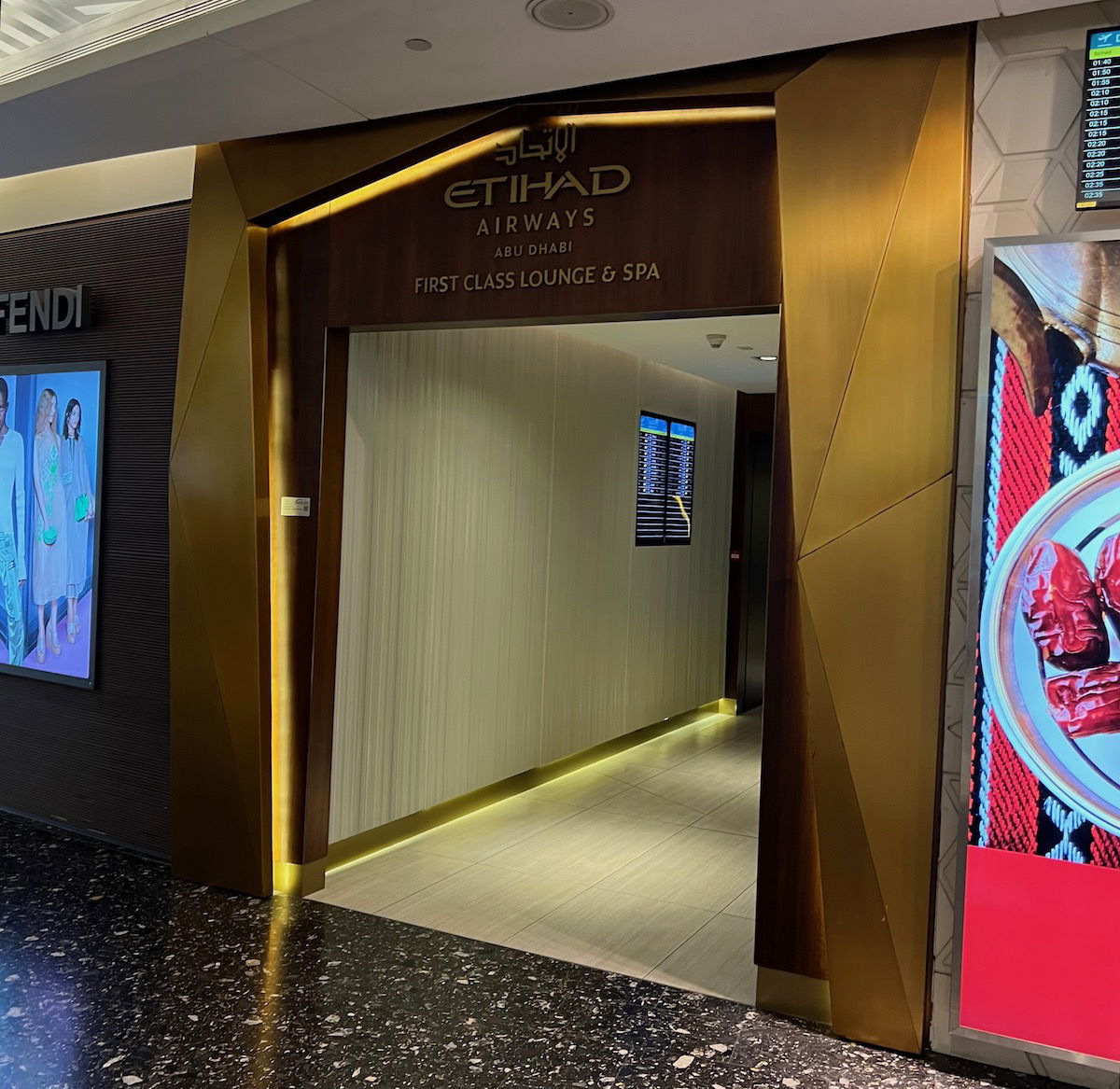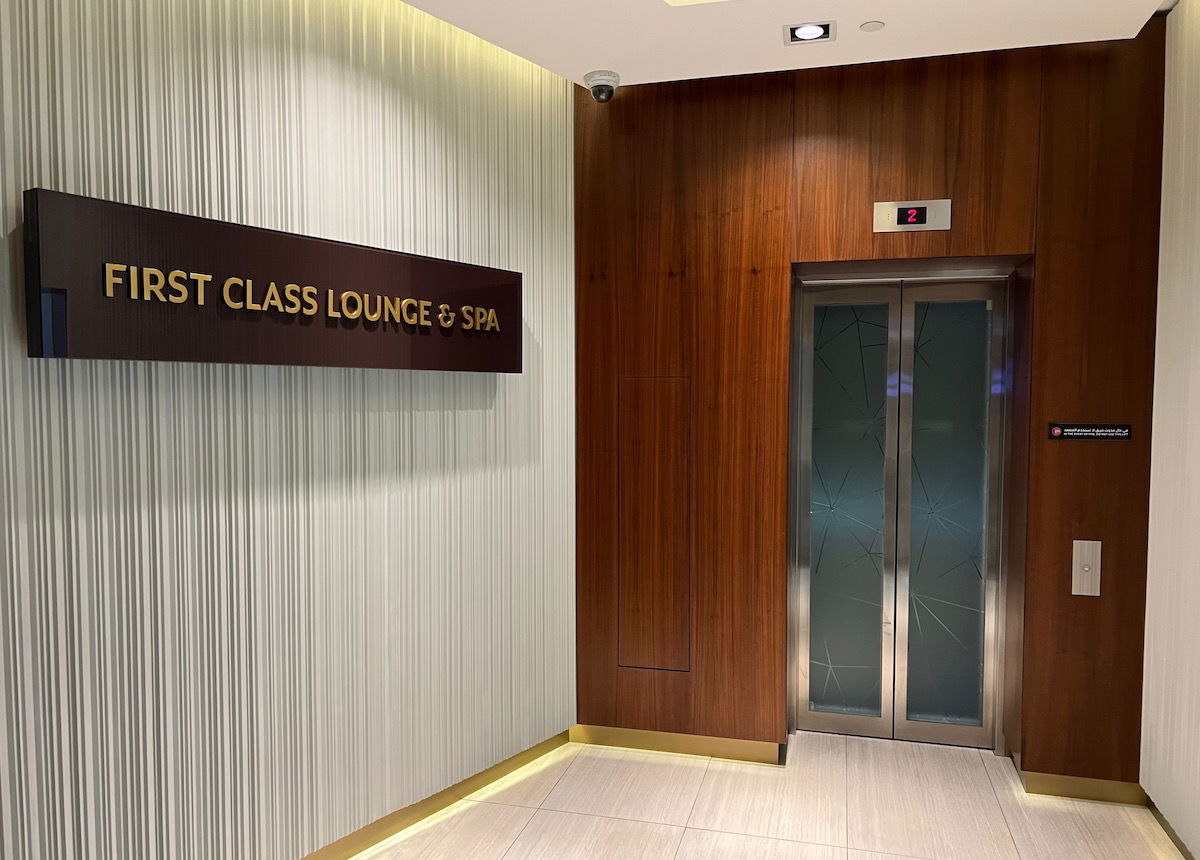 I love the entry into the lounge, as it feels a bit like a luxury hotel (with the departures board reminding you that you're at an airport).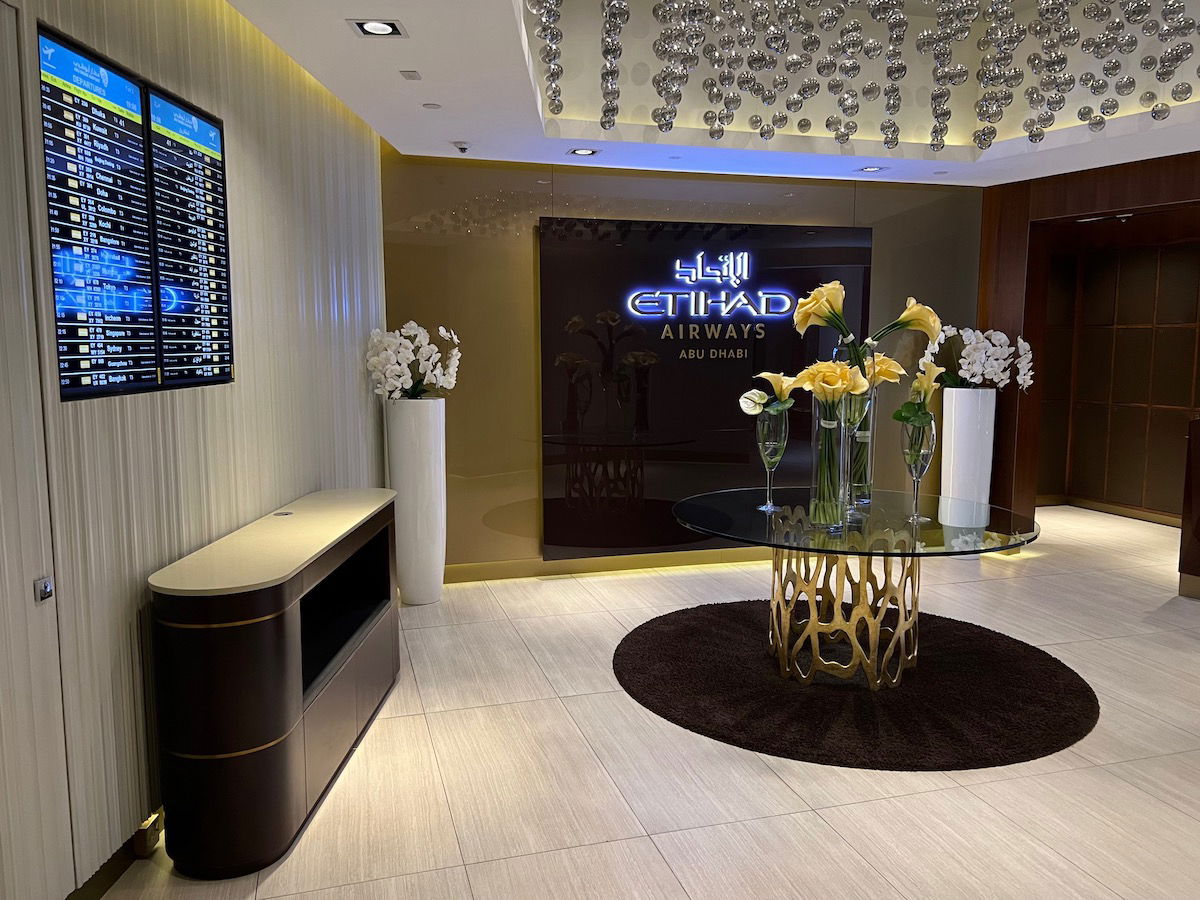 The Etihad Lounge is open 24/7, so it never closes. This reflects that flights in the Middle East arrive and depart all hours of the day and night.
Etihad First Class Lounge Abu Dhabi entry requirements
The Etihad First Class Lounge Abu Dhabi has pretty stringent entry requirements, as it can primarily be accessed by Etihad first class passengers, as well as Etihad Guest Platinum members.
It's also possible to buy access to this lounge if traveling Etihad in economy or business class, though the price varies based on how long you're staying. I believe that currently pricing starts at $150, and you can buy access directly at the lounge. I'd say that this could potentially represent a great deal, especially if you plan to eat and drink.
Keep in mind that Etihad has a very limited number of aircraft with first class, so this lounge tends to remain really empty. That's one of the main selling points of the lounge, in my opinion.
Etihad First Class Lounge Abu Dhabi seating & layout
The Etihad First Class Lounge Abu Dhabi is roughly 18,000 square feet, making it one of the bigger first class lounges out there. When we first arrived, there was one other guest in the lounge, and during the busiest period there were maybe a dozen guests.
When you enter the lounge, you'll first see the dining area. There roughly a couple of dozen tables with white tablecloths, and the space has a restaurant vibe to it (which not many airport lounges can pull off).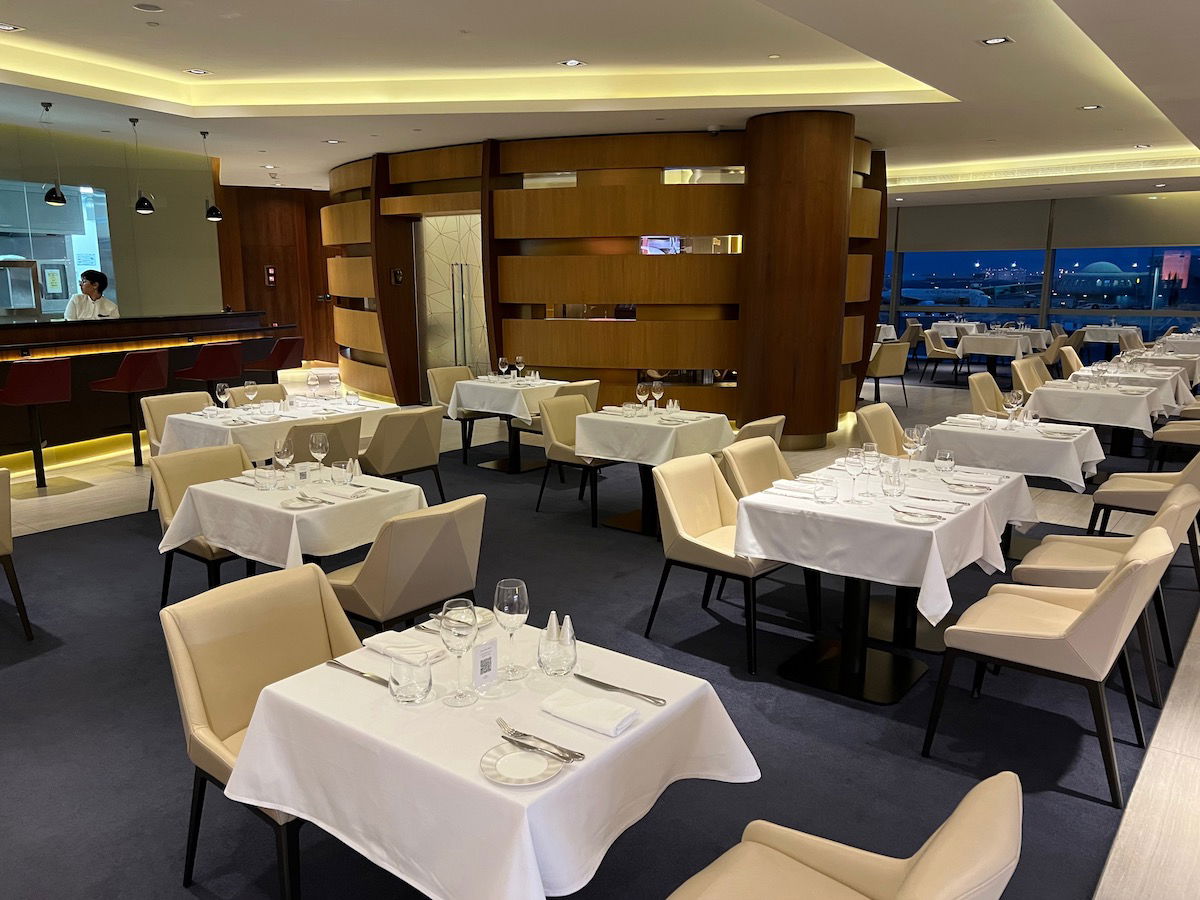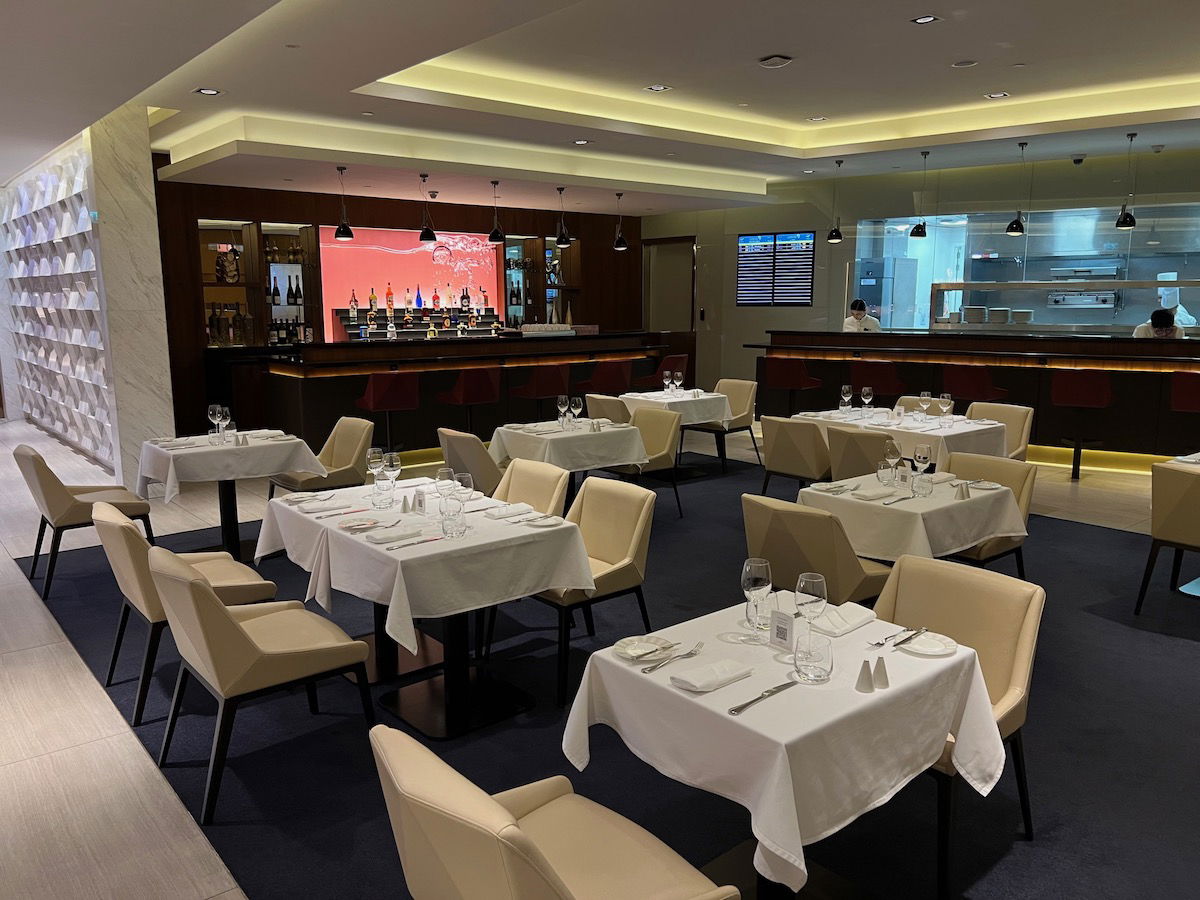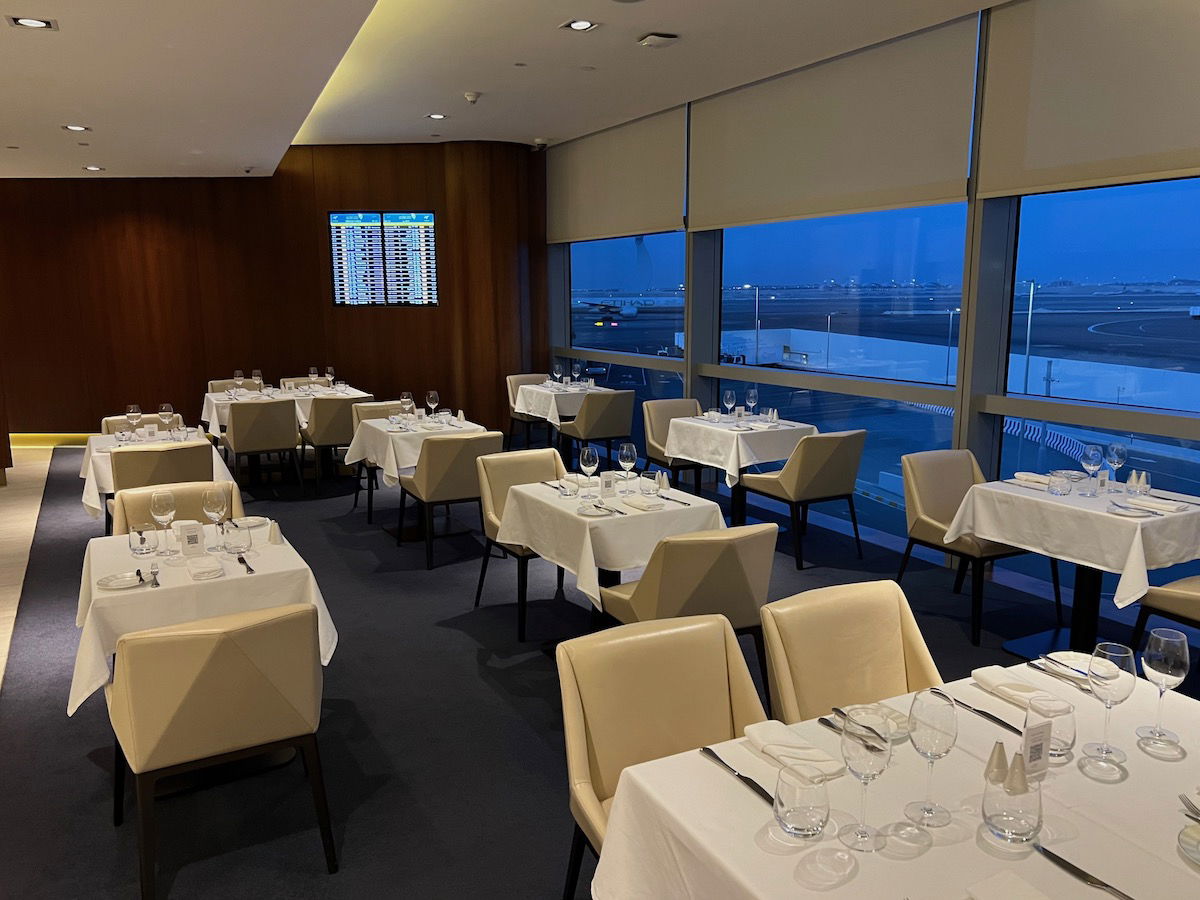 The restaurant area has an open kitchen concept. There's also a bar with some wine and liquor on display, but that's not the lounge's main bar, and for that matter, this doesn't actually seem to be used.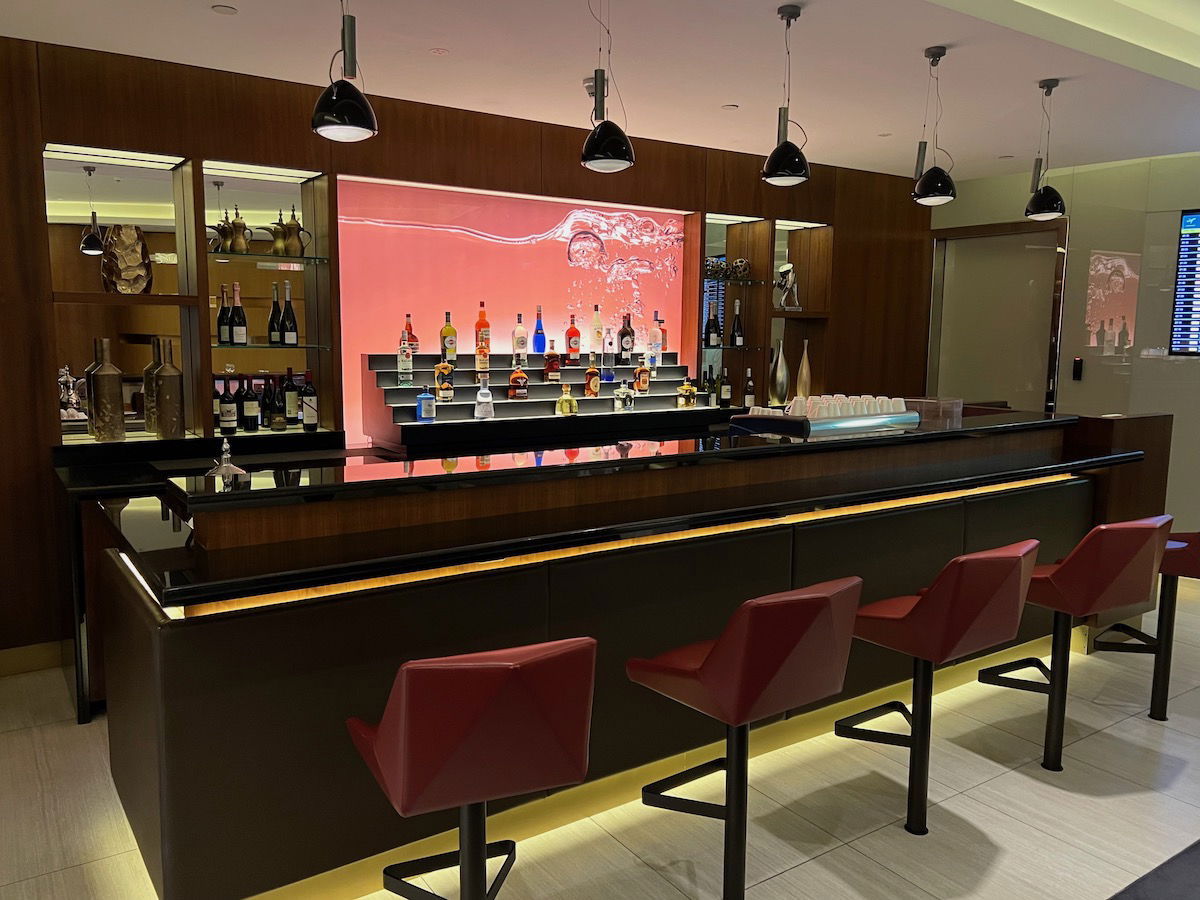 When you go deeper into the lounge you'll find the actual bar, which has to be one of the nicest bars you'll find in any first class lounge. It has striking design, is large, and even has some high-top seating.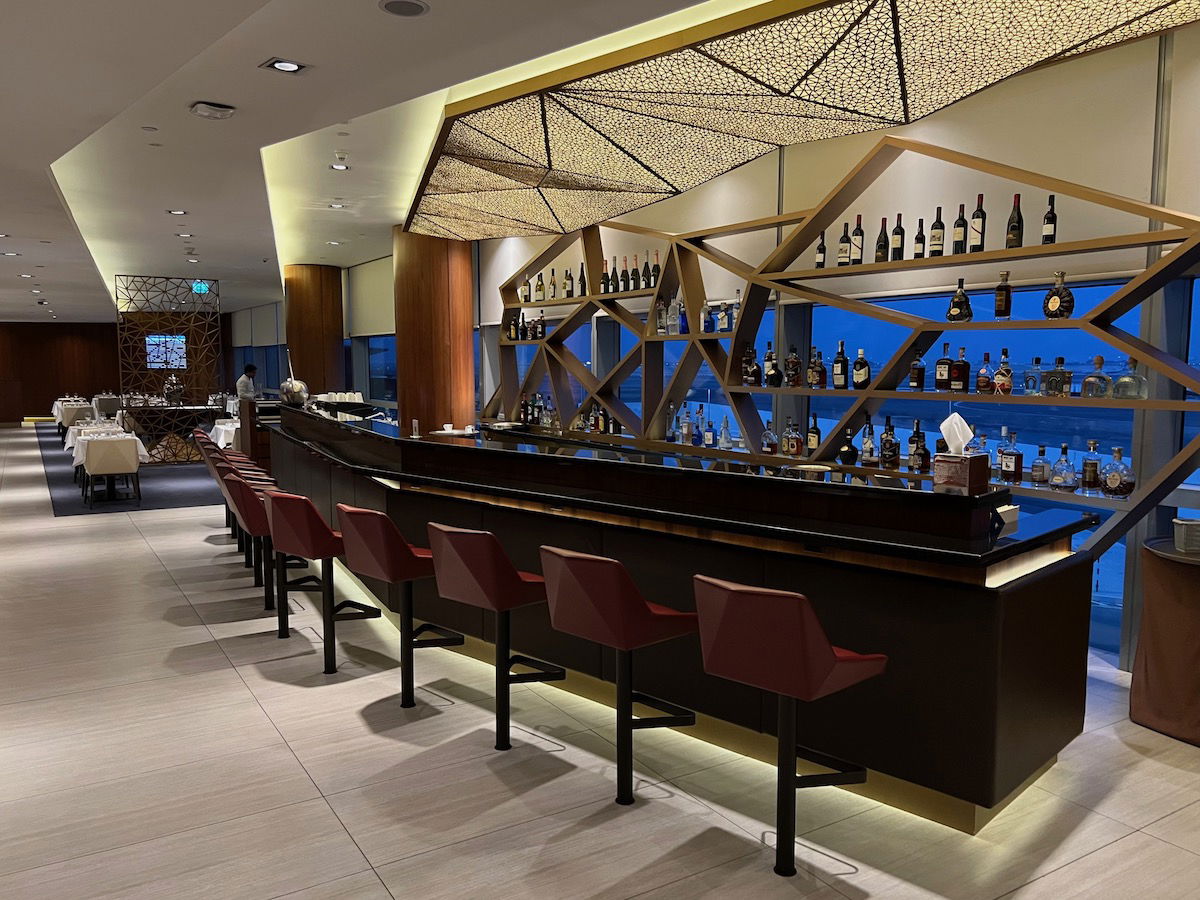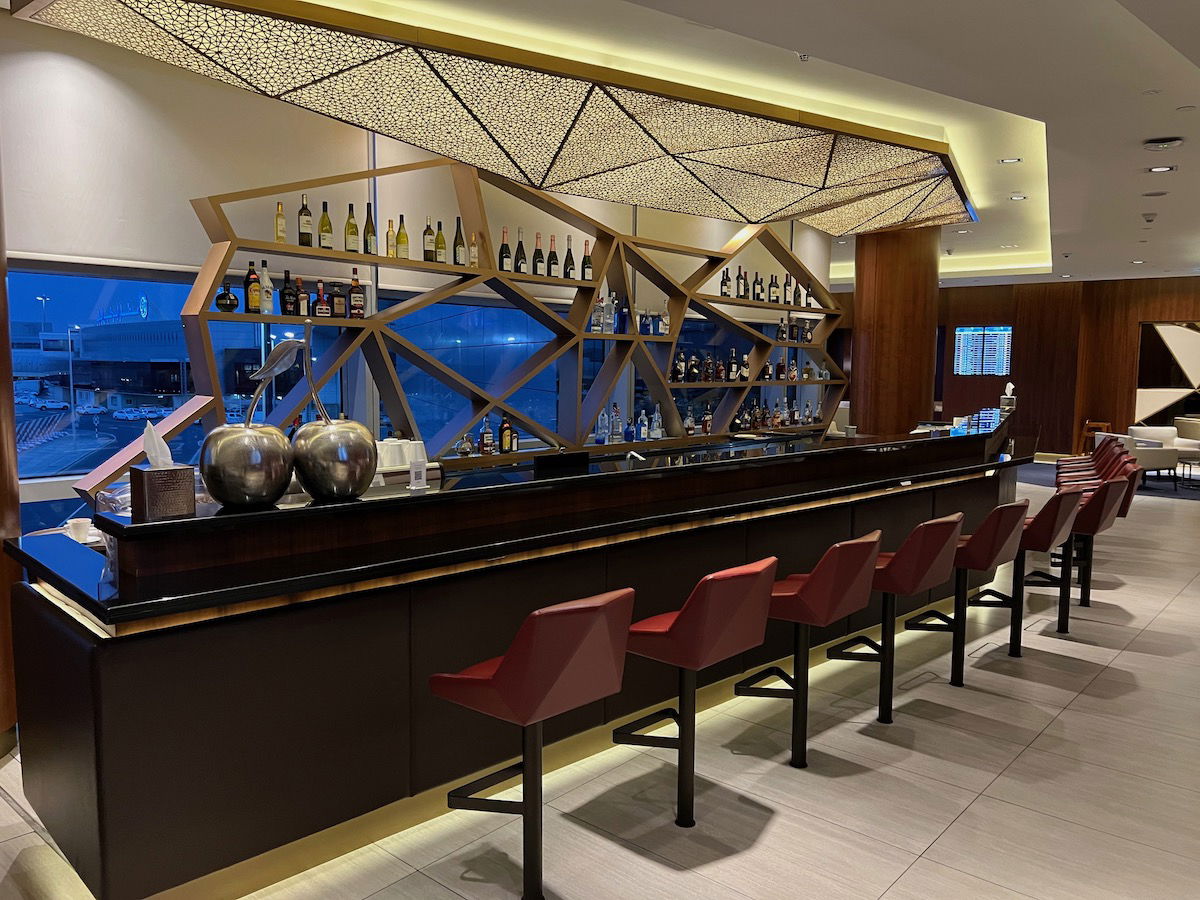 Behind that is a small sitting area with around a dozen seats, which is where we ended up sitting for most of our stay in the lounge.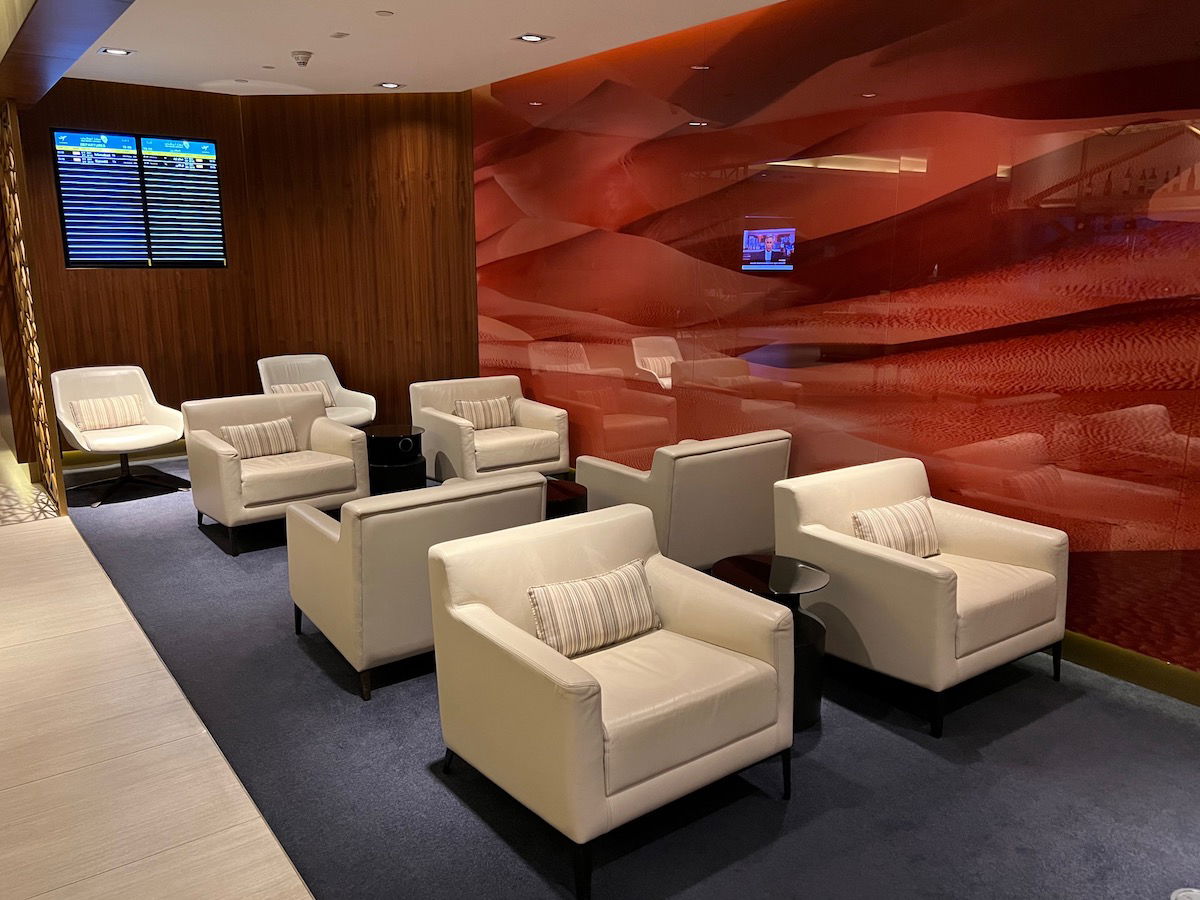 Then when you go deeper into the lounge, you'll find a huge amount of seating. This is mostly just traditional airport lounge seating, with rows of seats facing one another. One side of the lounge has floor-to-ceiling views of the apron, though at night there's not all that much to see.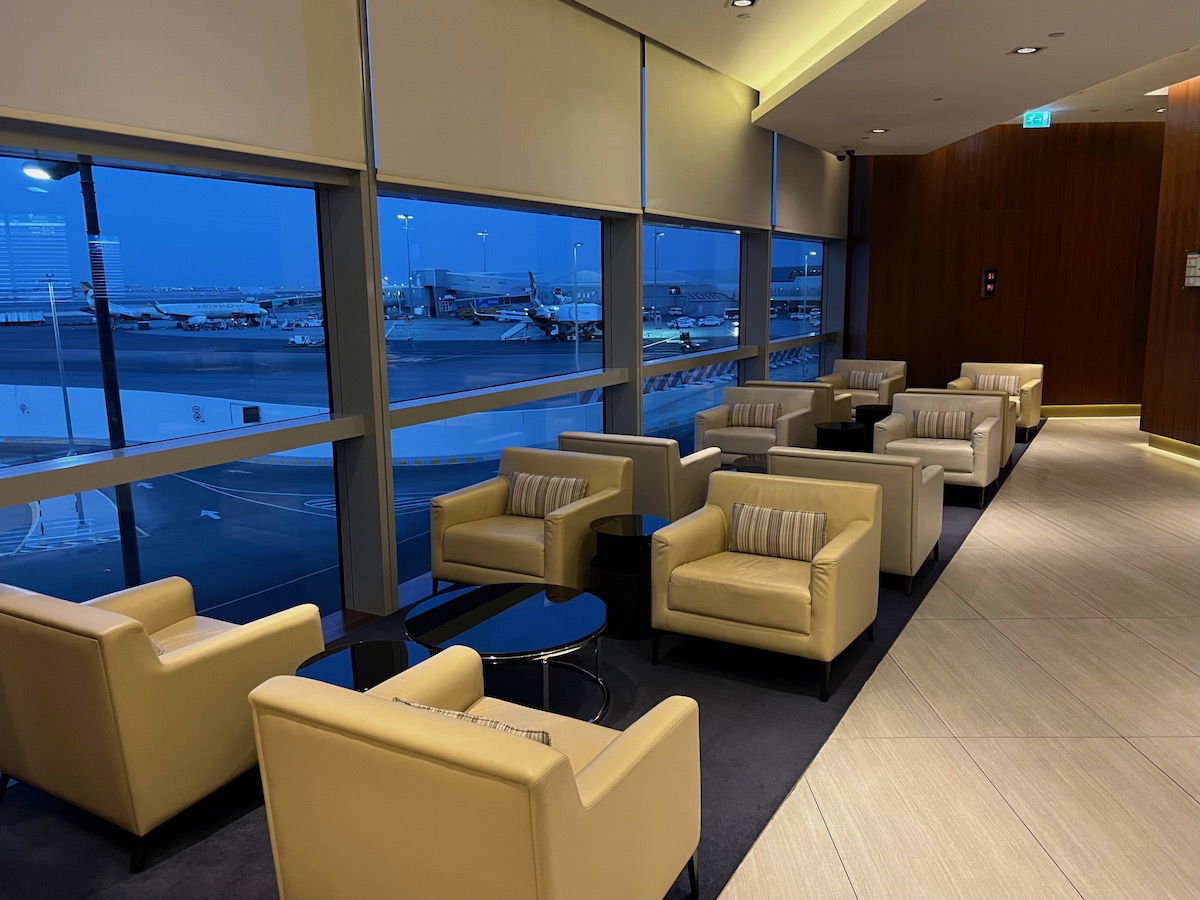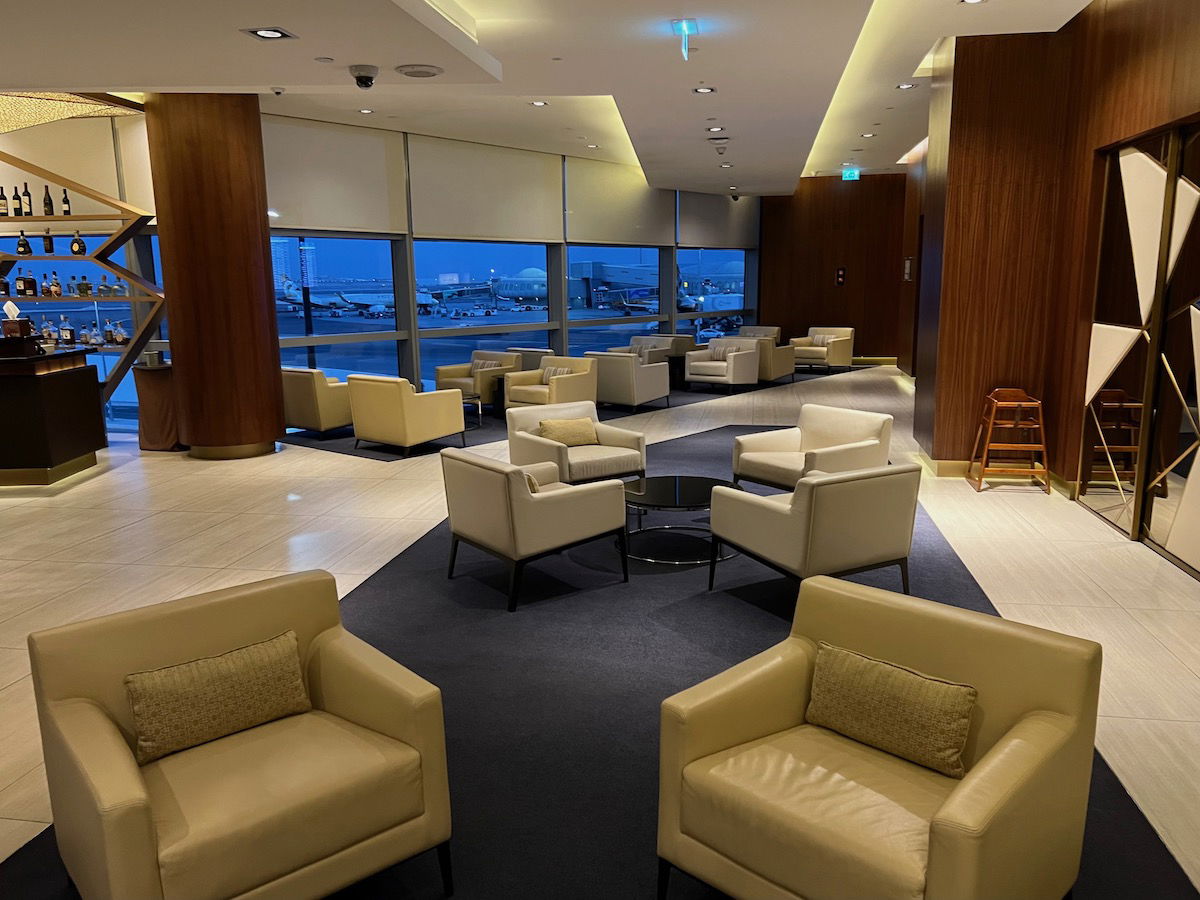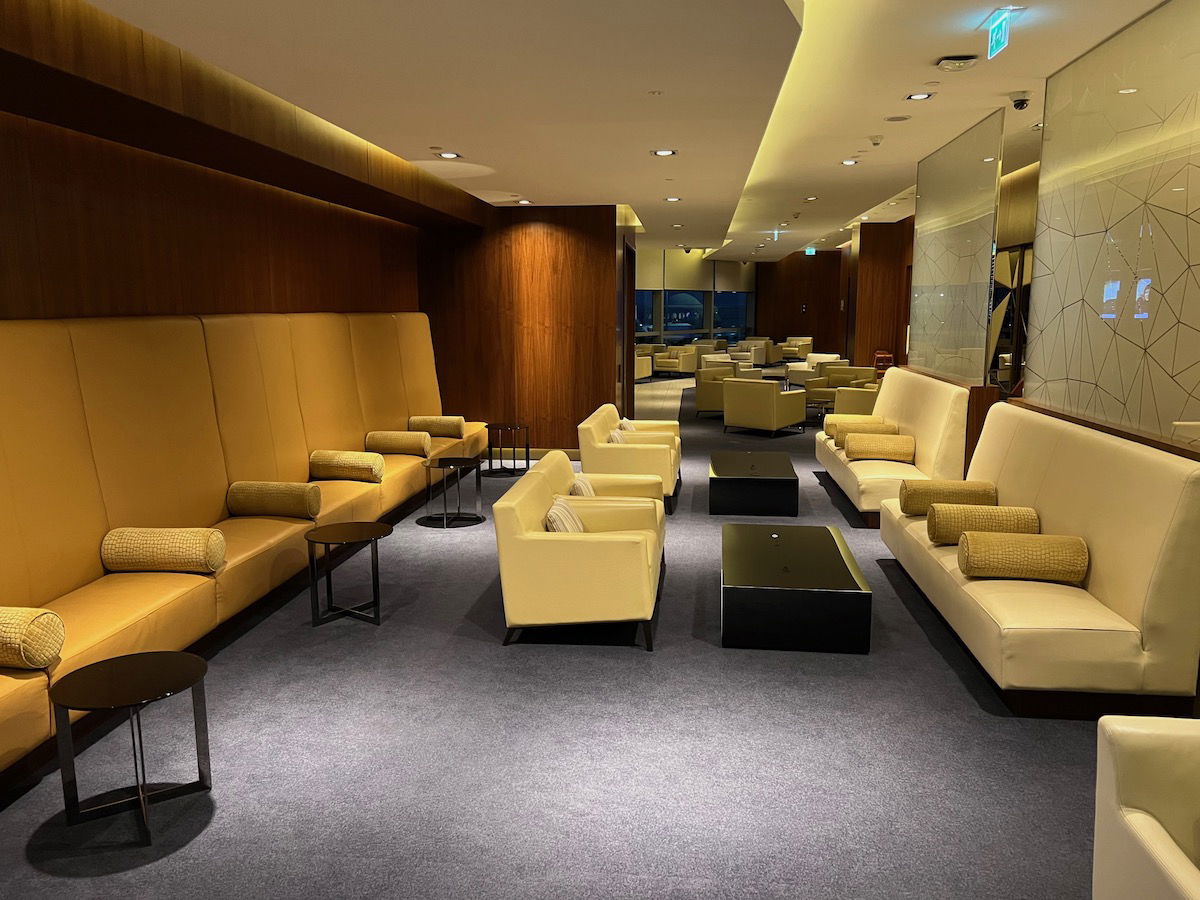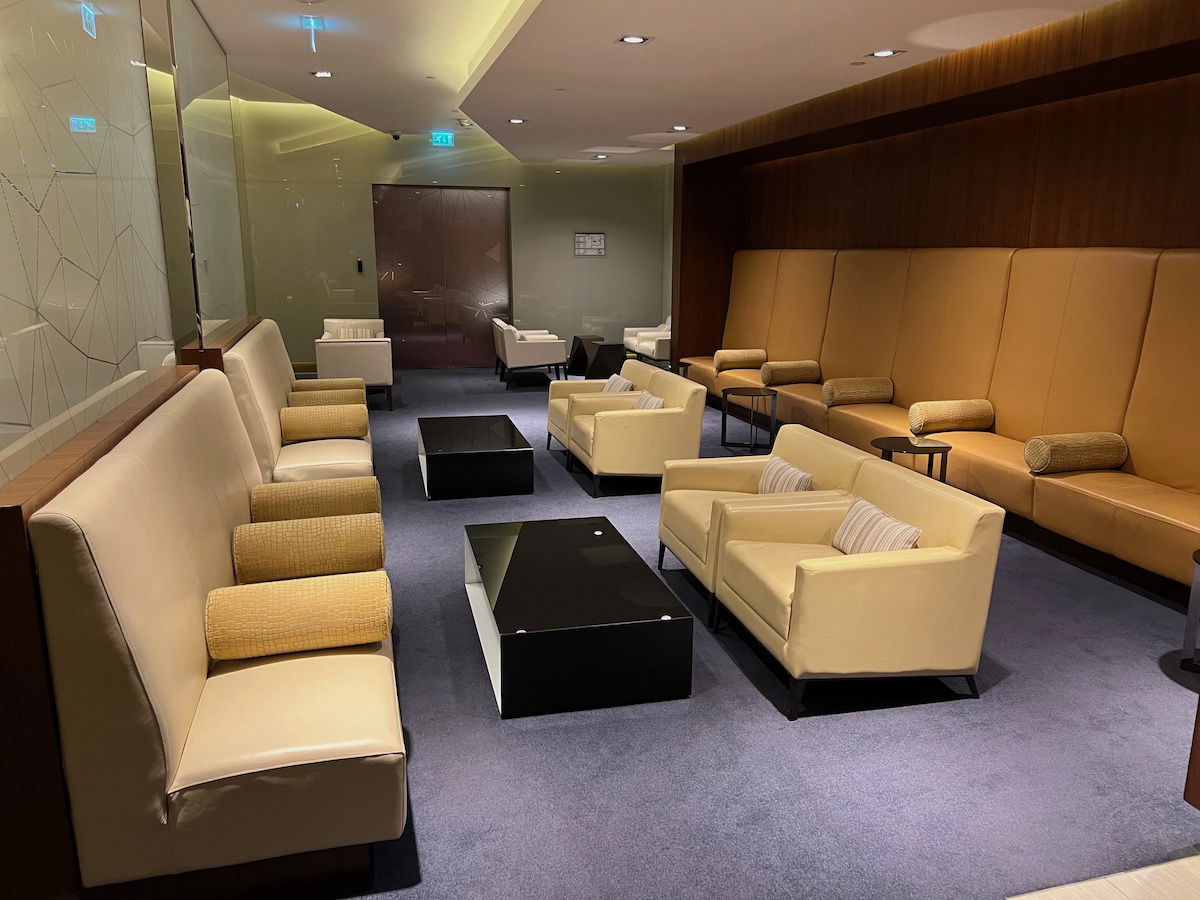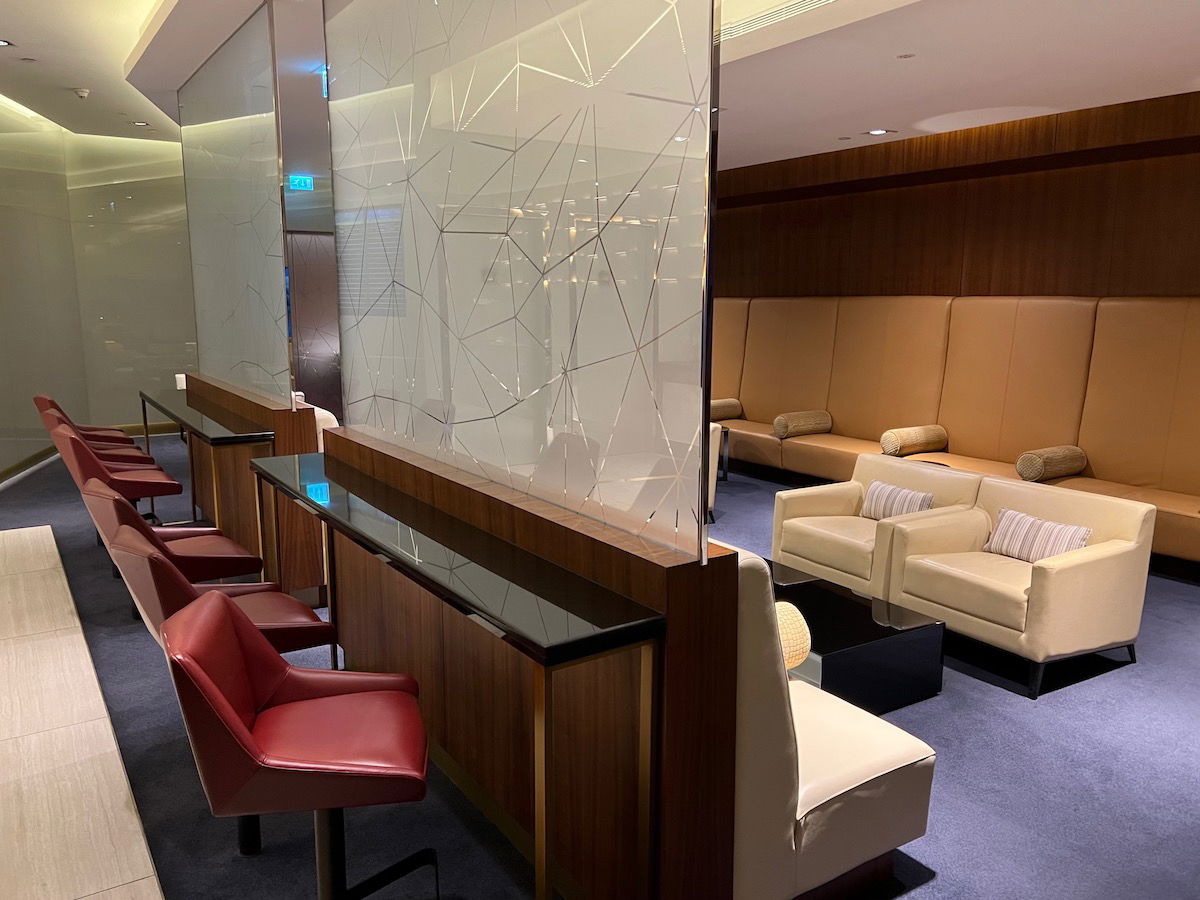 The lounge then has yet another TV room off to the side.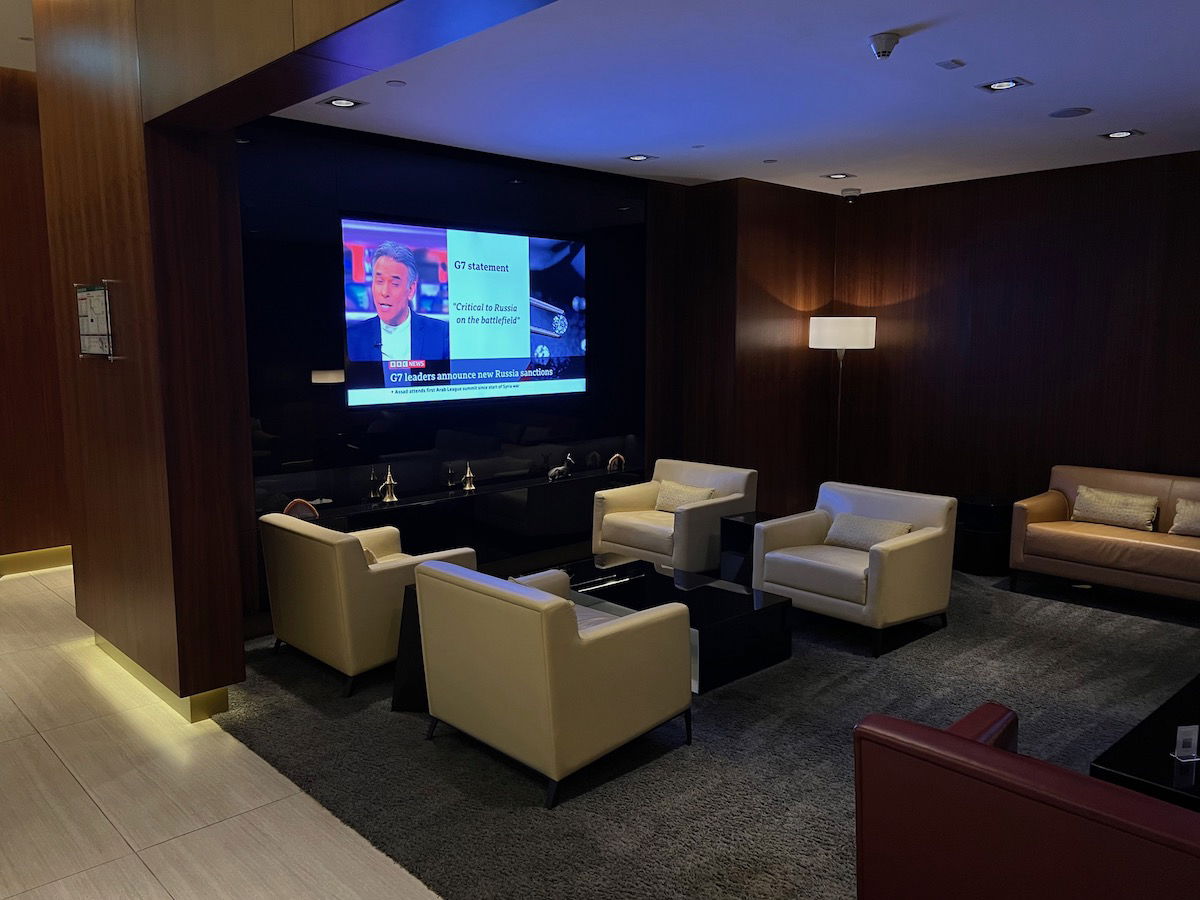 The far end of the lounge has a small self-serve drink buffet, with soft drinks, water, juice, tea, and coffee. However, the servers in the lounge will also serve you whatever you'd like.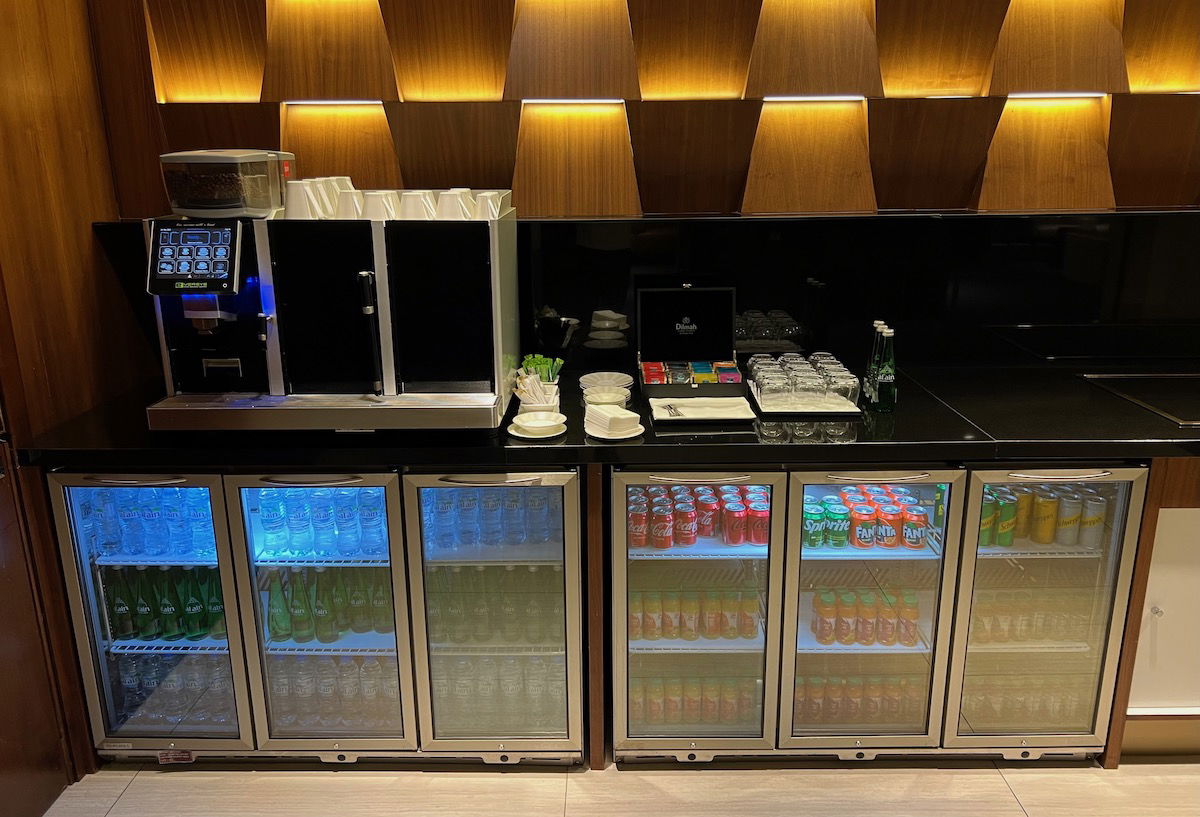 While the lounge doesn't have any nap rooms, the back right corner of the lounge does have a relaxation room. This essentially has reclining seats facing a wall with TVs, showing a bunch of images. I wouldn't come here expecting to get any proper sleep, but it might be a nice place to relax for a bit.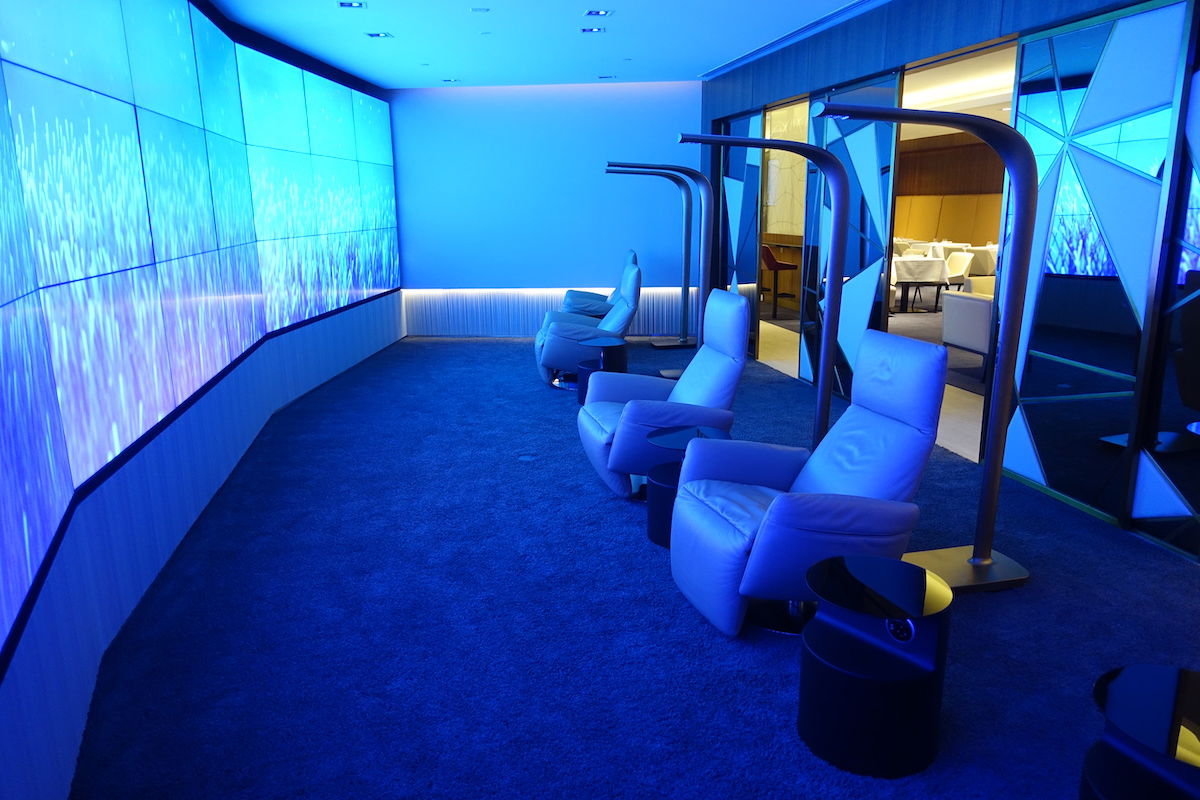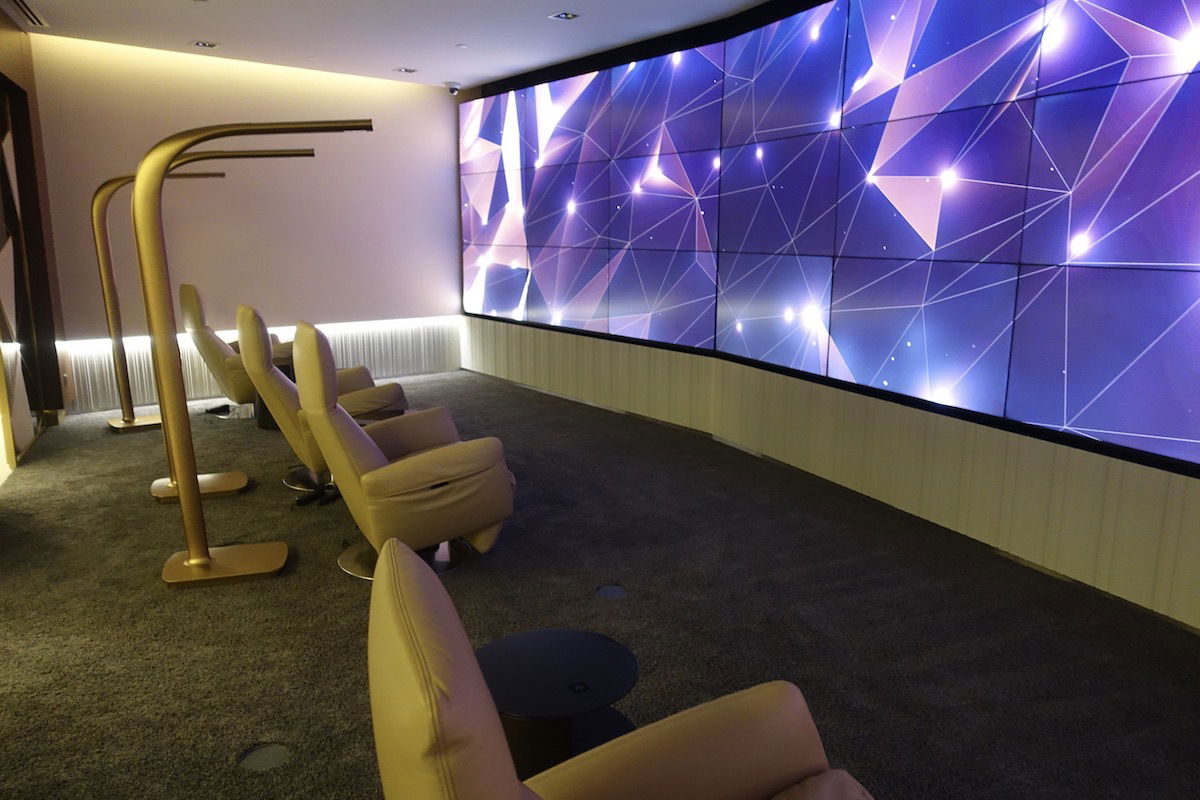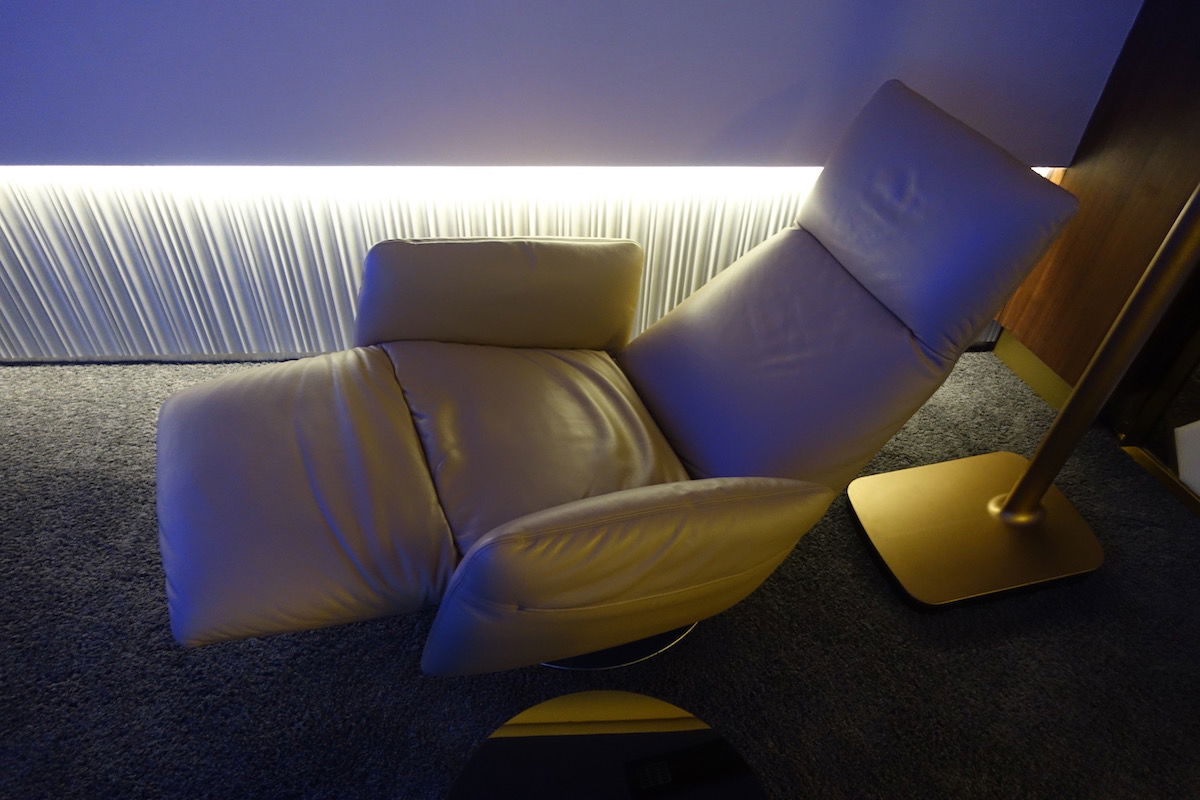 The lounge also has two separate smoking rooms. There's a smoking room in the back corner of the lounge, which I believe is intended primarily for cigarette smokers.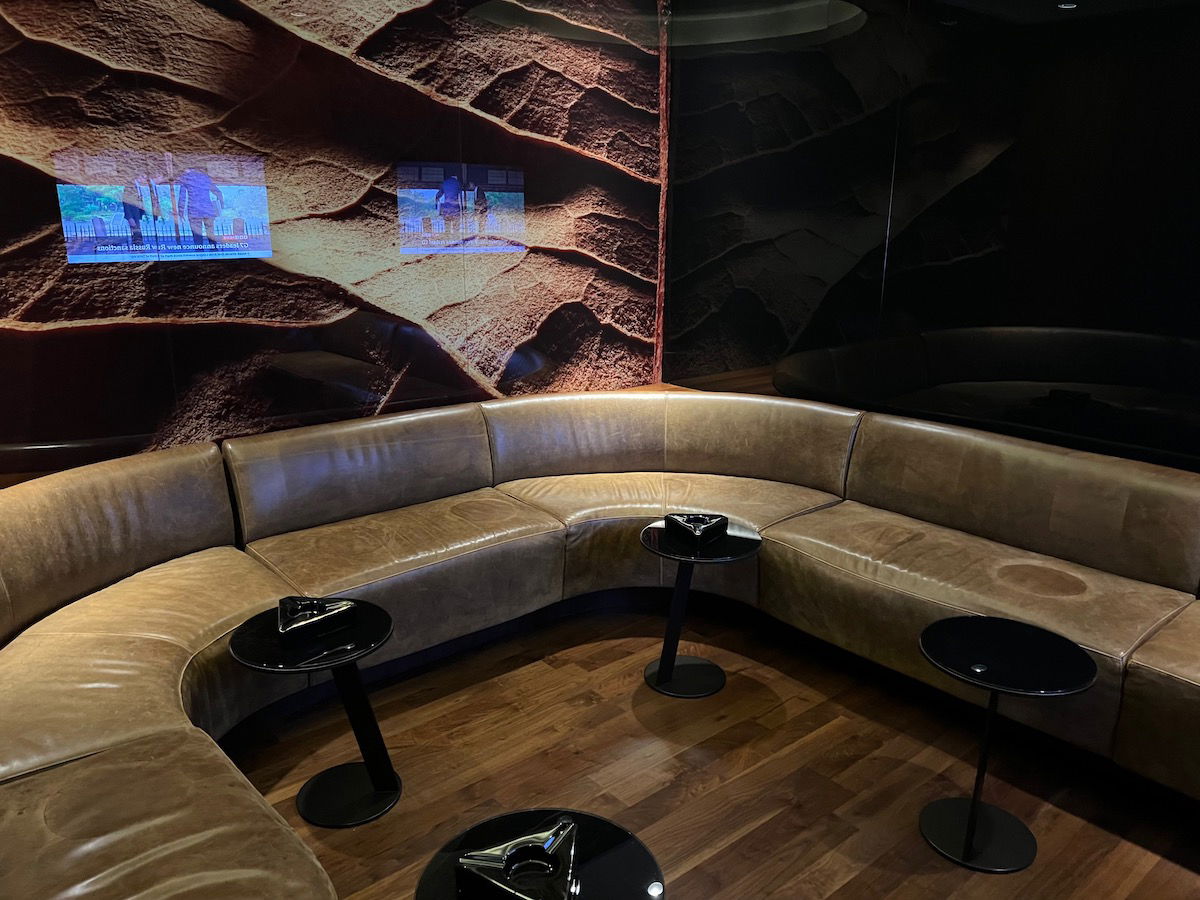 Then back near the restaurant there's a cigar lounge, where my dad enjoyed a cigar during our layover. As you can see, the cigar lounge is quite a nice space. There are also some cigars in a humidor that can be purchased.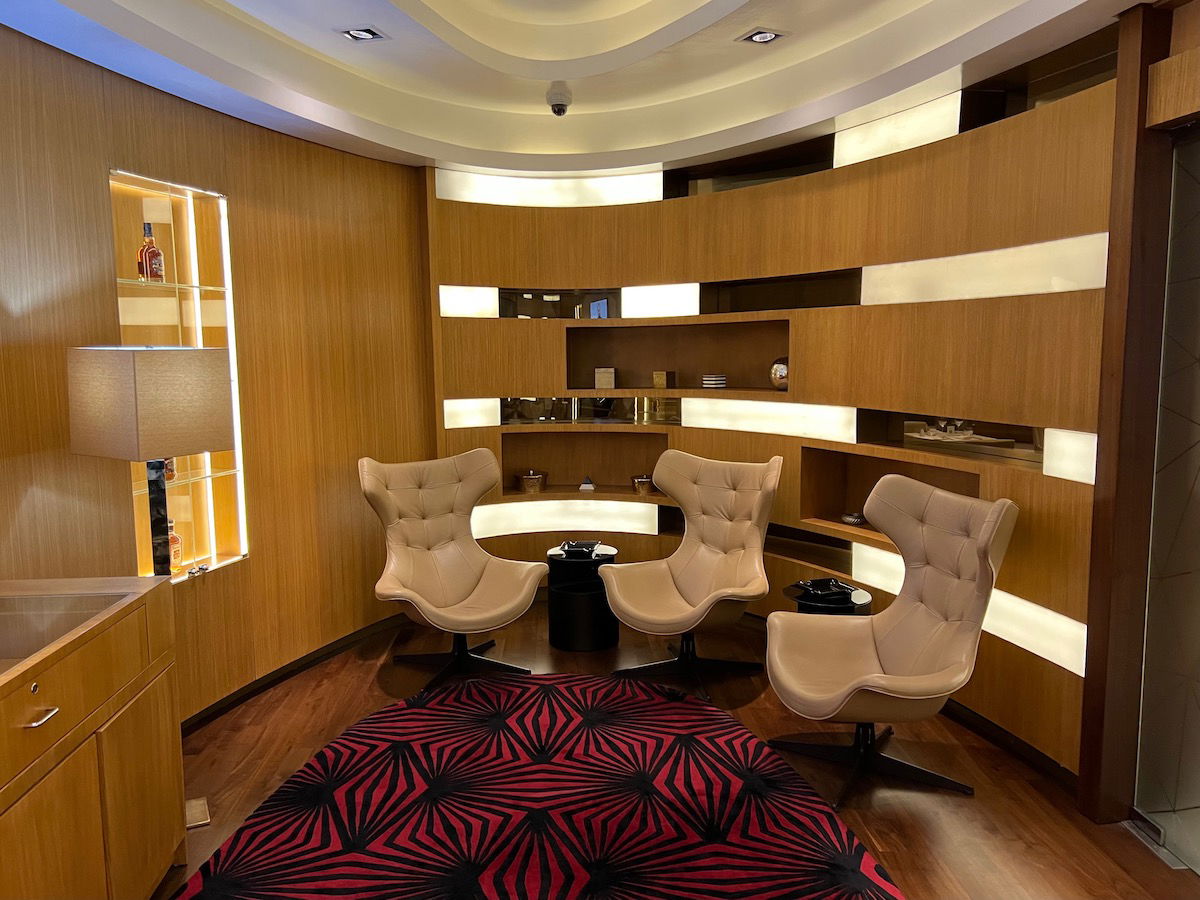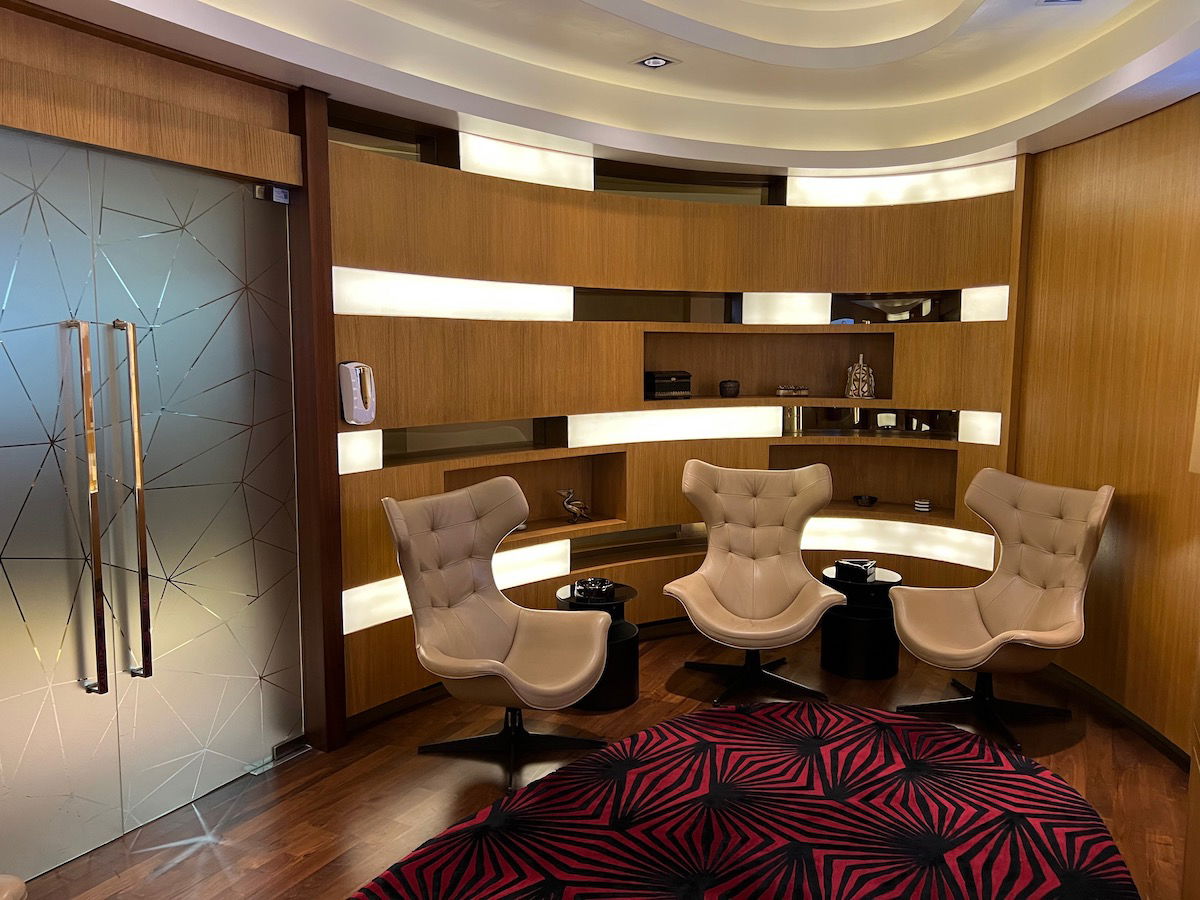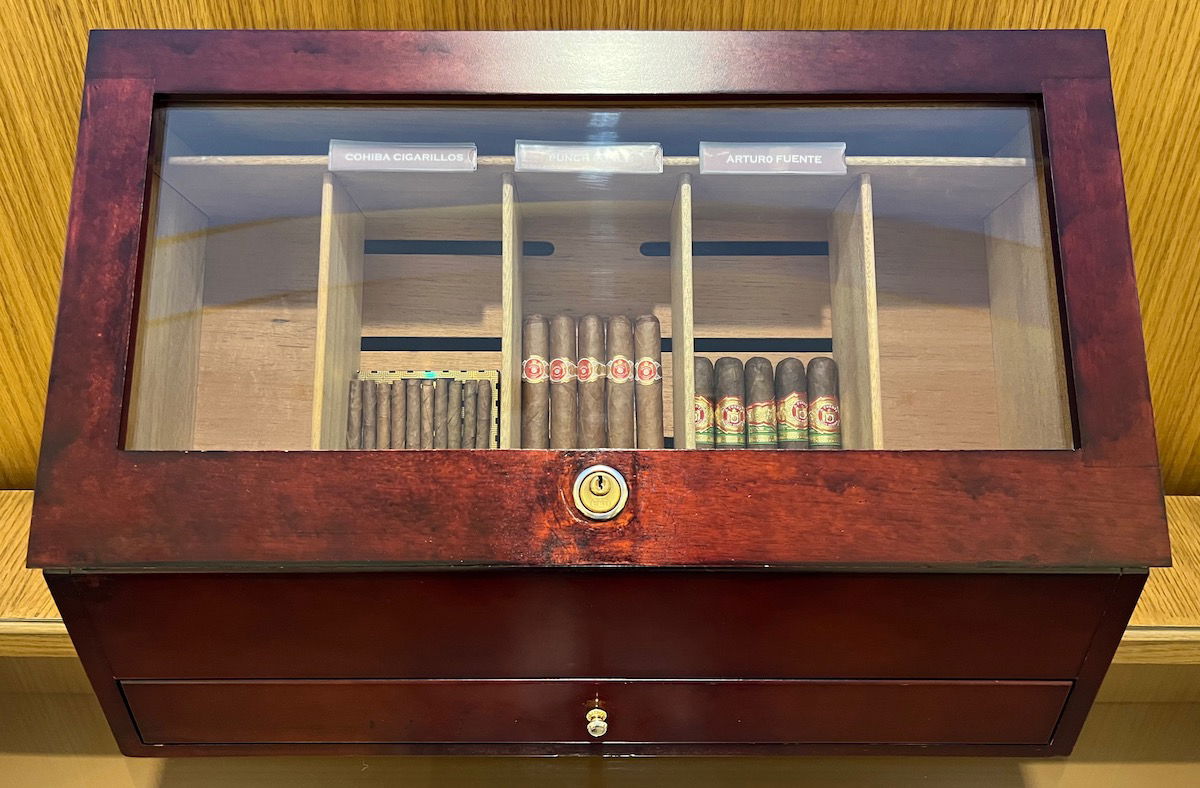 Near the entrance, the lounge has a play area for kids, which families will surely appreciate.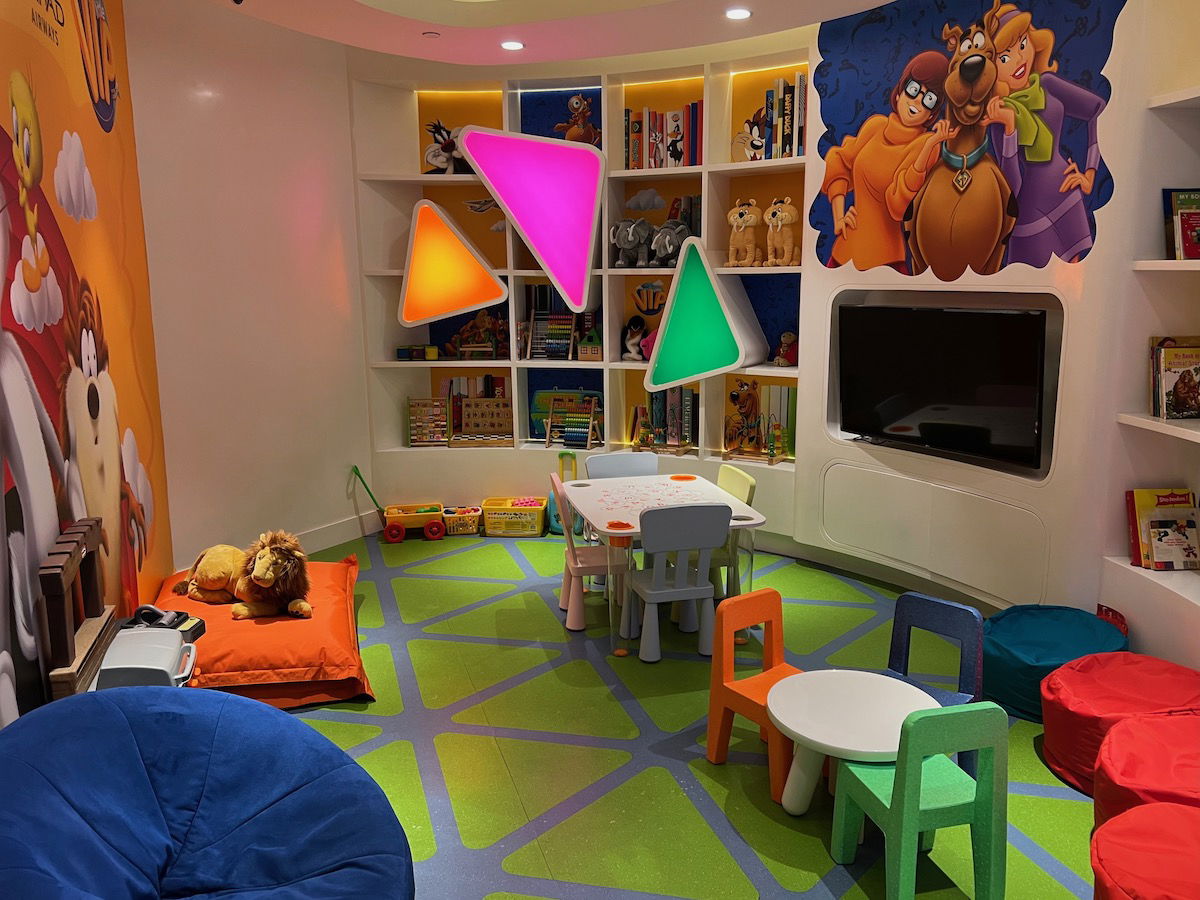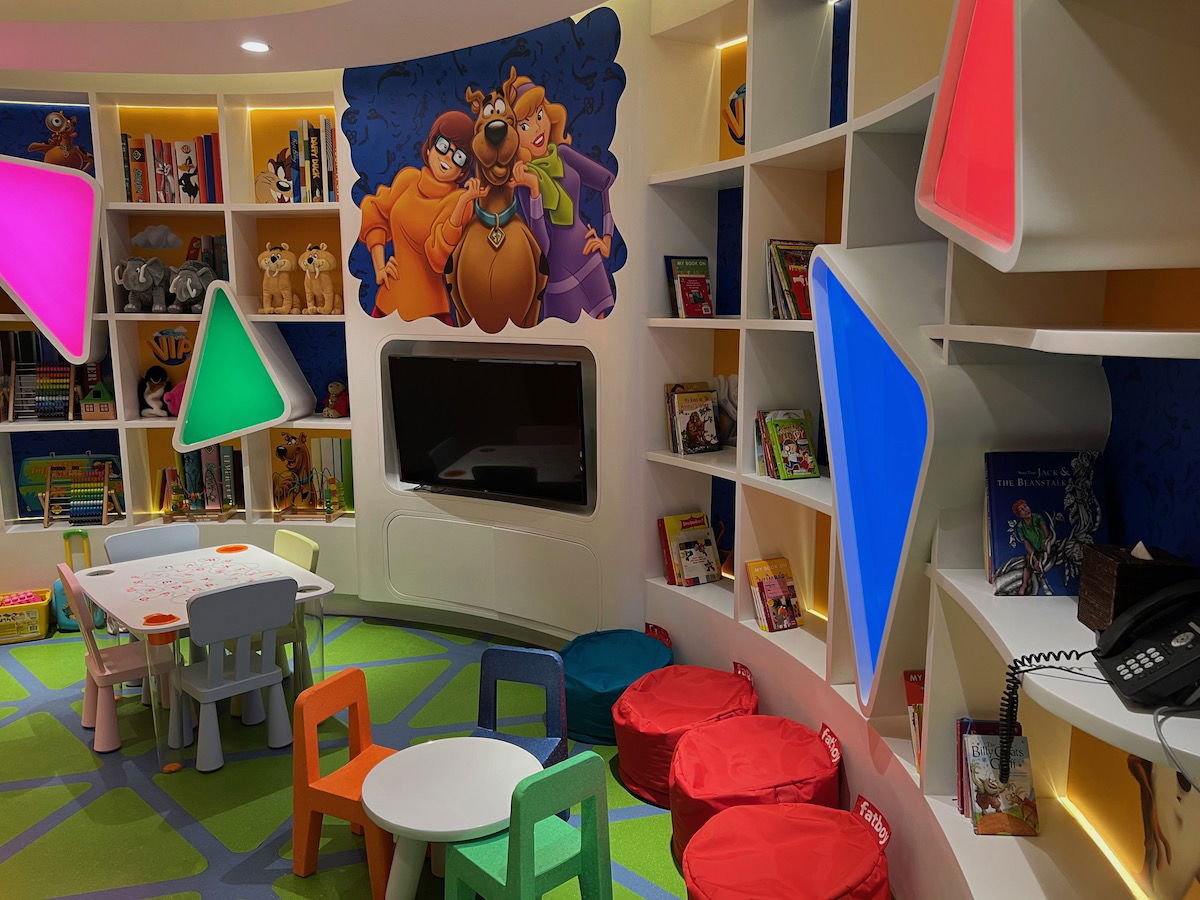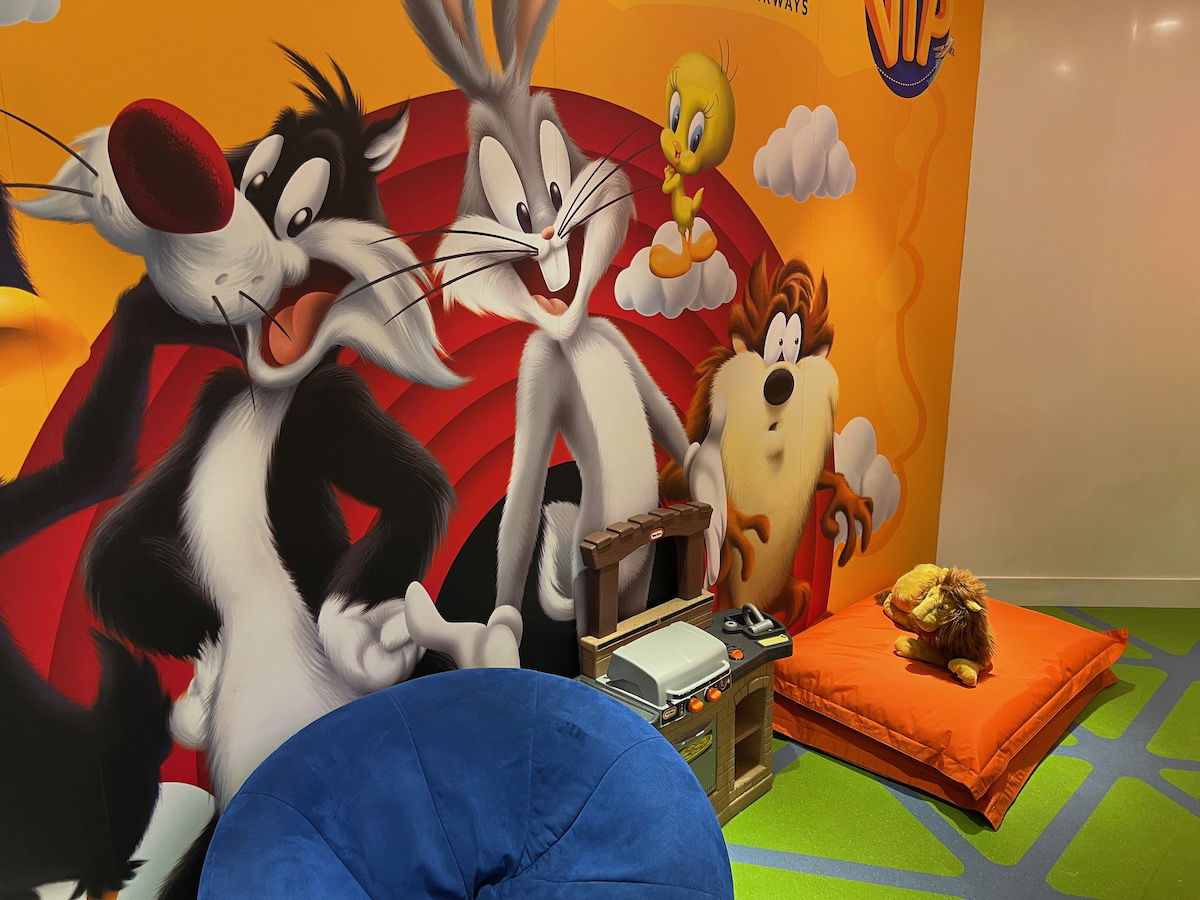 When you enter the lounge and walk straight ahead (rather than turning left into the rest of the lounge), you'll see a bunch of rooms with sliding frosted glass doors, except they're locked. For those curious, these are the former private rooms for those in the Etihad Residence. Each is a space that feels like a living room, and back in the day you'd have a private butler looking after you.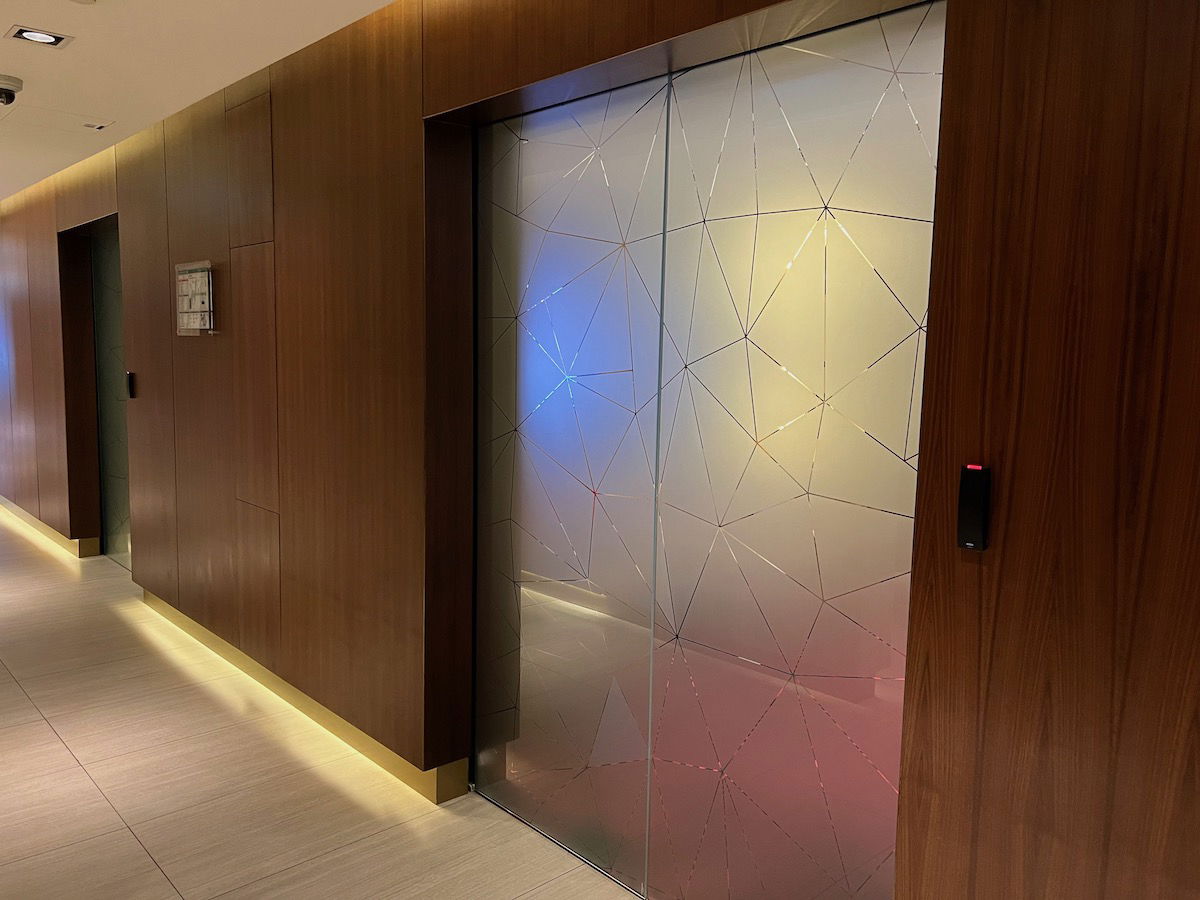 I believe you can still purchase one of these rooms during your stay in the lounge, though I couldn't imagine that being worthwhile, given how empty the lounge otherwise is.
All-in-all, the lounge is huge and has a spacious layout. In an ideal world, the lounge would have better areas to rest, though the relaxation room is better than nothing. Furthermore, given the size of the lounge, it would be nice if there were some sort of workstations.
Etihad First Class Lounge Abu Dhabi gym
One unique feature of the Etihad First Class Lounge Abu Dhabi is that it has a has a gym, which you don't find in many lounges. The gym isn't huge, and is much more focused on cardio than weights. The gym has two treadmills, an exercise bike, an elliptical, and a limited number of weights.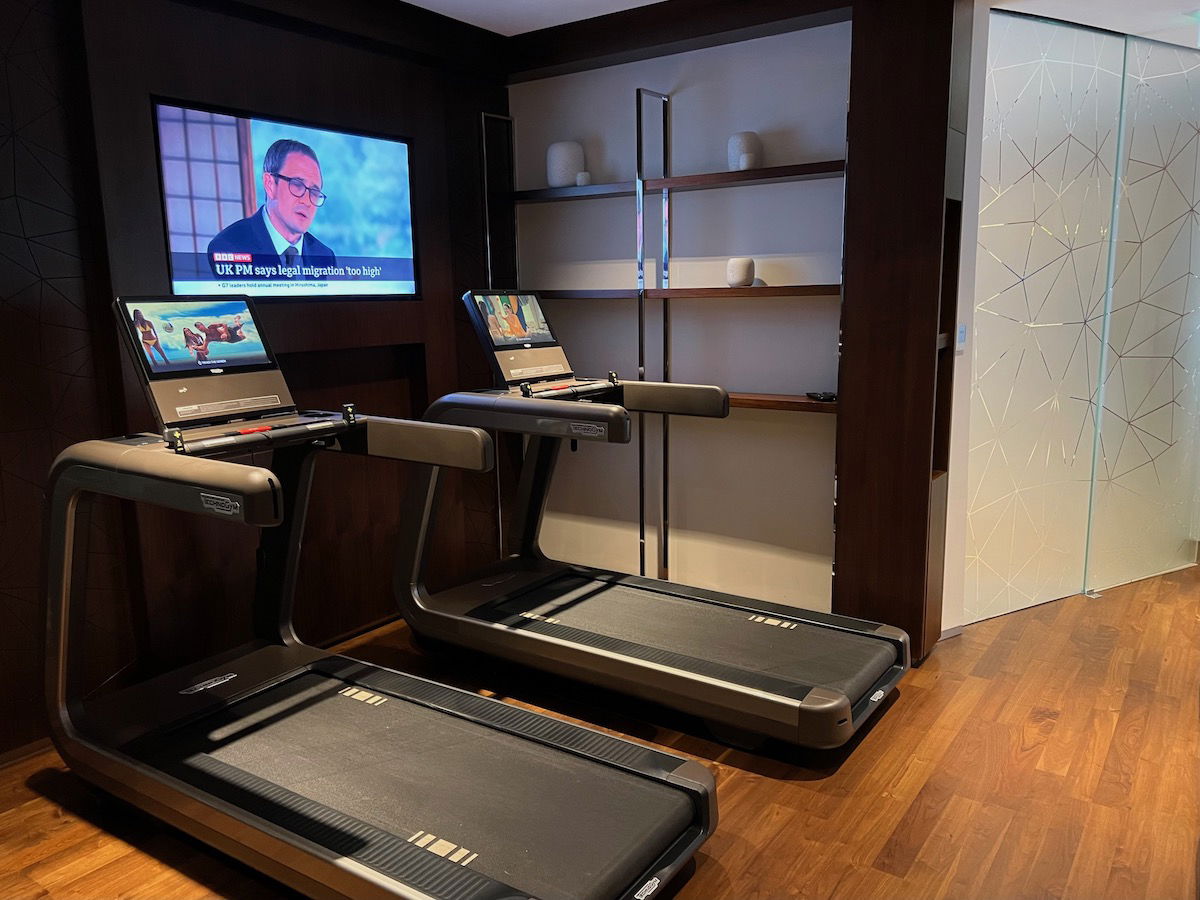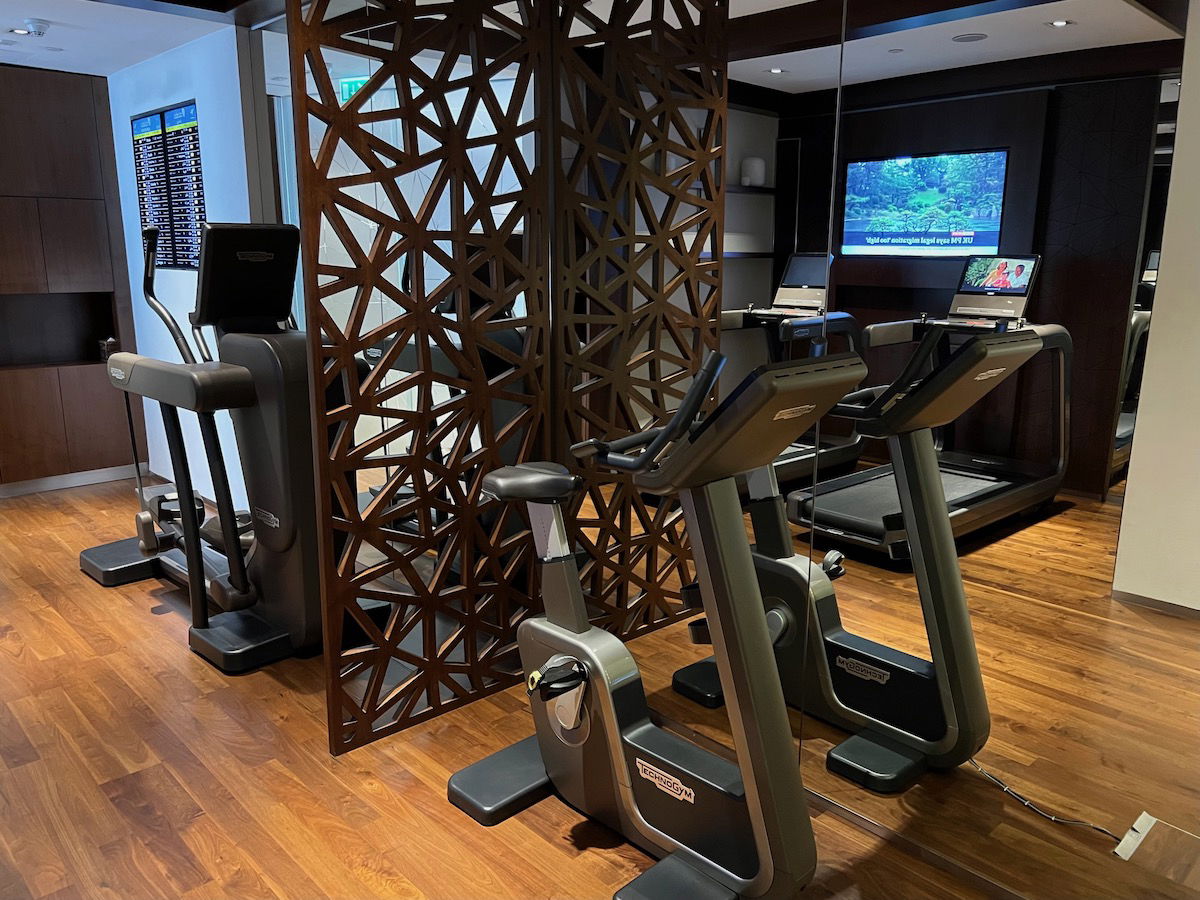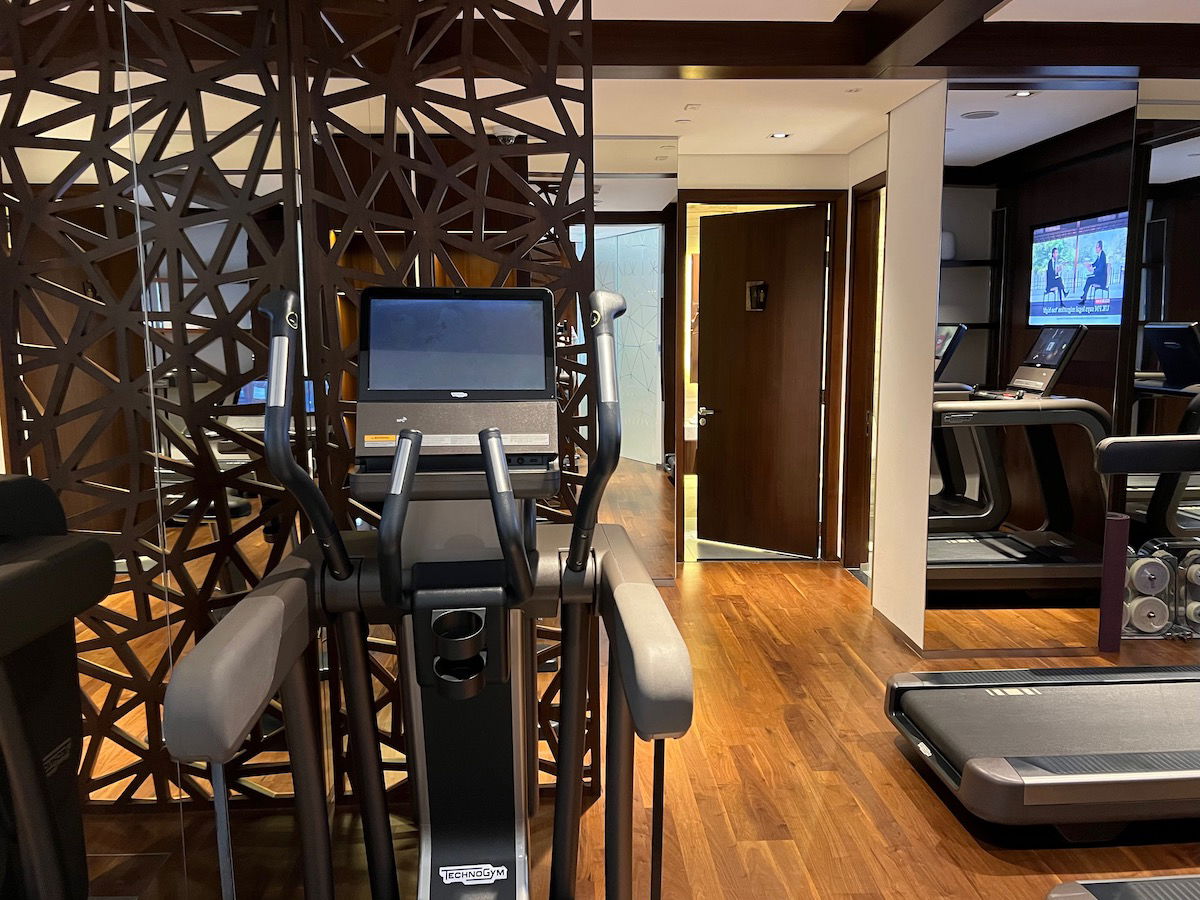 There's even a shower just off the gym, so that you can freshen up without even having to go to the regular shower suite area.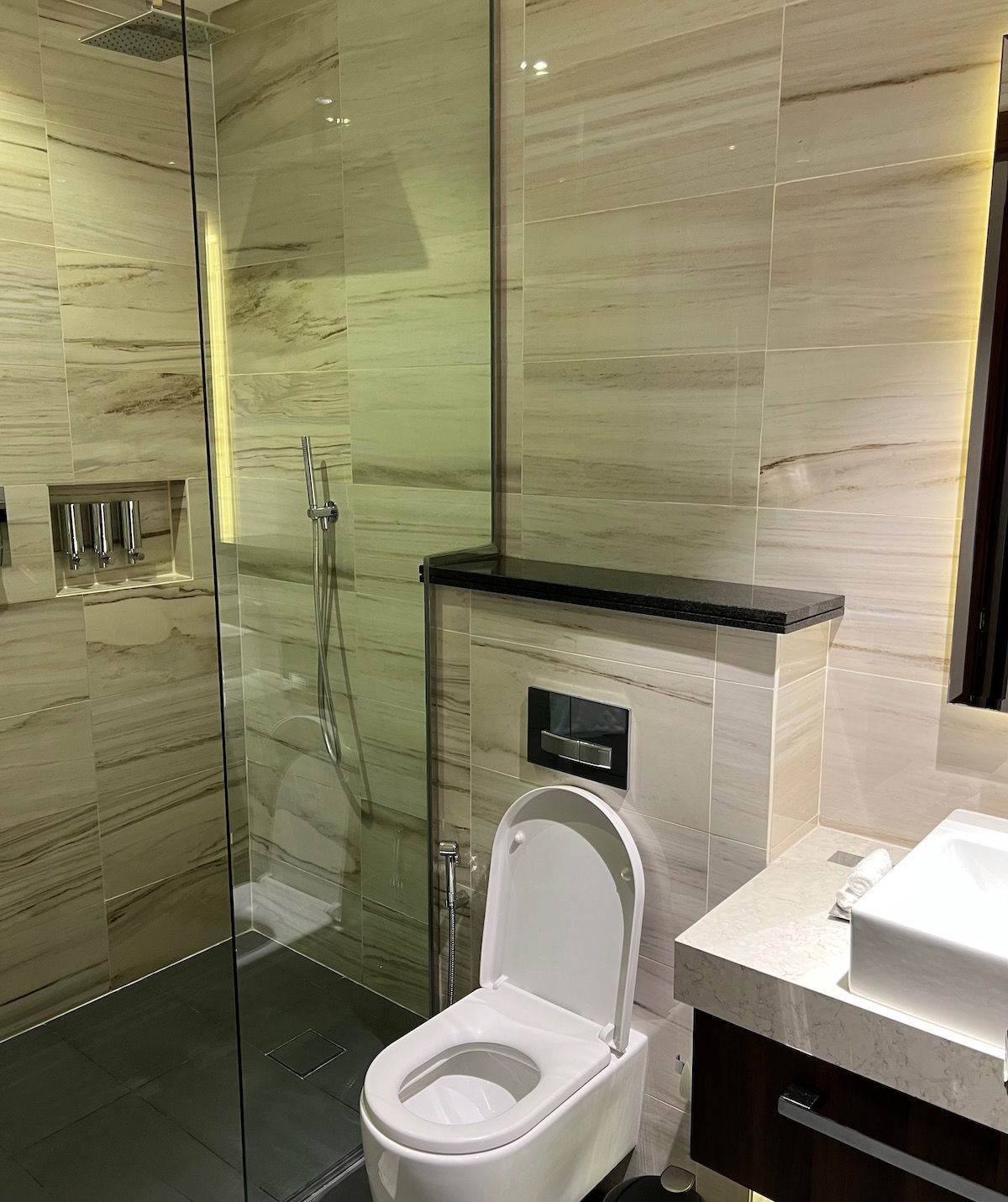 Etihad First Class Lounge Abu Dhabi bathrooms & showers
The Etihad First Class Lounge Abu Dhabi has one main set of bathrooms, which are clean, but otherwise pretty unremarkable.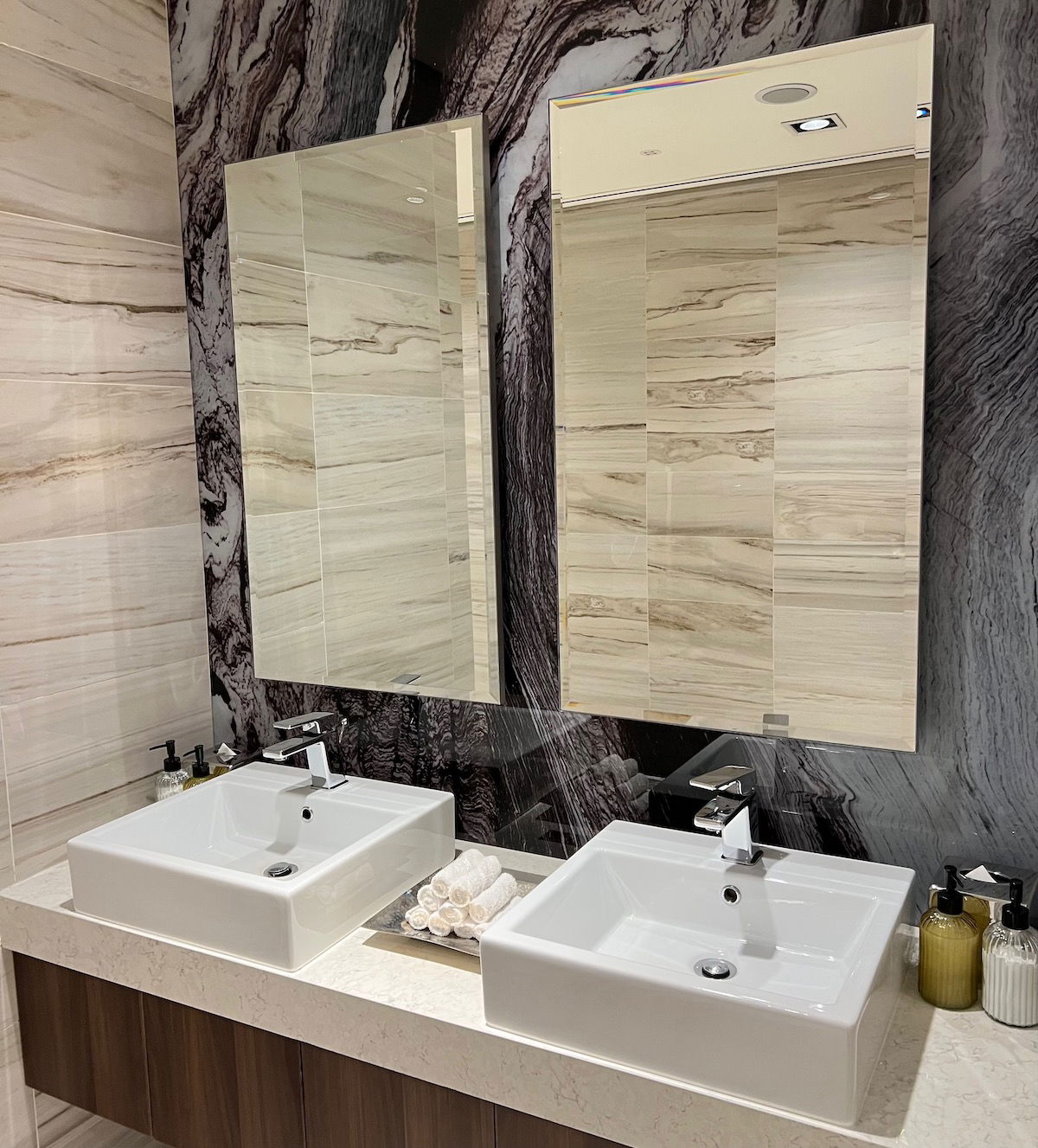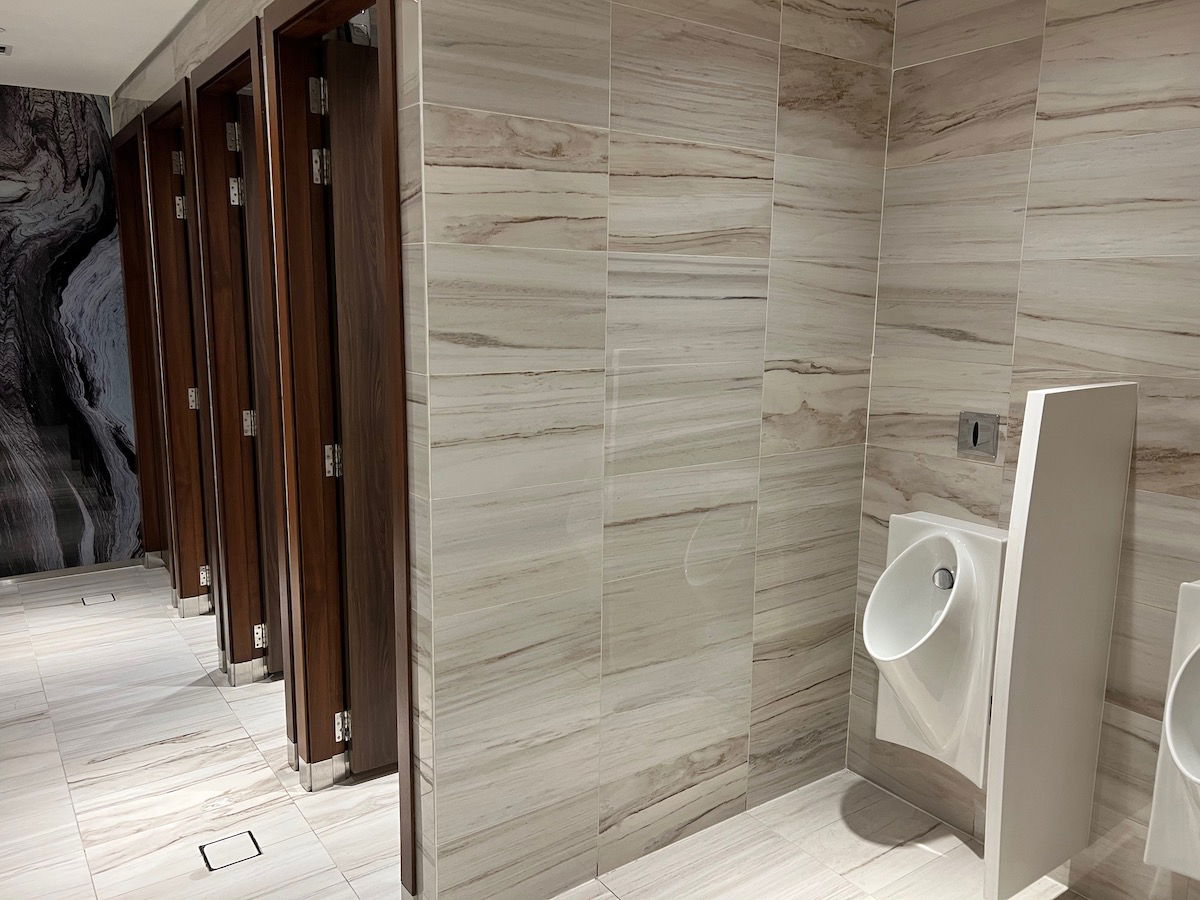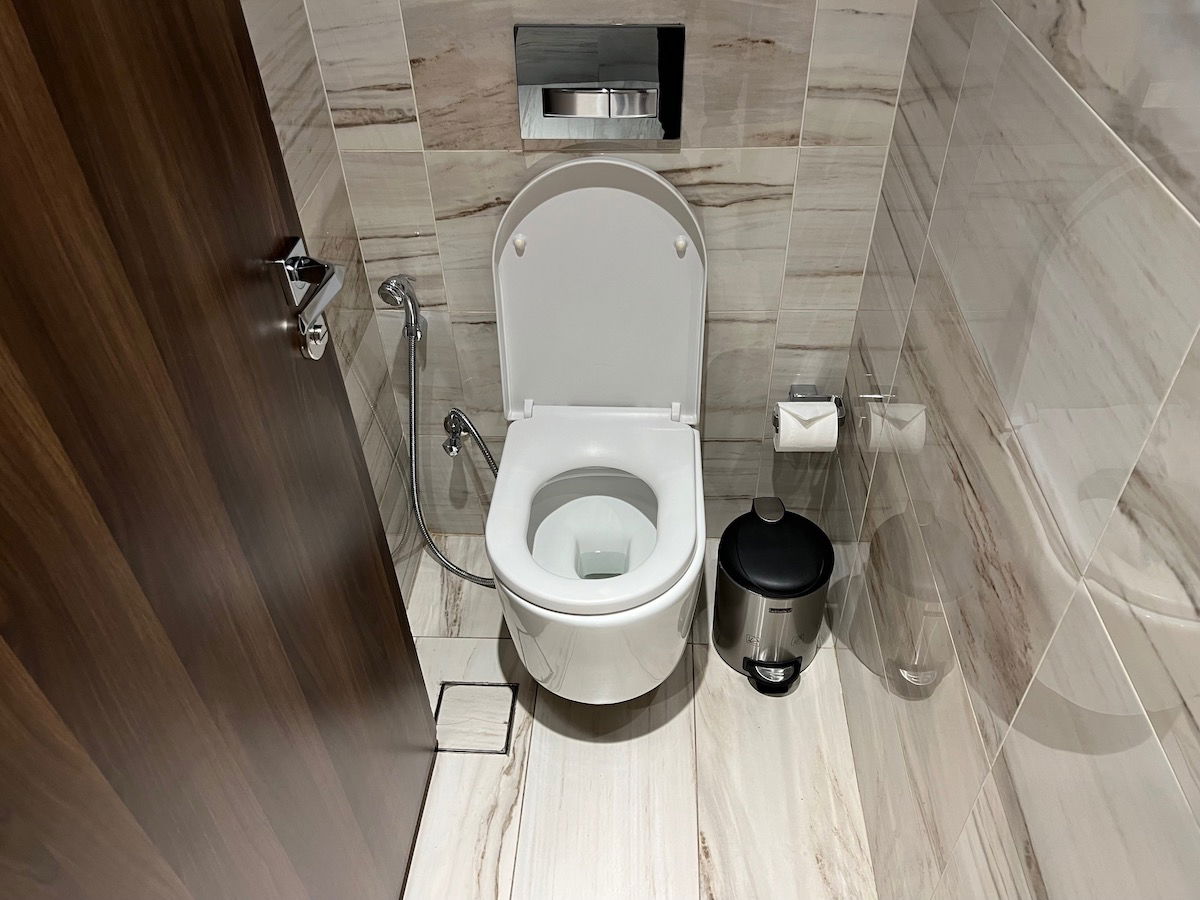 The lounge also has several shower suites. There's a reception desk where you can request a shower room, though there should (just about) never be a wait.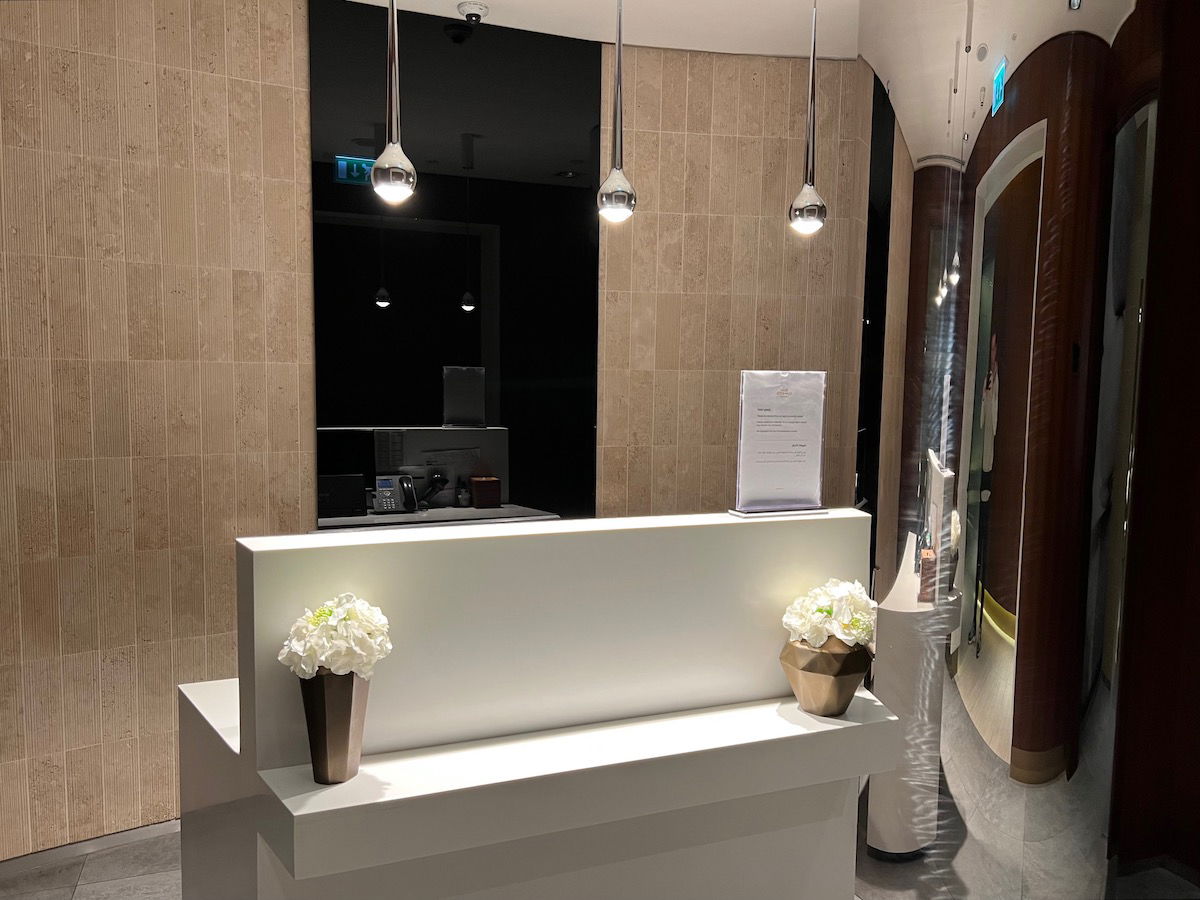 The shower suites are large, and each feature a sink, a toilet, and a walk-in shower. Amenities are in wall-mounted reusable containers, and aren't branded.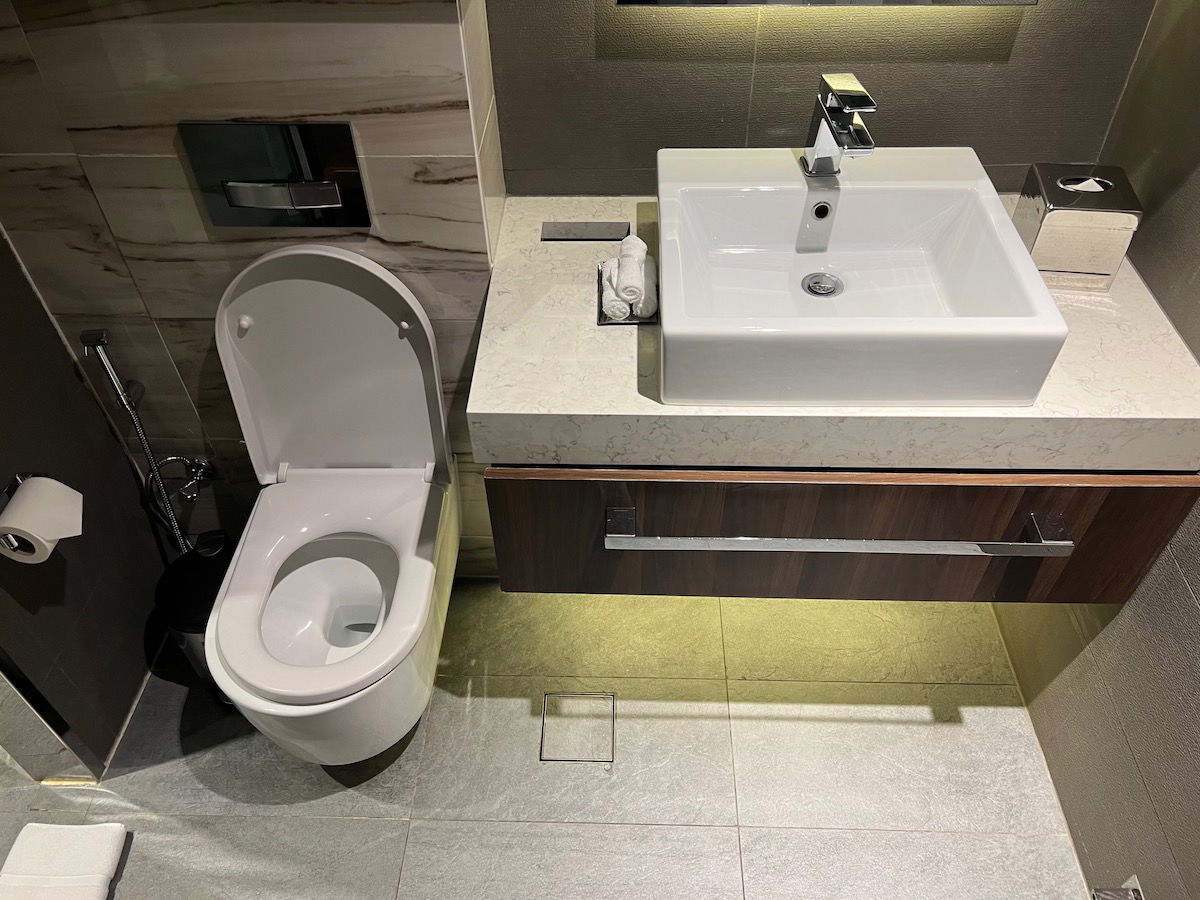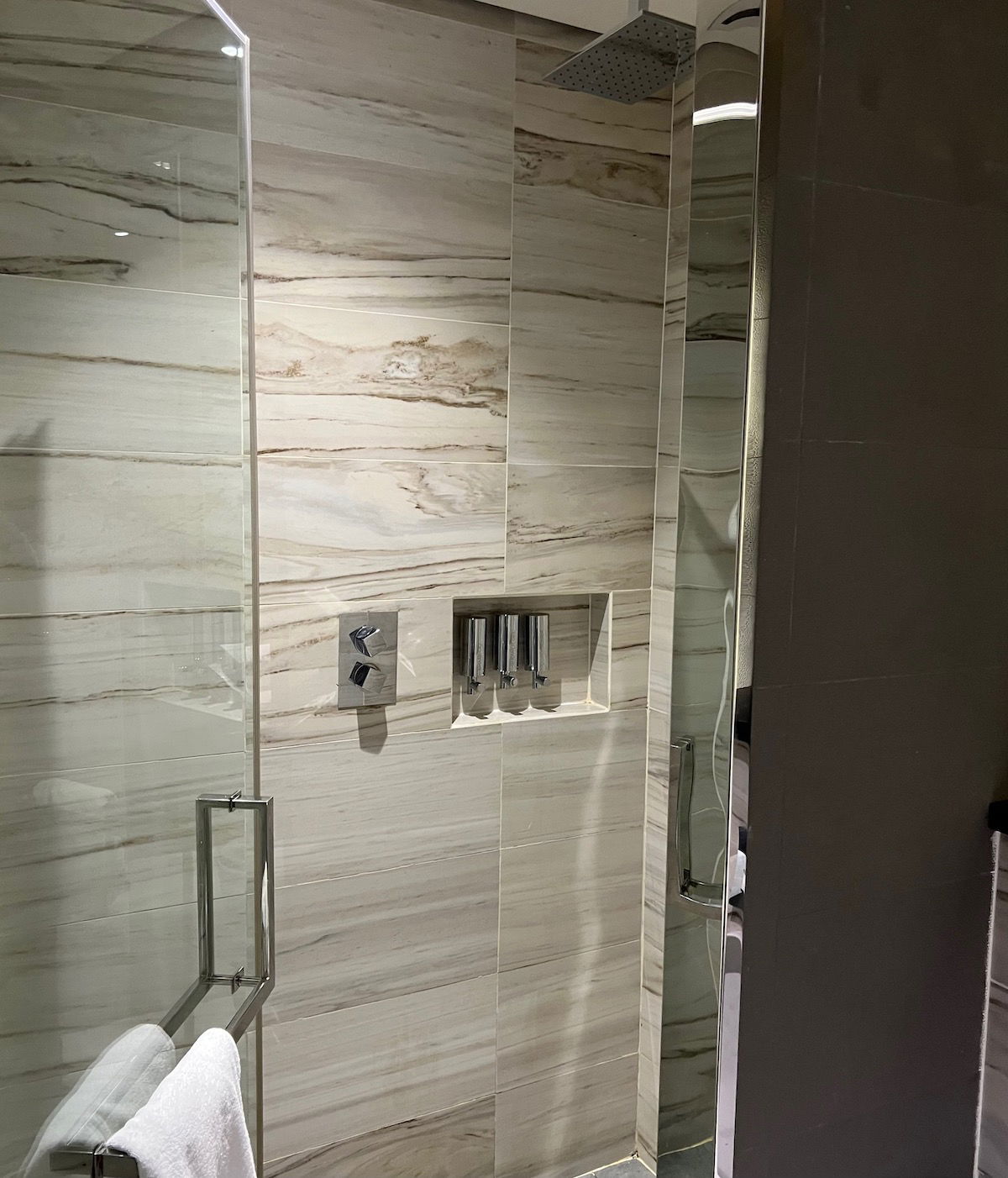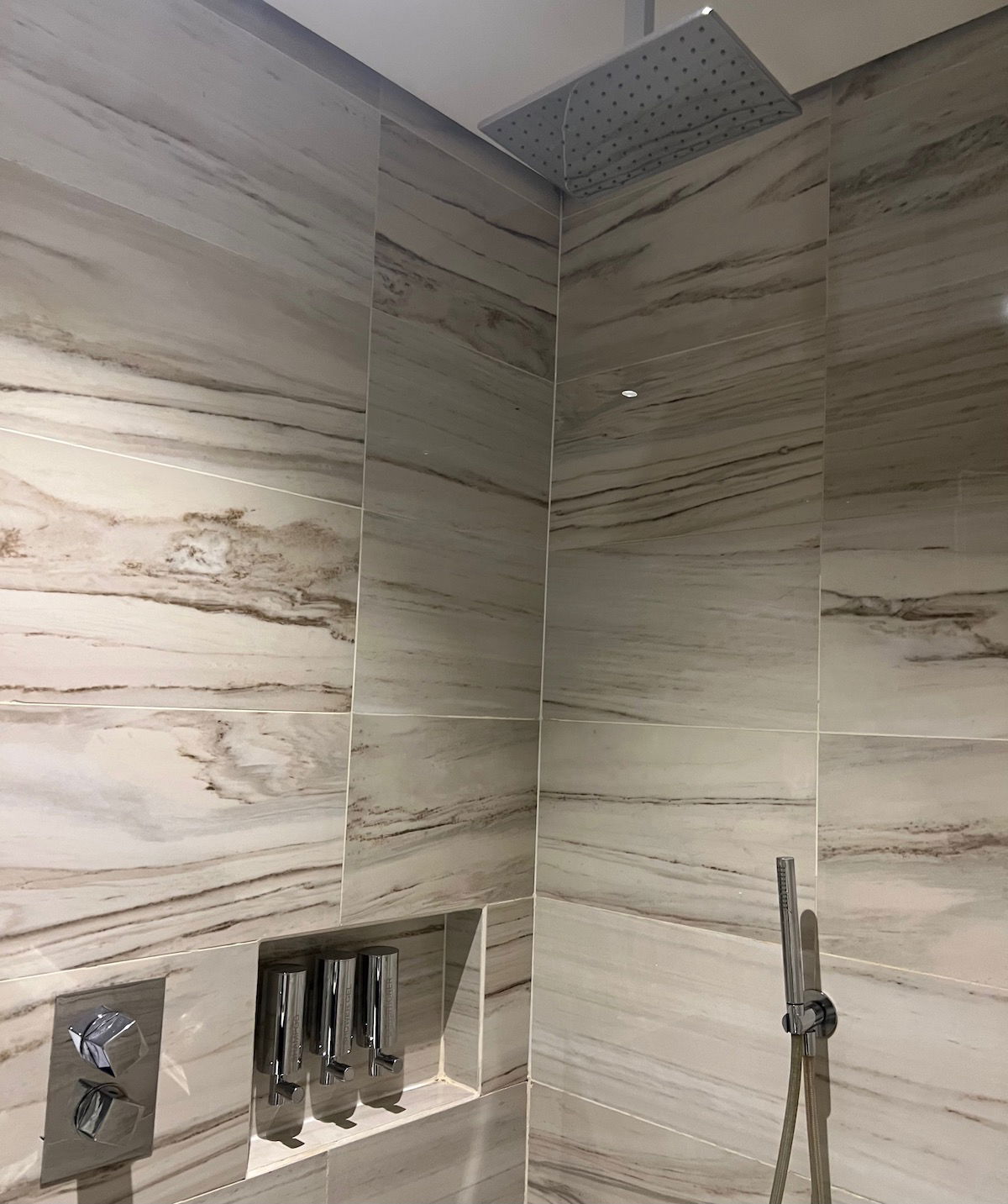 The most disappointing aspect of the Etihad First Class Lounge Abu Dhabi is that it no longer has a spa. I'm told that this closure is permanent, so there are no more massages, shaves, haircuts, etc. It sure would be nice if this made a comeback. Labor is quite cheap in the UAE, so you'd think this wouldn't be a huge expense. Then again, first class really isn't a priority at Etihad, as the airline is much more focused on having a great business class.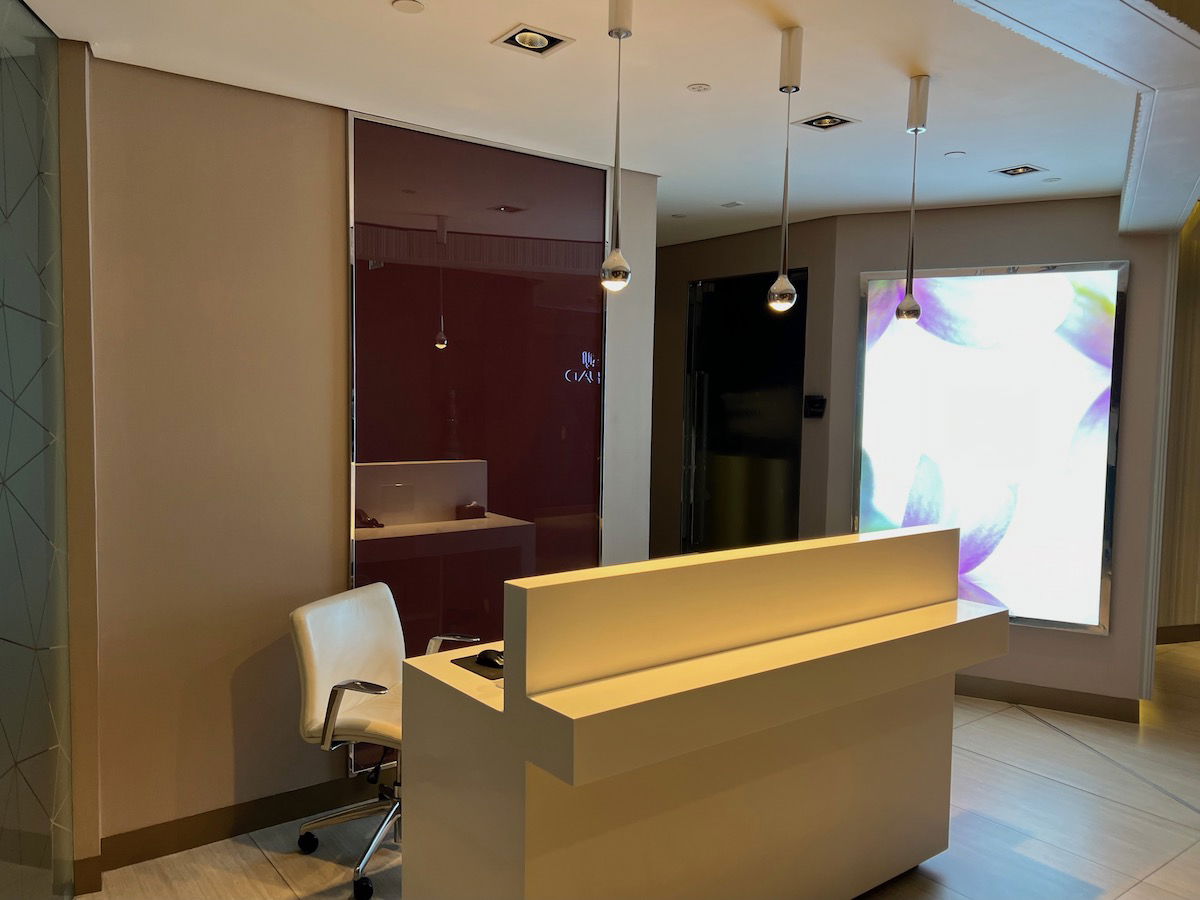 Etihad First Class Lounge Abu Dhabi food & drinks
Aside from the small self-serve drink selection, everything else in the lounge is a la carte. You can find the Etihad First Class Lounge food & drink list here. When I first arrived in the lounge, I ordered a cappuccino and a still water. I was happy to see that the cappuccino was barista made — yum!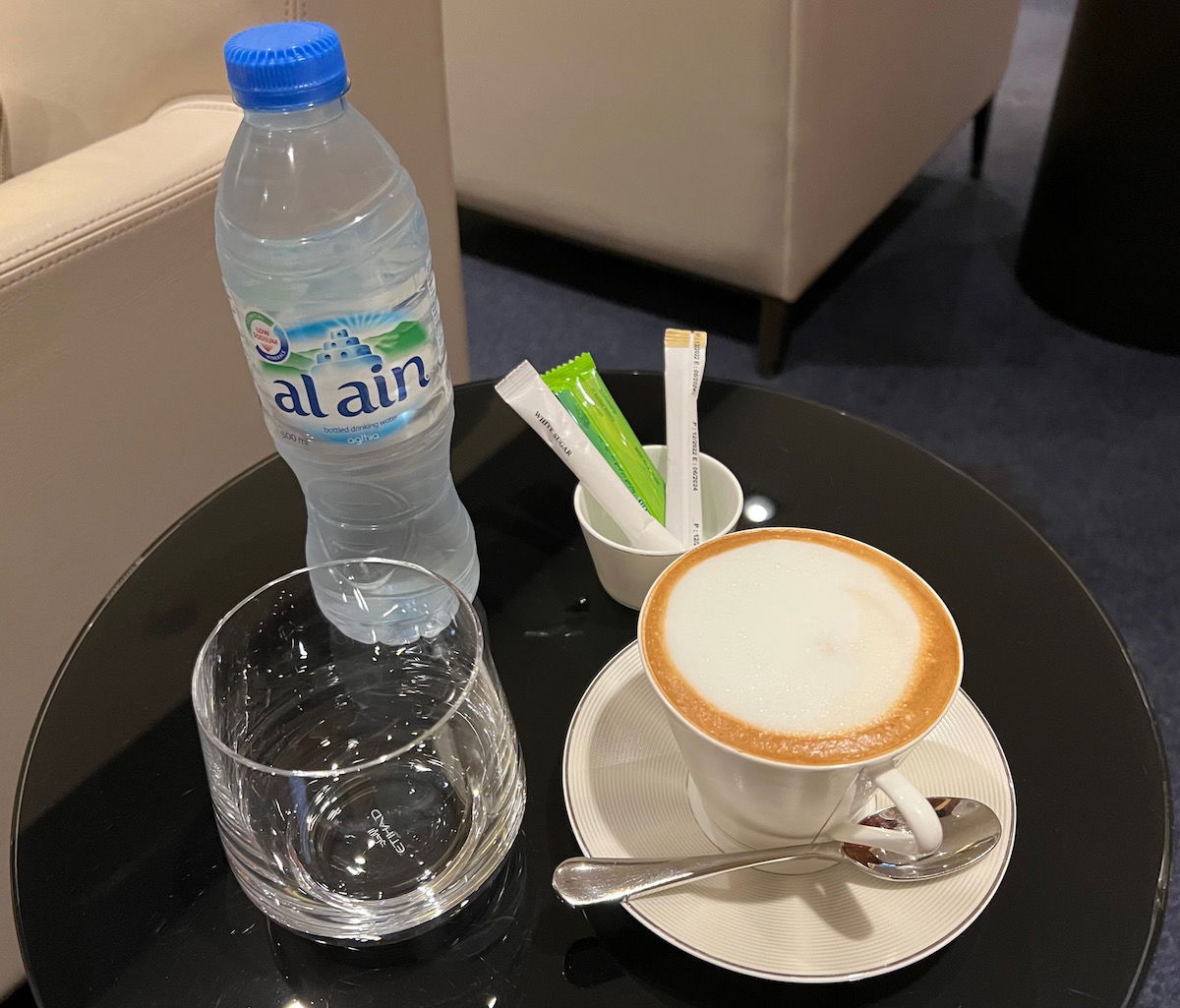 A bit later during our stay, my dad and I both had a seat at the bar and ordered dirty martinis. If I'm going to drink liquor, dirty martinis are my drink of choice. That being said, it's hard to get a proper dirty martini outside of the United States, and I'd say 80% of the time they're made wrong, even when I give exact instructions. But I'm stupid and don't learn, so I do it anyway.
Well, I have to give the lounge bartender credit, because he made a surprisingly great dirty martini. And oh my gosh, it was strong too…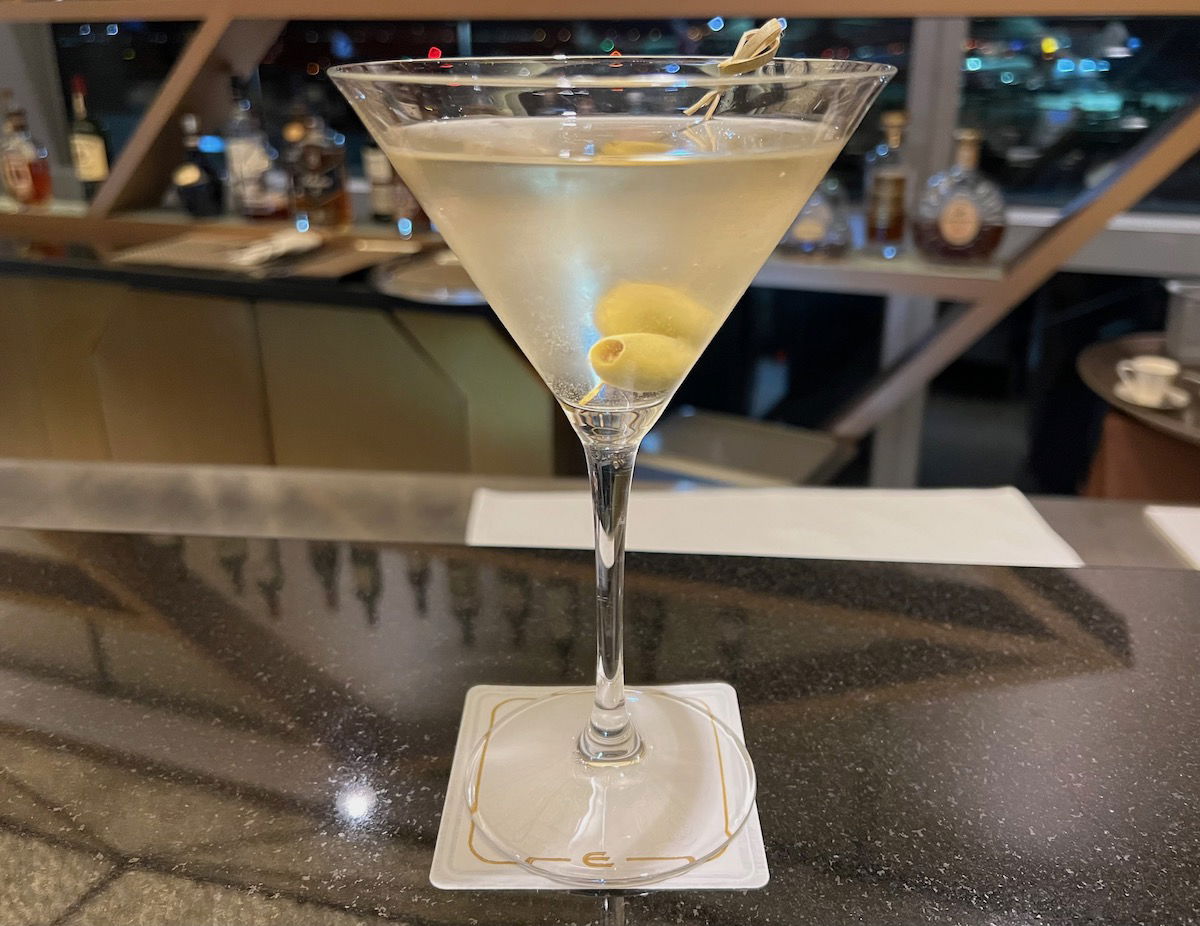 Toward the end of our layover, my dad and I decided to have dinner in the restaurant. I can't say we were really that hungry, but I have a job to do, and my dad was happy to help as well. 😉
When we sat down, we first had some drinks. I ordered a glass of champagne, which was a respectable 2009 Devaux & Michel Chapoutier Stenope, and my dad ordered the Château Olivier Sauvignon Blanc.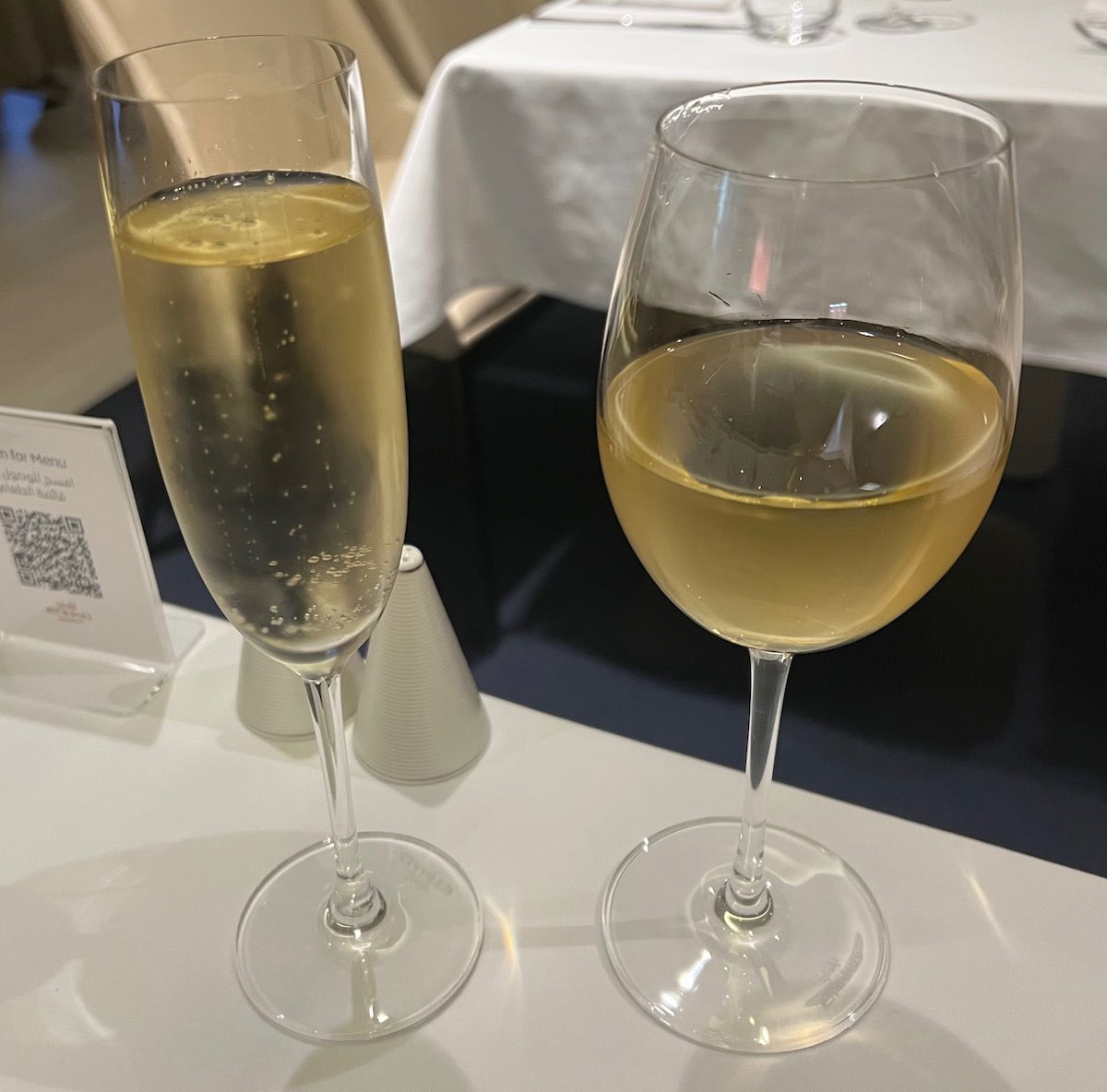 For starters, I ordered the Arabic mezze, while my dad ordered the lentil soup.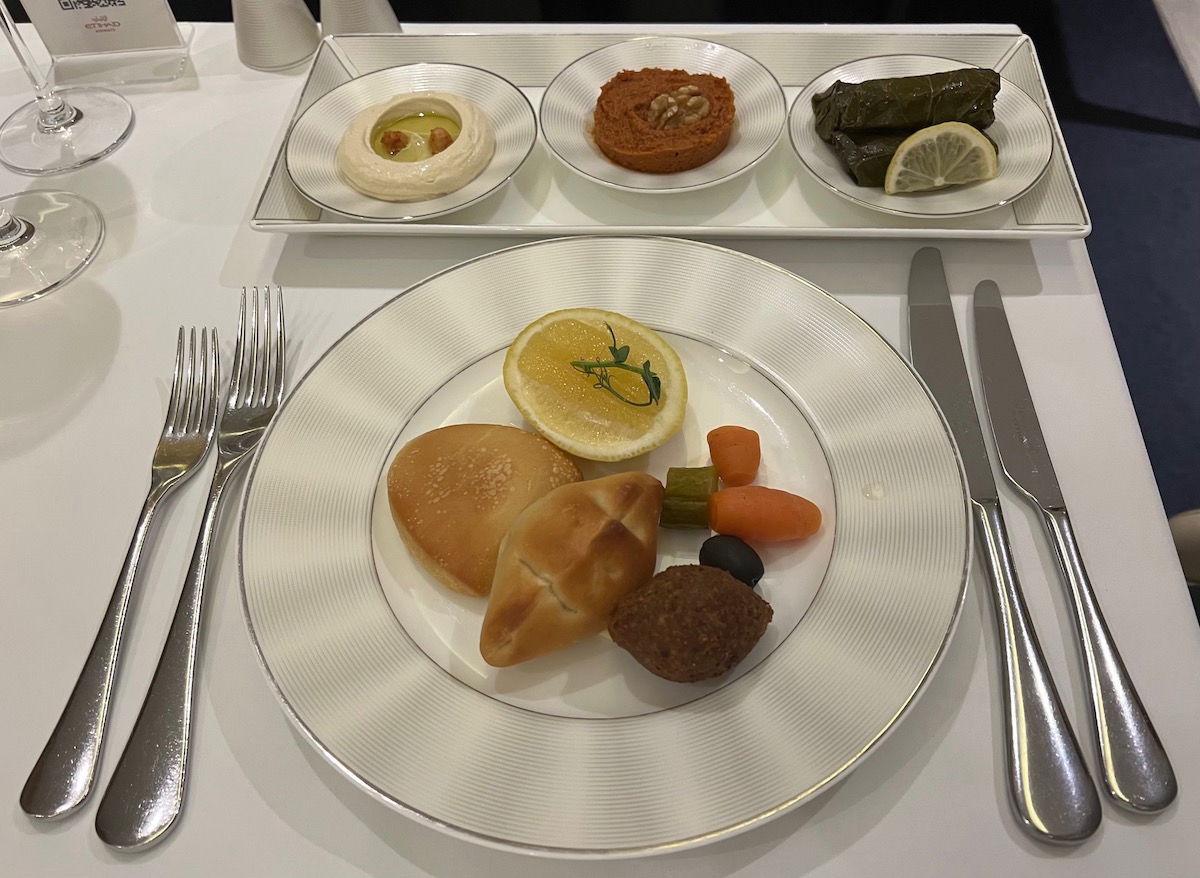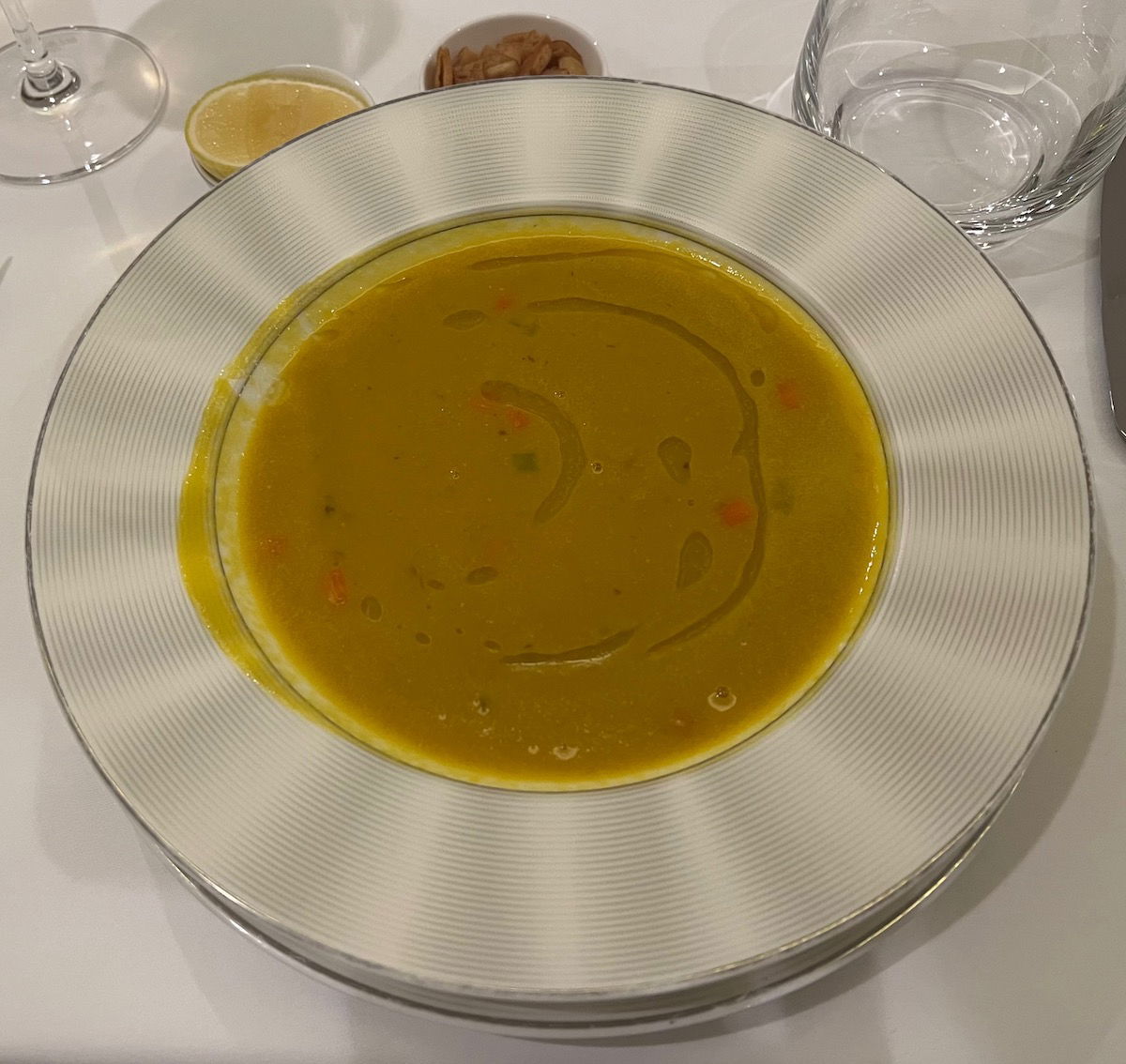 Then for our main courses, I ordered the lotus root kofta kurma, while my dad ordered the chicken masala.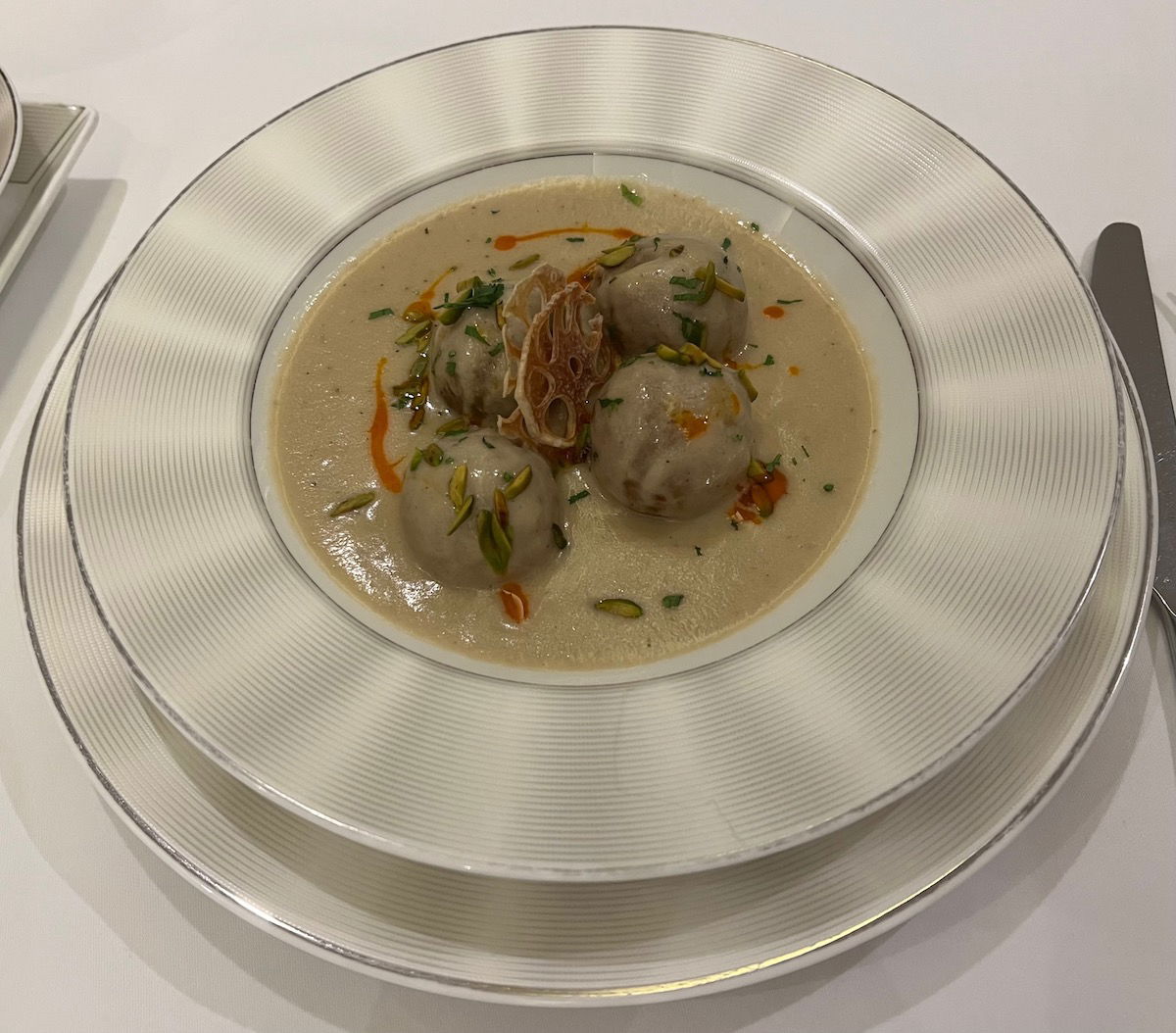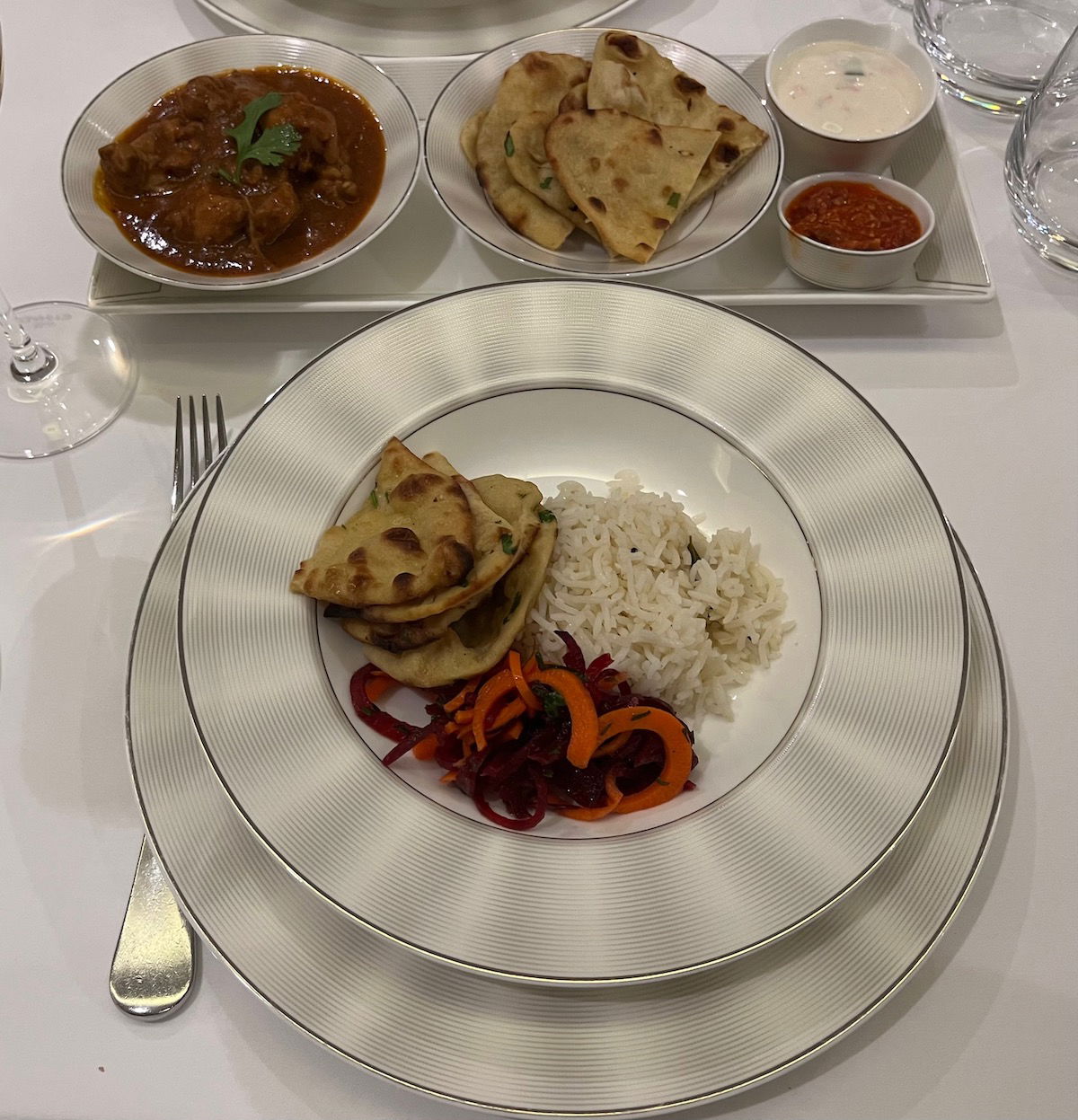 Lastly, for dessert I ordered the rose milk cake, while my dad ordered the peach melba.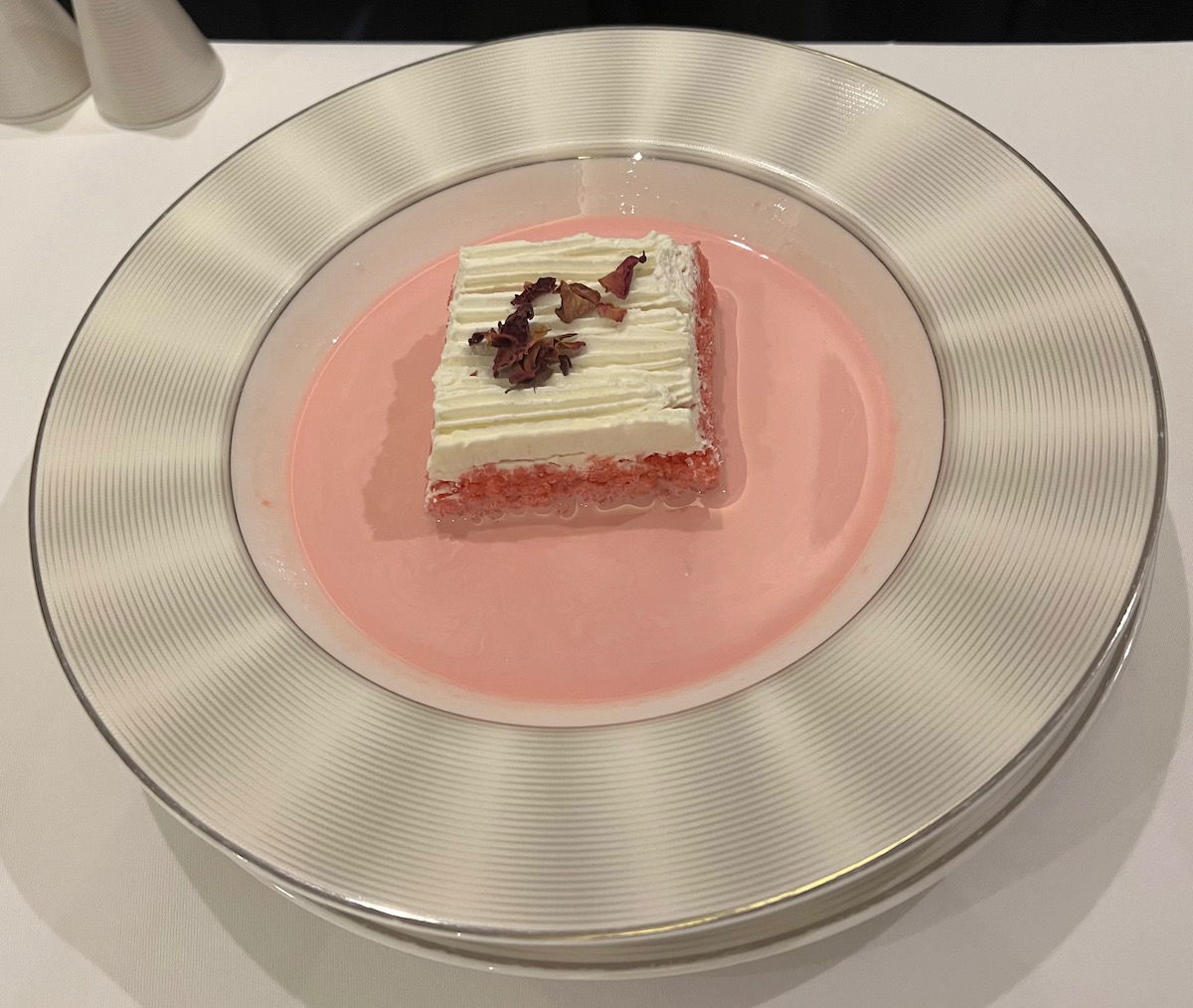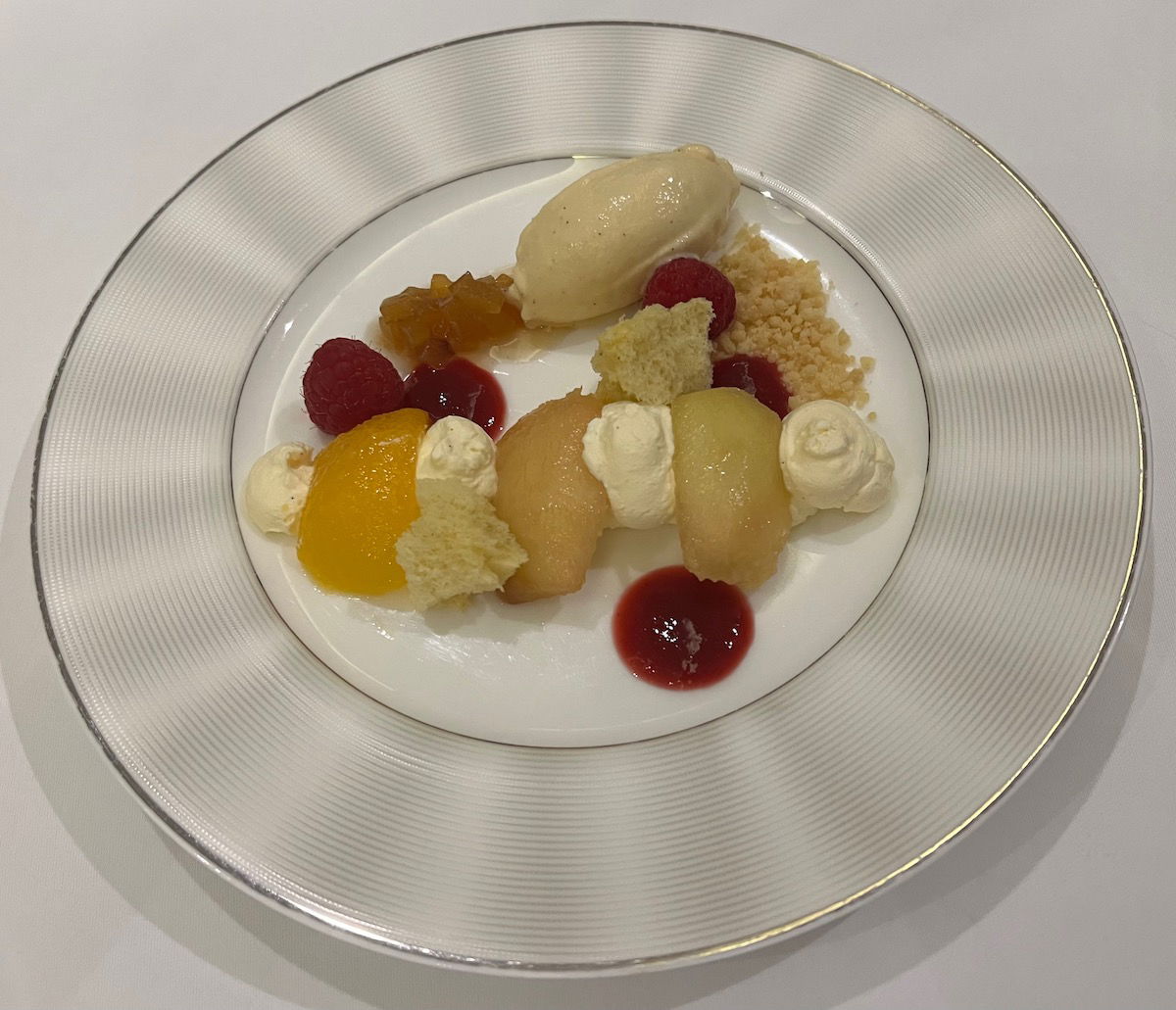 This was one of the best meals I've had in any lounge, as it was truly restaurant quality in terms of taste and presentation.
Etihad First Class Lounge Abu Dhabi service
There's room for improvement when it comes to service in the Etihad First Class Lounge Abu Dhabi. The lounge concept is based so heavily around service, since there's not much you can serve yourself. The lounge is very well staffed, so you'd think they'd proactively come around, see if you want anything to eat or drink, etc.
Unfortunately that's not the case here. When outside the dining area, we had to specifically flag down people to place a drink order, and that's even after waiting a long time. Heck, when I walked up to the bar I wasn't even acknowledged until I said "hi, excuse me," even though there was someone standing behind the bar.
And then when you are served, the staff are quite indifferent, and basically don't communicate with you. The whole thing was just strange.
There was one exception in the lounge, though. I unfortunately didn't get her name, but there was one woman in the dining area (she was Moroccan, if I recall correctly), who had an amazing sense of humor and was kind.
Otherwise I think some training could be done in the lounge when it comes to service. Maybe I was just there on an off day.
Bottom line
There's a lot to like about the Etihad First Class Lounge Abu Dhabi. The lounge is huge and consistently quiet, which is in my opinion a large part of what makes a lounge great nowadays (given how common of an issue lounge crowding is).
On top of that, the lounge has excellent dining, with restaurant quality food, and very good drinks. I also appreciate some of the lounge's unique amenities, like a gym and a nice cigar bar.
There's some room for improvement with service, though, as staff aren't attentive or enthusiastic. I wouldn't consider that to be a huge deal, though it's always nice to be around people who at least pretend to like their jobs. Furthermore, it's sad that the spa is permanently closed, since that was also a point of differentiation for this lounge.
All-in-all, though, this lounge is a treat. I'm curious how much longer it's around, given that the new Midfield Terminal is rumored to be opening in late 2023 (though who really knows).
What's your take on the Etihad First Class Lounge Abu Dhabi?
[ad_2]

Source link