[ad_1]

Police have not released him after releasing his Bible and gospel tracts, and no charges are pending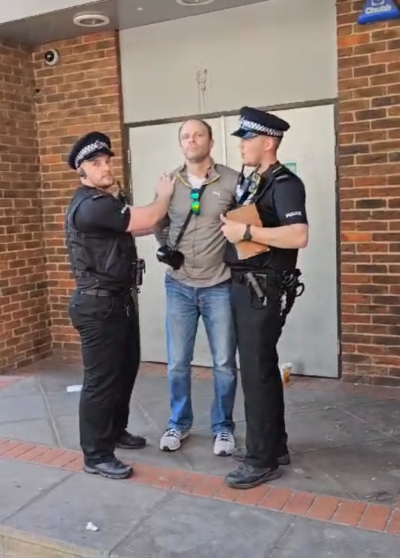 A street preacher who was arrested for preaching during an LGBT pride event in Canterbury, England, has called on Christians to "not shrink back and bow before the LGBT movement".
American-born street preacher Ryan Schiavo, who usually spends about half the year in the UK, spoke about his June 10 arrest in an interview with The Christian Post.
Schiavo told The Christian Post that he and a friend "went to Canterbury just to evangelize" as usual, and insisted he didn't know an LGBT pride event was taking place: "Until we got there and … went to the city , we realized there was a real pride event going on and it was pretty depressing. I mean, there were rainbow flags, rainbow signage, a lot of people wearing rainbows [colors] A rainbow is painted on the face. "
"It was pretty obvious that there was a band somewhere performing with what appeared to be LGBT singers and musicians," he added.As Schiavo shared Romans 1:18-32He summed it up by discussing "God judges society for its wickedness" and "sexual immorality and homosexuality," and a crowd began to form around him. According to Schiavo, "It was very difficult for me to have two hecklers, a man and a girl."
Schiavo describes "that guy, in particular, started following me, literally circling around me, following, screaming, cursing so people couldn't hear me." One-on-one conversations with girls who identify as lesbians. While the two had what he called a "very productive, respectful conversation," he recalls, "five police officers were on the scene at the same time."
"Before I could even speak, I saw two security guards already in place. I saw them in the distance because they saw me with my bible and loudspeaker. It was like they were just getting ready and waiting for me to say something What, because it was a pride event. So when the police came, three cops came to me at different times."
He noted that one of the officers was "very aggressive, unhappy, demanding, trying to blame me with the questions he asked and wanted to know exactly what I said." The officer asked Schiavo if he had said anything " might cause people to be offended," and express sympathy for LGBT activists by asking, "Can't you make them have a good time?"
"They have a full month," Schiavo replied. Acknowledging that the officer didn't seem to appreciate his response, Schiavo detailed how the officer with whom he had an altercation and others began interviewing "alleged witnesses," then returned and asked, "Are you going somewhere else?" Are you going to stop doing this? When Schiavo responded, "I don't know if I'm going to stop, but the sermon has to be preached," Schiavo said the officer "flashed into a rage."
"I think he's handcuffed. He's ready, and he quickly puts my hands behind my back, crosses them, and puts the handcuffs on me so, so tight that I have handcuffs on my wrists. 50 hours later, on the third day, that's how hard he handcuffed me," Schiavo recalled. "So he and one of his colleagues took me down the street."
Post-arrest video footage provided to The Christian Post shows that when Schiavo's friends asked police for a reason for their arrest, one of them accused the street preacher of violating "hate-related public order" laws that prohibit "discrimination." Schiavo told CP that the police "didn't know anything about what I said" and were "just investigating based on what people told them at the scene."
Schiavo also saw "police sitting in an unmarked car" and when he was taken to the police station they "honked and celebrated," an example he cites to illustrate "the power of the agenda here and how the police treat police". It is fully supported. "
He was released at 3:15 a.m. the next day, but expressed concern that "they withheld my Bible, my microphone, my loudspeaker and my gospel tracts." They withheld them, claiming they were part of the investigation's evidence. "
"There's no commentary in the Bible; it doesn't have any markings at all," Schiavo explained, and "the speaker and microphone are clearly neutral things. There's no evidence there." He's still not sure why the police took his Bible , speakers, and gospel tracts, and found it strange that they took his Bible and provided him with a Bible to read in his cell. "I actually sat in a cell and read the exact same passage that I was preaching in the street an hour ago, and that got me arrested," he added.
Reflecting on his own experience, Schiavo emphasized, "It is very important now for Christians not to back down and bow before this agenda. We are seeing the early days of communism, cultural Marxism, and the destruction of our freedom." sign."
"Neither the US nor the UK, we live in a fair and just society," he warned. "The last line of defense is not the political sphere, nor the conservative media. It is the Church of Jesus Christ. Christians must be willing to suffer, even if it means they lose their jobs, lose their friends, have family members who don't understand them, and even if they are thrown in jail or beaten Or kill, etc. Because in the end, our primary responsibility is for the Lord Jesus and the truth, not for our own satisfaction and comfort."
Schiavo encouraged Christians to stay the course and not abandon their principles, despite the challenges that may come with doing so: "If we are not willing to suffer and lose things for what is right, we will continue to be overwhelmed by these agendas."
As well as causing him to lose his Bible, loudspeaker, microphone and gospel tracts, the conditions of Schiavo's bail barred him from returning to Canterbury for 90 days and required him not to attend Pride events for the rest of June. Although officials were not convinced by his insistence, Schiavo told The Christian Post that he "never attended a Pride event" until he stumbled across the Canterbury event.
"I don't go to Pride events to preach. I generally avoid them. It was my first time, but they banned me from going to any other events for the rest of June, which is Pride month."
On June 16, nearly a week after his arrest, Schiavo texted The Christian Post to update The Christian Post on the progress of the legal proceedings resulting from his arrest: "I just spoke to Canterbury Police and they said my case is now' No further action, 'which means I won't be charged and my bail conditions are lifted. I can pick up a bible, loudspeaker and microphone from the police station at any time."
In a subsequent message to The Christian Post, Schiavo provided additional updates: "Despite the police officer who interviewed me on Friday telling me that my bible, microphone, speakerphone and [tracts] When I drove the hour to pick them up yesterday, I was told that the interviewing officers never followed proper procedures for releasing these items. So I still don't have them. "
The officer emailed Schiavo the next morning, apologizing for the unavailability of his items and vowing to "look into what happened."
Schiavo had previously 2021 Promoting homosexuality on the streets of London is a sin.Law enforcement said there was a violation Article 4A The Public Order Act provides that "a person commits an offense if, with intent to cause harassment, alarm or distress to another person, he— (a) uses threatening, abusive or insulting words or conduct, or acts in a disorderly manner , (b) exhibit any threatening, abusive or insulting writing, sign or other visible manifestation", as grounds for his arrest.
Schiavo said the situation had worsened in the UK over the past two years: "There is no doubt it has been worse. … When the police bring politics into their work and cultural Marxism and the far-left agenda When they work, they can no longer be impartial, and that's what's happening here."
While he clarified that "not all of them" have begun "incorporating politics and left-wing Marxist, communist agendas into their policing," and that some officers remain impartial, Schiavo insists that, in the minds of police officers, "Favouritism is the last thing". The officer who arrested him about two weeks ago said: "He started out manipulatively saying, 'Can't you let them have a good time?'" He had no respect for my free speech at all, not at all, and a lot of people Became like this. "
A photo shared by The Christian Post documents a police patrol car with the words "Police Pride" written on the front passenger door, along with the phrase "No H8" commonly used by LGBT activists. The police car has rainbow colors on the rear passenger door with the words "Kent Police" and "Value Differences" sandwiched between them.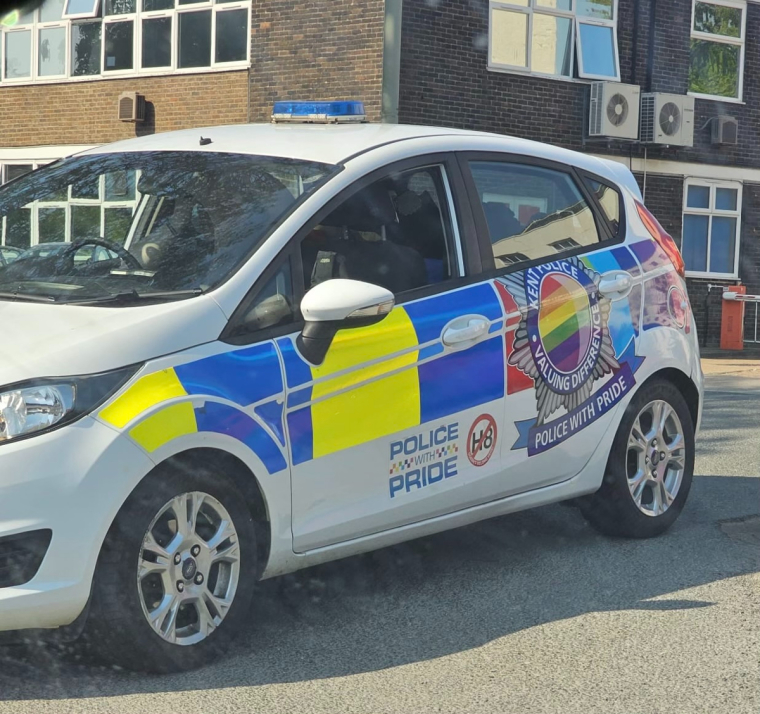 Even before his latest arrest, Schiavo had witnessed growing hostility in British public squares to conventional views of human sexuality: "In less than four years, I've been stopped at least 25 times."
"There have been many times when I actually fled an area because I thought the police would come and when I left the area, I saw the police cars coming. So, in the last four years, I could have easily had 40 to 50 times. It's been less than four years. Of those four years, I've spent less than two years in this country. So, in less than two years, I've been caught by police all over the country Pulled over at least 25 times. That's how bad things got."
[ad_2]

Source link