CNN's multimillion-dollar Abu Dhabi broadcast facility went live last month, marking a new chapter in the network's history in the Middle East. In an interview with BroadcastPro ME, the Abu Dhabi team shared details of new technologies that will help propel the business of journalism into the future.
February 27, CNN Launched its first full-length show using its brand new studio facility at the Yas Creative Center in Abu Dhabi. The 600sqm office with 40 staff has enabled the team to expand the size and scope of their operations in the UAE. As one of the network's major international production centers alongside Atlanta, New York, London and Hong Kong, it marks the latest of several major investments by CNN in technology and editorial production.
"This brand new bureau is a multi-million dollar investment for CNN and underscores the importance of this region to the network," becky andersoneditor in chief CNN Abu Dhabi & anchor, tell BroadcastPro ME"Its main purpose is to tell stories about the region from the region, but also to provide audiences around the world with a regional perspective on global stories. From a production standpoint, what the new Bureau brings is a more technically Generic, efficient facility for collaborative workflows. In short, this means we can generate more dynamic programs on an ensemble, giving us more presentation options, and we can better incorporate CNNs A global system. Beyond these walls, twofour54's Yas Creative Center provides an inspiring environment for the creative industries here and we are delighted to be part of this growing community."
From a technology standpoint, Xinju aims to enable multi-platform content creation through hybrid digital and IP video/audio workflows. CNN's hybrid AV stack combines the reliability and broad industry support of SDI and Dante with the flexibility of NDI to give the bureau some new capabilities.
"As the industry shifts to IP, hybrid workflows become even more important. We were able to combine the core technologies into a new flexible system. NDI then gave us the scalability and flexibility to meet future cutting-edge creative production needs . This, along with the intelligent control interface, brings the technical and production teams to the forefront of high-tech operations," explained Leo Tucker-Brown, Engineering Manager, CNN Abu Dhabi.
Daniel Symmonds, senior engineer and project manager, agrees. "For modest installations, the 2110 is a costly and complex endeavor, and SDI itself may not be able to take advantage of a software-centric workflow. This hybrid approach has allowed us to create a technical palette that offers a wide range of capabilities and multiple paths to empower our team's technology."
The 80-square-meter studio will now be home to CNN's international flagship current affairs program, Connecting the World with Becky Anderson. The facility includes three fully robotic camera systems from Videndum (formerly Vinten), a 10-megapixel Unilumin video wall, four dedicated craft newsrooms, and a modern open plan newsroom, each All have sit-stand desks and dedicated monitoring tool locations.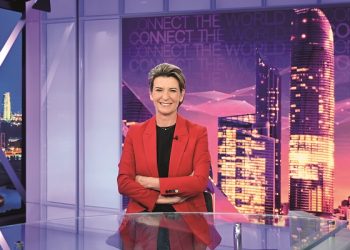 In the studio, three large video walls and three reconfigurable portrait monitors form a canvas that allows very quick adjustments to the look and feel of the space. These, combined with the VizRT graphics engine and the deep M/E capabilities of the Newtek Tricaster Elite 2 switchers, both feature native NDI support, and give the team a wealth of creative options. Tricaster also has built-in tools to engage guests via popular video conferencing applications or stream them to social platforms. There is also a large green screen wall for creative development.
The team is particularly proud of the flexibility of the newsroom: at the touch of a button, production locations can be customized to suit producers, technical operators or engineers. The bright, open newsroom layout features ultra-wide dual-screen monitors at every seat for a tailored user experience. CNN also has a technology area that allows the team to bring features such as live contributions or prompt operations that would normally only be found in a control room or studio, into the newsroom. The facility also has five new downlink antennas, including one for area feed and SNG support.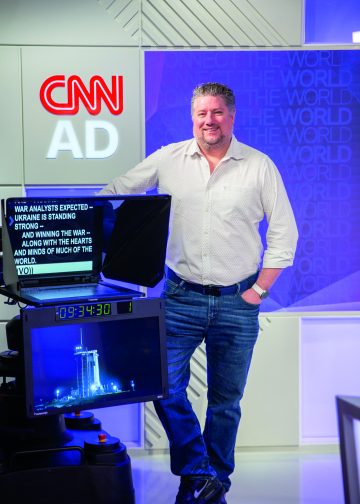 The team carefully planned all areas of the facility with multiple technology additions and incremental upgrades. For example, the addition of modern coding techniques such as Haivision Makito X4 means that there are four bi-directional contribution lines, replacing the single path in previous rounds.
"Now supporting IP prompts allows us to switch seamlessly between local and remote operations," Symmonds said. "We now have full, not partial, robotic camera bases. There are eight switcher M/Es instead of three. We also share online editing storage and cloud archiving capabilities, as well as the almost complete elimination of communications including communications." Analog audio in the workflow. VM and KVM access to production tools removes duplication and centralizes computation."
The team also now has access to a dynamic operator interface, and a good mix of pre-existing and new video/audio workflows. This is achieved through the Densitron touch control for a fully customized operator GUI. By centralizing the control of multiple vendors in one system, they have moved beyond a panel operating just one device or one vendor solution to focus on workflow.
An important addition to the facility is media asset management with centralized, fast storage. To this end, the bureau adopted SIMedia as its MAM, playout and recording solution, and centralized its online storage on OpenDrives. The system supports NDI natively, and by centralizing its core media repository, it eliminates the need to transfer files between systems to make them available for the process.
"The operational flexibility we now have supports a dual workflow," said Jude Oommen, Senior Technical Director, CNN Abu Dhabi. "On the one hand, we can join our mothership in Atlanta for a two-hour daily newscast on CNN International; on the other hand, we can stream custom content without crossing the Atlantic to support our local programs, such as CNN Academy, host virtual panels and create live, packaged content for our partners."
However, newsrooms also face their fair share of challenges.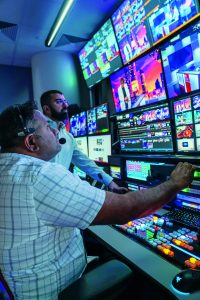 "By far the biggest challenge facing the modern newsroom is the sheer amount of information now available through social media. In breaking news situations, being able to source sources from social platforms is great, but verifying it is essential Yes, it's a time-consuming and labor-intensive process – especially if false or misleading information is being knowingly spread. Over the past decade, we've invested heavily in strengthening our capabilities across the web. TECHNOLOGY There is a big role to play in this, data analytics, geolocation and other verification tools are now mainstream parts of newsrooms, playing a role in our investigative and breaking news. We are not there yet, but I expect human Intelligence will play an important role in this field in the future," Anderson said.