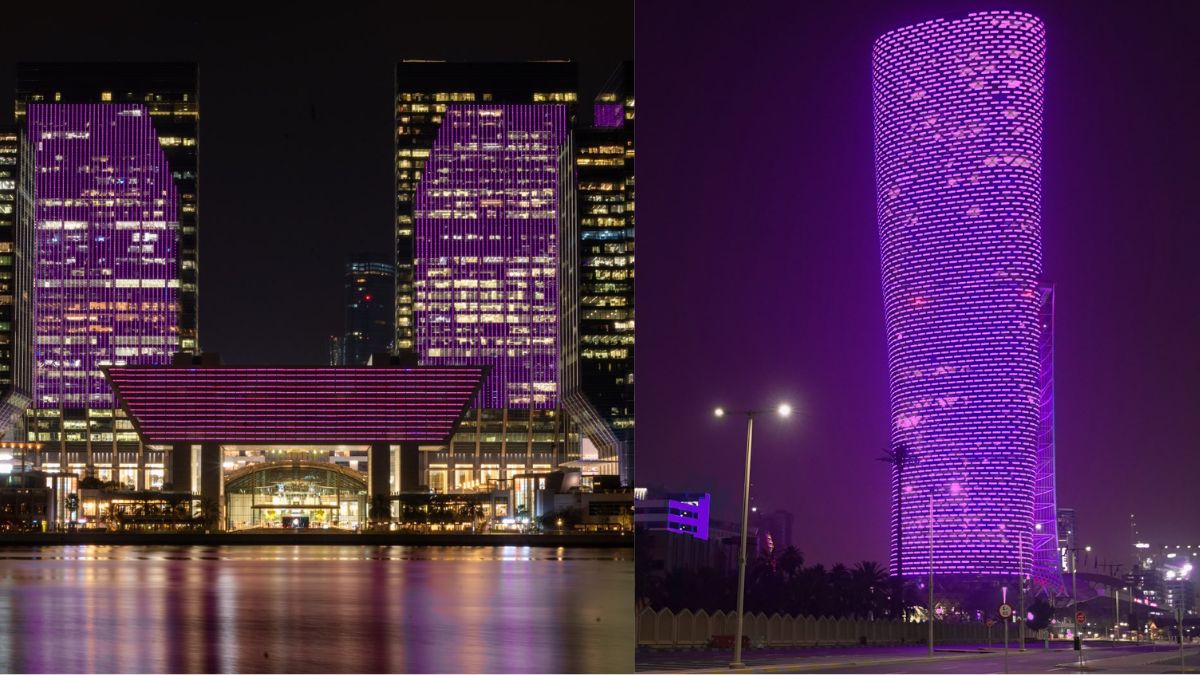 Image credit: Twitter/ADMediaOffice
We all know that International Children's Day is celebrated on 20th November, but the UAE does things differently. The UAE celebrates Emirati Children's Day on March 15th. Abu Dhabi was painted purple last night to mark the event. Some of Abu Dhabi's iconic landmarks have been lit up in purple to mark Emirati Children's Day.
Abu Dhabi turns purple to celebrate Emirati Children's Day
Abu Dhabi's iconic buildings lit up in purple to celebrate Emirati Children's Day#UAE Children's Day #Abu Dhabi #Emirati_Child_Day @ADMediaOffice @United Arab Emirates Children's Day pic.twitter.com/WtQCFYdbsb

— Forsan, UAE (@UAE_Forsan) March 15, 2023
Every year on March 15th, UAE Children's Day aims to raise awareness about children's rights. It is also a reminder that children deserve the opportunity to grow up in a safe and peaceful environment.
Each year Abu Dhabi continues to support young people in all aspects of life to grow and become resourceful future citizens. In addition to lighting up iconic landmarks, Abu Dhabi is also hosting a number of study programs for the future of the UAE. These buildings include Khalifa University, Mandarin Oriental Emirates Palace, Abu Dhabi Municipality, Adnec's Capital Gate Building, Four Seasons Hotel and ADNOC Building.
A number of celebrations are planned across the UAE to mark the day.
Also read: Abu Dhabi has the world's largest indoor vertical farm; here's what it's all about
What celebrations mark this day?
Abu Dhabi Justice Department celebrates UAE Children's Day excerpt#Emirati_Child_Day pic.twitter.com/CK9vJInm3o

– Ministry of Justice – Abu Dhabi (@ADJD_Official) March 15, 2023
Organized a 10-day training course for child welfare specialists from municipal and federal agencies. The Department of Community Development will only make a conclusion if it complies with the requirements of the Children's Rights Act and its implementing regulations.
In honor of UAE Children's Day, children get free entry to Al Ain Zoo on 15 March.
UAE Children's Day is a fun-filled event organized by the Dubai Women and Children's Foundation. The event was held to show support for the UAE's wise leadership, who have worked tirelessly to look after the next generation.
Two UAE network providers, Etisalat and Du, recently changed their names. In the place where the network name usually appears in the upper left corner of the phone screen, you can see the message "March 15-ECD".
UAE Children's Day is scheduled for 15 March 2016 to coincide with the introduction of the Wadeema Law. It tries to spread knowledge about protecting children's rights. So, to support the cause and reflect their dedication, several buildings in Abu Dhabi were lit up in purple during this year's UAE Children's Day.
Cover image courtesy of Twitter/ADMediaOffice