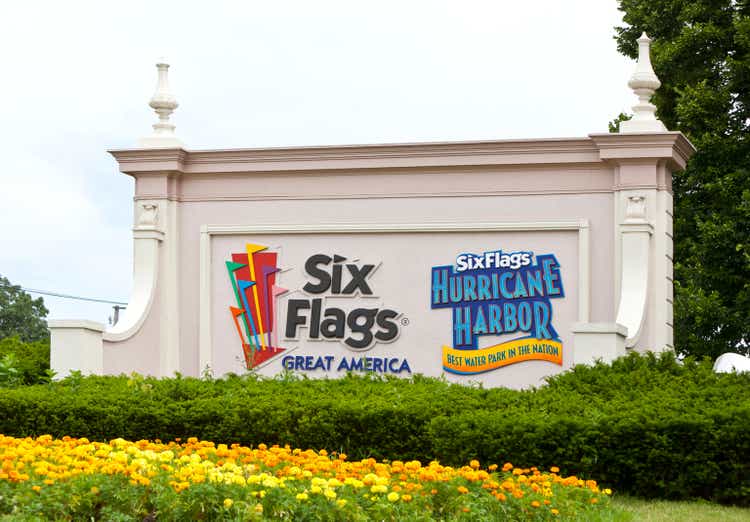 Six Flags (NYSE:SIX) is a theme park operator with 27 theme parks in its portfolio: 24 in the US, 1 in Canada, and 2 in Mexico. In the past few years, Six Flags has experienced multiple changes in management and a significant change in business and capital allocation strategy. The changes brought about by current management are significantly different from past management. Firstly, while past management had focused on customer volume, current management focuses on customer value. Secondly, the type of capex spend has changed from higher capital-intensive projects such as thrill rides, to lower capital-intensive items such as seasonal events and park beautification. Thirdly, capital allocation has now shifted from a shareholder-friendly return through dividends and share repurchases, to debt-reduction and restrained share repurchases.
In analyzing the changes brought about by the current management, I believe that Six Flags is in a great position to improve its business and thereby increase its stock price in the future.
Brief Overview of Management Changes
As a consumer, I absolutely hate roller coasters. I view them as a human blender: you get strapped onto a machine, get tossed and turned around in speeds unbecoming for a human body. The same feeling could be felt if you owned SIX stock in recent years. From 2017 to today, the company has experienced much turbulence and disruptions, from repeated changes in management, to a 180 degree change in strategy and capital spending. Between 2017 to today, there had been 3 CEOs:
Pre-Nov 2019: Jim Reid-Anderson (Aug 2010 – Feb 2016; Jul 2017 – Nov 2019)

Nov 2019 – Nov 2021: Michael Spanos, previously CEO of a PepsiCo division.

Nov 2021 – Today: Selim Bassoul
In this article, I will frequently use phrases such as "old/previous management" and "new/current management", and the time period "Before" and "After". References to "old management" and the "Before" time period refers to the team under Jim Reid-Anderson, while "new/current management" and the "After" period refers to the current team under Selim Bassoul. There will be limited mention on the management team under Michael Spanos, since this period of time coincides mostly with Covid-induced performance/lack of performance. As such, Michael Spanos' time at the helm can largely be viewed as a transitory period. Nevertheless, he deserves credit for managing the business through the single most catastrophic period faced by the company in the past decade (Six Flags' other catastrophic event, its bankruptcy, occurred over 10 years ago, in 2009). On account of the actions (or inactions) he conducted during his period, Spanos' time will largely be included with current management's.
Before Jim Reid-Anderson left the firm, his last comments were very much upbeat, touting the performance throughout his time in the company. During his tenure, revenue increased by 75%, and the company's stock price rose 3.6x from ~$9.50 at the end of August 2010 to ~$44 at the end of November 2019. Including reinvested dividends (which totals to $20.28), an investor would have realized a 647% profit if they had held throughout Jim's tenure. In the same period, the S&P 500 returned 243% with dividends reinvested. That's an alpha of over 400%. One could easily say that his tenure was very rewarding to shareholders.
However, when Michael Spanos took over, the tone of the earnings call suddenly changed. Whilst Jim Reid-Anderson celebrated the success of his strategy of selling Annual Passes, Spanos sang a different tune. Organic attendance growth was a measly 0.2% (90% of the attendance growth of 2% had come from newly acquired parks), adjusted FCF dropped 16%, Project 750 (a goal of reaching $750M Modified EBITDA by 2020) was called off for being unrealistic, dividends were cut by 70% (83c to 25c per quarter), their partnerships with Riverside Group (China partnerships) had failed, and the company was experiencing operating deleverage (costs were growing faster than revenues). Soon after, Covid hit, and their parks essentially turned into a barren wasteland. Sid Flags was firmly in crisis mode: no more dividends, no more share repurchases, and additional debt to strengthen their balance sheet enough to not go to bankruptcy again (recall that Six flags had once filed for Chapter 11 in 2009).
As Covid passed, so did the management team. In November 2021, Selim Bassoul took over as CEO. His background wasn't a typical fit to Six Flags; he was CEO and Chairman of Middleby, a manufacturing firm in the food services industry while at the same time, a non-executive chairman of Six Flags' board. Nevertheless, stock prices reacted positively, gaining 7.6% in the days following the announcement. Since then, he has made a series of changes, including slashing SG&A costs by 18% in his first full year (FY22 vs FY19) and enacting a completely different strategy from Jim Reid-Anderson. As tectonic shifts go, not everyone was on board with the new strategy. In one instance, the company's employees allegedly (because it can't be fully confirmed) wrote an open letter citing Selim's lack of leadership and criticism of his strategy. There is even a YouTube video with over a million views which berates the current management team in similar nature. In short, the frustrations centered upon:
Low morale & employees laid off – "He eliminated layers of team members…and now has all the Park Presidents reporting directly to him"

Decreased traffic – "Our attendance has been abysmal and many of our guests won't be returning"

Lack of quality – "We're charging our guests more and offering far less"
That said, let's explore the changes that the current management has brought upon the company, and how it translates to the value of the company today and in the future.
Outline of strategy change:
| | | |
| --- | --- | --- |
| Type | Before (2013 – 2019) | After (2020 – 2022) |
| Revenue strategy | Recurring revenue Attendance growth | Higher spending per capita Higher-value customers |
| Capex | Expansion More theme parks More rides | Customer-facing efficiencies Guest amenities More events |
| Capital allocation | Dividends Share repurchase | Debt reduction Share repurchase |
Revenue strategy
Before:
The focus on the prior strategy was in selling Annual Passes and unlimited meal plans. The idea was to cram as many people as possible and generate incremental revenue from each new visitor. Since there is negligible marginal cost on rides (perhaps just slightly increased utility costs and maintenance costs), having more people paying to get into the parks meant that every incremental revenue generated falls nicely to its bottom line. The same was for food, since food margins can safely be assumed to be high, as COGS as a % of non-sponsorship revenue remains low at 8.2-9.4% (excluding Covid-impacted 2020). The same was for other types of spending one might incur in a theme park: parking fees, merchandise, etc.
And the strategy worked. From 2013 through 2019, park revenues revenue grew 32.3% on the back of attendance growth of 25.5%. Increased attendance also helped the company grow its non-park revenues (sponsorships, international agreements, accommodations) by 64.5% through the same period, until it reached 6.5% of total revenues in 2019. After all, sponsors were more willing to spend when they can get in front of more eyes.
Selling annual passes also meant that Six Flags could somewhat normalize their revenues. No longer would they need to worry about a drop in revenue due to weather events since Annual Pass customers who had already paid for their passes wouldn't feel cheated for selecting to come on a foul day. They could come again on another day without paying again. Annual passes gave the company a basis of confidence in attendance numbers and recurring revenue as annual pass holders typically extend their passes. It truly seemed like a SaaS company: recurring revenue, solid base of users/customers, negligible marginal cost, with any and all incremental revenue dropping to the bottom line.
After:
However, it's not. As much as their revenue strategy was SaaS-like, their business was not. It's more similar to a gym. While you can smush many people into the gym, if there's only one treadmill, only one person could go at a time. In SIX, it came out to this: longer waits for rides, longer waits for food purchases, dirtier toilets, less resting areas etc. Quality is compromised as a result of quantity. The same was for food. In promoting their Annual Passes, old management had also promoted heavily on their meal plans. This led to some customers gaming these passes.
With new management, the strategy has been encapsulated in the sexy new term, "Premiumization". What this essentially means is increased prices. By increasing prices, Six Flags filters out lower-spending customers in favor of higher-spending customers. As changes in strategies go, this is a complete 180 degree turn. Compared to the previous management group which focuses on increasing attendance while waving c'est la vie to spending per guest, the current management places a great emphasis on increasing spending per guest even at the cost of attendance. The results are shown below. For the sake of normalization, I've taken out 2020 in its entirety due to Covid impacts.
Review:
A drop in revenue as shown in the table below suggests that the company's new strategy is failing. Furthermore, while the decline in park revenues in the 4 years following Jim Reid-Anderson's departure may point to the new strategy not working, this is not the case. Investors should note that while the comparisons above suggests that the new strategy is failing after 4 years (2019 vs 2022), the strategy change had really only started in 2021. Even then, 2021 performance was still impacted by Covid and a temporary extension of the low renewal price for Annual Passes (old management's strategy). Then in 2022, high gas prices and rampant inflation impacted their performance. It was, by all accounts, a 'transitionary' period between the old and new strategies. More time is needed to evaluate the success of current management's strategy.
| | | | |
| --- | --- | --- | --- |
| | 2019 | 2022 | Change % |
| Total Revenues | 1,487,583 | 1,358,236 | -8.7% |
| Park Revenues | 1,390,222 | 1,306,380 | -6% |
| Non-Park Revenues | 97,361 | 51,856 | -46.7% |
Source: SEC 10k Filings. All values in '000s.
Digging a little further, investors should see a silver lining with Six Flag's latest results. As shown in the table below, the current strategy has succeeded in fueling a 50% increase in guest spending amidst high inflationary environment. With this in mind, investors should be pleased, or at least temporarily appeased, by the result of the current strategy thus far. On the other hand, attendance has taken a big hit. To this end, the next section will explore how the company plans on gaining back attendance through its new strategy on capital expenditure.
| | | |
| --- | --- | --- |
| | Before (2013 vs 2019) | After (2019 vs 2022) |
| Attendance (in '000s) | 26,149 → 32,811+25.5% | 32,811 → 20,434-37.7% |
| Spending per capita (in $) | $42.08 → $42.37+0.7% | $42.37 → $63.93+50.9% |
| Park revenues (in $M) | $1,390 | $1,306 |
| Change % (Before vs After) | -6% | |
Capital Expenditures
Before:
In listening to earnings calls by old management, the focus had been on acquiring new parks, international licensing (which ultimately failed), and building more rides. By our count (per company 10-Ks), between 2013 to 2021, the company has added at least 92 rides and opened at least 8 new theme parks (including water parks), in addition to 29 rebrandings and other attractions (e.g. increased cabanas, family areas, etc.). Through this period, the company spent over $1.09 billion on capex (which includes maintenance). In increasing the number of theme parks and rides, Six Flags was able to fit more customers to more rides.
After:
Meanwhile, for the past few quarters, CEO Selim Bassoul has changed the nature of the conversation. More specifically, there has been a shift in capex spend to park infrastructure and beautification. This has been repeated several times throughout the past few earnings calls:
"…our 2023 CapEx program is focused primarily on park infrastructure and beautification"
"Increased emphasis on improving the amenities and infrastructure in our parks, adding new and exciting rides, events and attractions, and implementing guest facing technology"
"First, we bet that we could upgrade the park experience by investing in our infrastructure… "
"we found that we had underinvested in our park when it comes to the beautification, the landscaping, the flowers, the cleanliness, the benches, the amenities, the food"
"[Our] parks' appearance has improved as they've received their biggest makeover of the past few decades, [headlined] [ph] by our new front gate and extending to our restrooms and bathrooms"
"[Guest] amenities…we moved quickly to upgrade our park infrastructure to respond to our guest feedback, but we are not stopping there. Guest amenities are a top priority for our capex spend over the next few years"
The table below shows some of the initiatives based on the new management's strategy:
Category
Examples
Efficiencies

Single-rider lanes (1Q22)

Mobile payment technology (Google Pay, etc.)

Guest amenities

More clean toilets

More benches and shaded areas (non-revenue generating)

More cabanas (revenue generating)

Digital boards showing wait-times

Park beautification

Increased park hours

Better food

Seasonal events

Kids Boo Fest (Mid-Sep to End Oct)

Oktoberfest (Mid-Sep to End Oct)

Veterans Day (2-3 days around 11 Nov)

Viva la Fiesta! (7-22 May)

Rock the Block

Mardi Gras (Mid to end Feb)

Brews & Bites (last week of April)

Coasterthon Celebration

Revenue-generating initiatives

More pop-up stores

E-gaming
Source: Company 10k Filings, earnings calls, company website.
Review:
The nature of the calls and the focus on capex has changed. From a strategy centered on building new rides, forming international partnership agreements, and acquiring new parks, the strategy has now changed to shift spending to less exciting but nevertheless important aspects: 'soft' park improvements and other less capital-intensive expenditures. The capex focuses on increasing park amenities and overall enjoyment factors so that customers can find greater value in visiting Six Flags in hopes of increasing organic attendance in future years. To this point, management expects to spend much more on capex in the next few years ($150M in 2023, $150-200M in 2024 and 2025) as compared to the past (2013-2021 average of $120M). The shift in focus on capex has not translated to management's desired attendance (20.4M vs target of 25M to 27M annually). However, based on the drastic increase in guest spending as shown above, I am optimistic that the spending will enable the company to meet its attendance goals as guests experience the improvements around the parks and return for the experience.
Capital Allocation
Before:
Previous management has been very generous on returning capital to shareholders. Between 2013 and 2019, annual dividends increased from $1.84/share to $3.29/share. Through this period, the company has returned $3.34 billion to shareholders in share repurchases and dividends. This equates to a repurchase of ~10.8% shares outstanding, and $17.34 in dividends per share. A combination of share buybacks and increased dividends was music in its investors' ears, as stock prices went from ~$31 in 2013 to a high of ~$73 in mid-2018, before ending 2019 at ~$45. Even if one were to miss selling the stock at its high and hold SIX stocks from 2013, when it was priced at ~$31, to 2019, they would have realized a 100% gain (~$14 in stock appreciation and $17.34 in dividends).
However, these returns to shareholders have come with a cost. While management cannot truly be faulted for accruing debt to return value to shareholders (interest rates over this span averaged out at a measly 2.3%), their actions were not prudent. In the process of returning said $3.34 billion to shareholders, net debt increased by $870 million. This means that the company was funding its dividends and buybacks partially by issuing more debt. The prudent thing to do would have been to use said cash to pay down its debt. As a result of the previous management's mismanagement (pun intended), when Covid struck, the company found itself in a position where they were forced to borrow even more money to keep their operations going, with net borrowings of $357M in 2020. These actions by past management which seemed shareholder-friendly were not business-friendly. The music had stopped.
| | | | | | | | |
| --- | --- | --- | --- | --- | --- | --- | --- |
| Capital Allocation | 2019 | 2018 | 2017 | 2016 | 2015 | 2014 | 2013 |
| Dividends | 278,951 | 267,044 | 227,101 | 220,314 | 200,957 | 184,300 | 176,171 |
| Share repurchases | 52 | 110,990 | 499,442 | 211,751 | 245,114 | 195,353 | 523,589 |
| Returns to shareholders | 279,003 | 378,034 | 726,543 | 432,065 | 446,071 | 379,653 | 699,760 |
| Cumulative returns | 3,341,129 | 3,062,126 | 2,684,092 | 1,957,549 | 1,525,484 | 1,079,413 | 699,760 |
| | | | | | | | |
| Net debt | 2,100,705 | 2,061,904 | 1,943,682 | 1,512,336 | 1,402,732 | 1,303,551 | 1,229,470 |
| Net debt change | 38,801 | 118,222 | 431,346 | 109,604 | 99,181 | 74,081 | 0 |
| Cumulative change in net debt | 871,235 | 832,434 | 714,212 | 282,866 | 173,262 | 74,081 | 0 |
Source: SEC 10k Filings; Values are in '000s
These bad decisions on capital allocation have now become a drag to their financial performance today. In 2022, SIX paid $146M+ for interest expense alone. To put this in context, SIX's interest expense is (i) equivalent to over 1/10th of their revenue, or (ii) higher than their capex in every year since 2013, or (iii) nearly as much as their SG&A costs excluding stock-based compensation. Who knew that taking on debt would turn out badly?
After:
The good news is, the days of generous dividends are behind them. Management's focus is now on strengthening the company's balance sheet through debt reduction, whilst still returning value through share buybacks. This is evident in the decline in debt and dividends, and a continuing but subdued share repurchase over the past year. The tables below provides a consolidated view of Six Flag's debt profile from 2013 to 2022 and dividend and share repurchase amounts from 2019 up to 2022.
| | | | |
| --- | --- | --- | --- |
| Debt | 2022 | 2021 | 2020 |
| Total Debt | 2,380,531 | 2,629,524 | 2,622,641 |
| YoY Change in Debt | -248,993 | 6,883 | 0 |
| Cumulative Change | 242,110 | 6,883 | 0 |
| | | | |
| --- | --- | --- | --- |
| Capital Allocation | 2022 | 2021 | 2020 |
| Dividends | 200 | 813 | 22,499 |
| Share repurchases | 96,774 | 5,295 | 54 |
| Returns to shareholder | 96,974 | 6,108 | 22,553 |
| Cumulative returns | 125,635 | 28,661 | 22,553 |
Source: SEC 10k Filings. Values are in '000s.
From the tables above, you can see a few significant changes:
Dividends are effectively eliminated (2013-2019 avg: $222M/yr)

Debt is being paid down early (2022 vs 2021 total debt: -$249M)

Repurchases are restrained (2013-2018 avg: $298M/yr)
The actions taken by current management can be seen as less investor-friendly, but the opposite is true. By withholding cash which had historically been used for dividends and share repurchases and using that cash to pay down its debt, the company has effectively saved ~$56.865M in cash interest through the life of the debt ($250M x 7% x ~3.75 years, less 3.5% premium on early redemption). In taking these steps, management strengthens the company's balance sheet for the long term.
Review:
Post-2019, the company has spent ~$102M in share repurchases. While I am a big fan of companies using share repurchases as a means to return value to shareholders, at this moment, I am not a fan of Six Flags doing so. In light of current interest rates (and much to do with our conservative approach), I much prefer that company focuses on pay down its debt and suspend their share buyback program altogether at least temporarily. Nevertheless, I am pleased that the current management is taking more prudent steps on strengthening the business for the future.
Valuation
Valuation Relative to 2019
Comparing current EV/FCF to 2019, the company trades at a 20% discount today relative to 2019. Part of this has to do with the valuation bubble popping post-covid, and the other is due the uncertainty in the success of current management's strategy. Amidst the decline of revenues and ultimately FCF, the decline in stock price has been much greater. This presents an opportunity to purchase SIX stocks at a cheaper price than in 2019.
| | | |
| --- | --- | --- |
| | 2022 | 2019 |
| EBIT | 342,129 | 425,062 |
| Add: D&A | 134,067 | 118,230 |
| Less: Capex | -116,589 | -143,913 |
| Add: Loss on debt extinguishment (non-cash) | 17,533 | 6,484 |
| Add (Less): Other expenses (income) | 4,126 | 2,542 |
| Unlevered FCF | 381,266 | 408,405 |
Source: SEC 10k Filings; All values in '000s.
| | | |
| --- | --- | --- |
| | Mar 13, 2023 | Dec 31, 2019 |
| Stock Price | 25.14 | 45.11 |
| Shares outstanding | 83,178,294 | 84,633,845 |
| Market cap | 2,091,102,311 | 3,817,832,748 |
| Market cap* | 2,091,102 | 3,817,833 |
| Add: Total debt* | 2,379,220 | 2,274,884 |
| Less: Cash & equivalents* | 80,122 | 174,179 |
| EV* | 4,390,200 | 5,918,538 |
| EV / FCF | 11.52x | 14.5x |
Source: SEC 10k Filings; * denotes values in '000s.
Comps Valuation
In conducting a comparable valuation, I will be using two similar companies: Cedar Fair (FUN) and SeaWorld Entertainment (SEAS). While these two companies serve slightly different demographics (more children and family-friendly), they have a similar business model of running theme parks and are of similar size. This makes them the best comps to value against Six Flags.
| | | | |
| --- | --- | --- | --- |
| FY 2022 | SIX | FUN | SEAS |
| EBT | 200,539 | 371,657 | 390,073 |
| Add: Interest Expense | 141,590 | 151,940 | 117,501 |
| EBIT | 342,129 | 523,597 | 507,574 |
| Add: D&A | 134,067 | 163,549 | 152,620 |
| Less: Capex | -116,589 | -183,352 | -200,705 |
| Add (Less): Other expense (income) | 4,126 | 3,608 | -43 |
| Add (Less): One-time expense (income) | 0 | -155,250 | 0 |
| Add: Loss on debt extinguishment (non-cash) | 17,533 | 1,810 | 0 |
| Unlevered FCF | 381,266 | 353,962 | 459,446 |
Source: SEC Filings; Values are in '000s
| | | | |
| --- | --- | --- | --- |
| FY 2022 | SIX | FUN | SEAS |
| Stock price | 25.14 | 44.77 | 57.28 |
| Shares outstanding | 83,161,736 | 51,930,650 | 63,919,409 |
| Market cap | 2,090,686,043 | 2,324,935,201 | 3,661,303,748 |
| Market cap* | 2,090,686 | 2,324,935 | 3,661,304 |
| Add: Debt* | 2,380,531 | 2,268,155 | 2,111,059 |
| Less: Cash & Equivalents* | 80,122 | 101,189 | 79,196 |
| EV* | 4,391,095 | 4,491,901 | 5,693,167 |
| EV/FCF | 11.52 | 12.69 | 12.39 |
| EV/FCF relative to Six Flags | 1.00 | 1.10x | 1.08x |
Source: SEC Filings; * denotes values in '000s
Note: Cedar Fair, SeaWorld and Six Flags reports their numbers slightly differently, so I standardized their formats to better show a line-item comparison.
Six Flag's EV/FCF multiple is slightly lower than its peers, which suggests that Six Flags is slightly cheaper than its peers. I believe that the market places a slight discount to Six Flags due to the U-turn in strategy that the current management is implementing, and the uncertainty that it holds. As shown below, Six Flags experienced drastic changes wildly exceeding its peers in both directions. This makes valuing the company a much more difficult job.
SIX

FUN

SEAS

No. of Parks

27

13

12

Park Revenue per Guest

2022

$63.93

61.65

78.91

2019

$42.37

48.32

61.80

Change %

50.89%

27.59%

27.69%

Attendance

2022

20,434

26,912

21,939

2019

32,811

27,938

22,624

Change %

-37.72%

-3.67%

-3.03%
In comparing park revenue per guest in 2019 vs 2022, Six Flags' revenue change is over 23 percentage points higher than its peers. Out of a total increase of over 50%, about 22% of this comes from just the past year (2022). This drastic change brought about sticker shock to Six Flags customers, who were used to seeing low admission costs. As a result, when compared to its peers, Six Flags experienced an extra 34% percentage point drop in attendance. Valuing the company becomes a significantly challenging task when it undergoes extreme changes that surpass its competitors in a significant way, regardless of whether they are positive or negative. As such, the market seems to discount the company's value.
However, I believe that the discount is unjustified since the current strategy is sound. While customers experienced a sticker shock in 2022, this was a necessary evil done by the company to correct the failures of past management in their decision to not raise prices. I believe that conducting the price increase in 2022, while the general public experiences macroeconomic inflation and high gas prices, was very timely as it allows the company to attribute/mask some portion of its higher prices to inflation (while still exceeding its rates), thus making customers more amenable to its price hikes. In the same vein, I believe that as inflation subsides, discretionary income rises and its theme parks refresh, Six Flags will see its attendance grow again. This will, in turn, enable the company to grow its top and bottom line. Thus, Six Flags stock should trade at a higher level than it is at today.
Risks
Six Flags has a high amount of debt. A failure to refinance this debt, or the inability to generate enough funds to pay off this debt may cause the company to file for bankruptcy again. Further, the company might need to refinance its debt at much higher interest rates. This may lead to higher interest expenses and thus, lower returns to shareholders.

Management's strategy may fail. It is possible that the lost attendance will be lost permanently, even as the company attempts to invigorate and improve its parks. If this happens, Six Flags may not be able to realize its value.

Black swans. A myriad of black swans may occur that may cause the company to fail. Some examples are: another pandemic, roller coaster accidents, natural and environmental disasters within the vicinity of the parks causing damage to its infrastructure.
Closing
To summarize, I believe that the changes in revenue, capex and capital allocation strategies are sound and will enable the company to increase its value for the future. Firstly, by increasing their entry prices and filtering our lower-spending guests, Six Flags can better serve their higher-spending guests with shorter waiting times and a better overall customer satisfaction. Secondly, by shifting capex spend to softer items such as better park amenities and more events, Six Flags can now regrow its organic attendance rates in a much more sustainable manner. Lastly, by halting its cash dividends and slowing share repurchases, and using said cash to pay down debt, Six Flags strengthens its balance sheet.
With all this in progress, I believe that Six Flags is on its path to creating a stronger, more sustainable business which will reflect in higher stock prices in the future.