[ad_1]

Lake St. Louis – A developer's vision for a sports-focused development is making waves in Lake St. Louis.
Developer Jeffrey Parrish's Course will transform 3 acres next to the outdoor mall into a pickle ball court, seasonal ice skating rink, virtual motion simulator, themed playground, wading pool, 18-hole mini court. Golf course, outdoor amphitheatre, two-story banquet center, and two-story restaurant with rooftop views of the complex.
"This project is unique not only in the St. Louis area, but probably in the entire country," Parrish said after Thursday's meeting of the Lake St. Louis Planning and Zoning Commission.
The committee recommended that the city's council of aldermen approve Parrish's request for a special use permit and his proposed site plan.
A committee of city councilors will vote on the development at its July 17 meeting.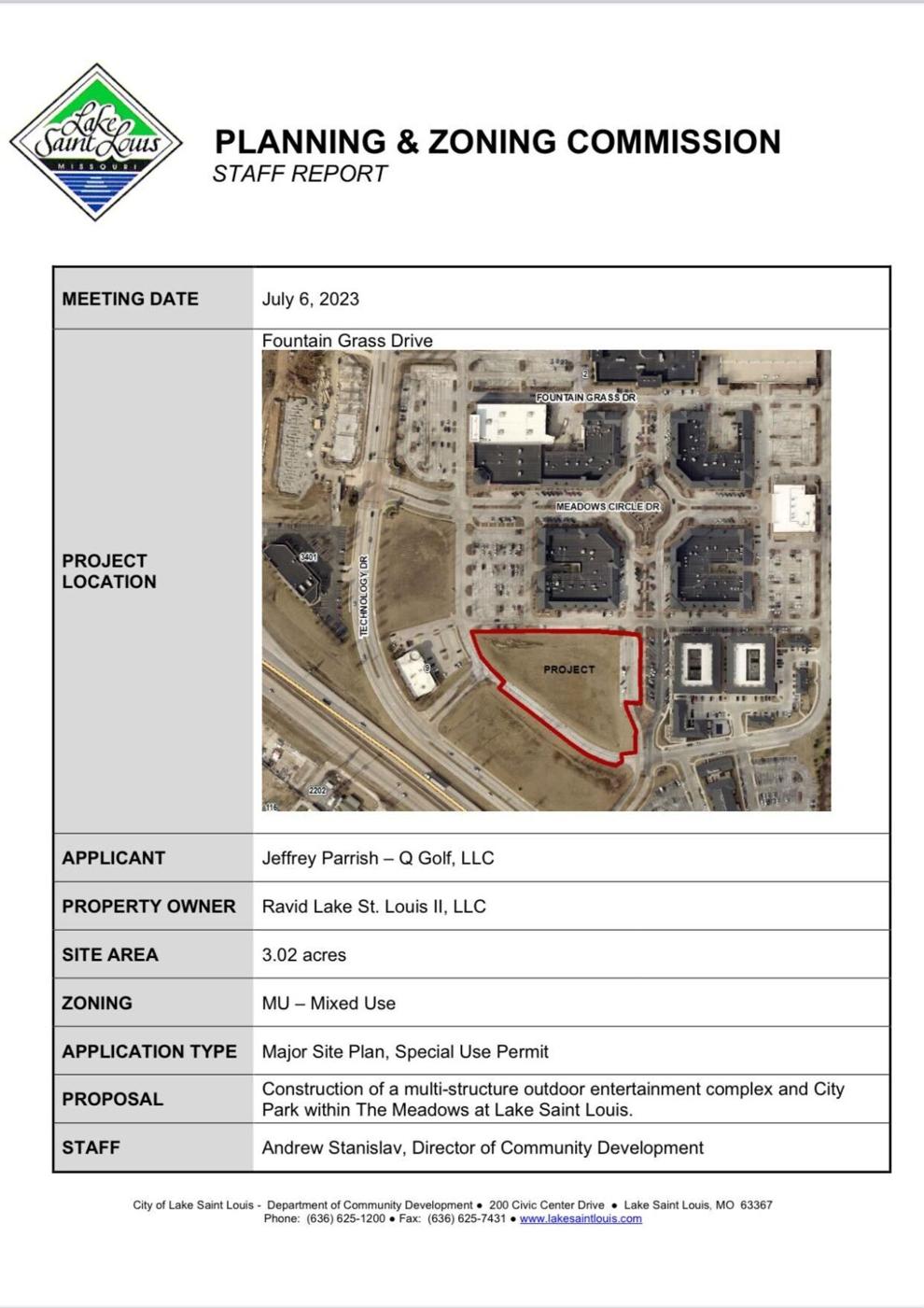 Under the proposal, the city would retain ownership of the pickleball field, ice rink, playground, gazebo and paddling pool. Parrish will own the amphitheater, restaurant, banquet center, miniature golf course and other parts of the development.
The development is adjacent to The Meadows Mall, long considered the "downtown" of Lake St. Louis. The former retail center includes apartments, health care offices, a fitness center and government offices.
Lake St. Louis Mayor Jason Law said the city and Parrish are still fine-tuning the development agreement, but the city expects to spend $3.5 million to $4 million on its portion.
"It's very exciting to have this kind of development in a city like ours because it's almost impossible for a city our size to build something like this without using a lot of taxpayer money," Law said. "This agreement Gives us the opportunity to enjoy these amenities in our community while saving taxpayers money."
Parrish said he was unsure how much some of his projects would cost, given supply chain issues and construction delays.
The first phase of the development, which includes three pickleball courts and a covered ice rink, is tentatively scheduled to open late this winter.
Parrish said he hopes to have the second phase, which includes a miniature golf course, a 4,400-square-foot banquet center, restaurants and an amphitheater, open by the end of 2024.
"With all the challenges with the supply chain, everyone is guessing right now," Parrish said of the construction timeline.
He said he wanted to start site preparations "immediately" if the council of city councilors approves his request later this month.
During his presentation to the zoning board, Parrish was asked for more details, including whether he would make room for the popular Lake St. Louis Farmers Market.
Parrish said the farmers market will be able to use the parking lot in the development.
He also said the two-story restaurant would be an "upscale but casual restaurant" and include a children's menu. The banquet center is planned for approximately 150 people and can be used for private events such as corporate retreats and weddings.
Parrish said details of the outdoor amphitheater are still in flux, though he envisions ticketed performances and public music performances on site.
"I think the general vibe we want is that this is going to be a place where people come to hear local bands," Parrish said.
After hearing Parrish's presentation, Lowe said Lake St. Louis residents will be eager to see how the development progresses.
"This park is a perfect fit for our plan to make the Meadows a vibrant part of our community," Law said. "We've certainly seen malls go through a lot of changes and I think it would be really beneficial to have something there that appeals to families and people of all ages."
[ad_2]

Source link